In Memory – Bob Calhoun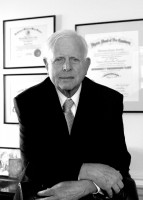 We are sad to hear of the passing of Living Legend Bob Calhoun. Bob passed away on August 6, 2020. His accomplishments as a Living Legend can be read here.



Former City Councilor and State Sen. Bob Calhoun dies at 83
By Cody Mello-Klein (https://alextimes.com/2020/08/obituary-bob-calhoun/)
Bob Calhoun, a former Republican state senator and city councilor, died on Aug. 6 of prostate cancer. He was 83.
Calhoun was a moderate Republican who worked amicably with his fellow public officials across the aisle. Throughout his time on council and in the state senate, Calhoun was known for his intellect, integrity and deep policy knowledge.
He served on the Alexandria City Council from 1976 to 1981 and 1984 to 1988. During his time on council, he promoted the development of the Torpedo Factory Arts Center, facilitated the creation of the Covanta Waste to Energy Plan and was involved in a preliminary study of the DASH bus system. Calhoun went on to serve in the Virginia State Senate, representing Alexandria for seven years from 1989 to 1996.
Calhoun was born on July 22, 1937 in Oak Park, Illinois to Robert and Madeline Calhoun. His grandmother was active in Illinois politics and was a "Southern Democrat," Calhoun said in his Living Legends of Alexandria entry.
Following in his father's footsteps, Calhoun found himself drawn to the law, pursuing a law and economics graduate degree at Yale University, where he met his future wife Sandra Bensen in a Yale dining hall.
After graduating from Yale in 1963, Calhoun moved to Washington D.C. and worked as a rules and practices lawyer for the Interstate Commerce Commission. He eventually transitioned into private practice at the Boston-based law firm Sullivan & Worcester, where he stayed from 1972 to 1996, before working for Alexandria-based law firm Redmon, Peyton & Braswell from 1996 until his retirement in 2020.
Calhoun's entrance into politics was unceremonious. He ran for the Virginia House of Delegates in 1973 but lost to Democrat House Majority Leader Jim Thomson. Calhoun was more "a sacrificial lamb" than anything else in his first run for political office, Sandra Calhoun said.
Eventually, Calhoun found his footing and was elected to Alexandria City Council in 1976 as the only Republican member of council. By 1979, when Calhoun became vice mayor, Republicans had taken three seats on council, the most of any city in Virginia at the time, according to Living Legends of Alexandria.
Political rivals and allies alike acknowledged Calhoun's ability as a lawmaker and respected his ability when it came to understanding the ins and outs of policy.
"I've known a lot of people in politics over the years – local, state and national – and Bob Calhoun was one of the smartest people I have ever known," David Speck, a former state delegate and city councilor, said. "[He was] well-read, well-informed and always curious, but that was not what made him somewhat unique. It was his ability to develop policy – or improve existing policy – with fact-based, analytical thinking. This country could sure use more of that these days."
Politics allowed Calhoun to break out of his shell, Sandra Calhoun said. Despite his preternatural ability when it came to speeches, Calhoun was naturally shy.
"Bob could make the most beautiful speeches, extemporaneous speeches," Sandra Calhoun said. "You could just ask him to say something, and it would be lovely and meaningful, but talking one to one, it was something that he had to work on."
Eventually, Calhoun found his footing, and after his time on council, Calhoun was elected as state senator in 1988. He served until 1996, when he was defeated by Democrat Patsy Ticer.
He co-sponsored the 1995 Public-Private Partnership Act, which has since been used, notably, for funding Metro's Dulles silver line. Calhoun was passionate about transportation and he was actively involved on the WMATA Board, COG Transportation Planning Board and Northern Virginia Transportation Commission.
Calhoun's political career was defined by his willingness to work across the aisle with Democrats. When Calhoun received a letter this year from someone who was interested in getting into politics and wanted to hear about Calhoun's senate experience, Calhoun cited his collaboration with fellow politicians as his proudest accomplishment.
"Instead of writing about legislative accomplishments, he said he was most proud of being able to work with people in both parties to achieve the greater good," Sandra Calhoun said.
Jerry File, a friend of Calhoun's who also served as treasurer for Calhoun's state senate campaign, praised Calhoun's integrity as, not only a collaborative politician, but a policymaker.
"I thought all the decisions he made were decisions that he felt were in the best interest of the people," File said. "He was not beholden to any particular group within the community, but he tried to support legislation that he felt would benefit the most people in the community."
An avid reader, Calhoun was known for his intellect and tendency to launch into informative, passionate conversations with anyone who would listen.
"Bob was a friend for over 40 years, and I don't think there was ever a conversation we had – on any topic – in which I did not learn something new or understand something better than I thought I knew," Speck said.
Although he wasn't known for being emotionally expressive with his family, Calhoun often used books as a way to communicate with his three sons, Sandra Calhoun said.
"What the kids remember is, if they had a homework assignment in x, y or z, Bob would go and pull a book off the shelf and say, 'This might be helpful,'" Sandra Calhoun said.
Outside of politics and law, Calhoun found time for opera, long road trips to national parks and gardening, a passion he found plenty of space to explore on the 60-acre property he and Sandra purchased in the '70s.
"He planted a lot of pine trees and just enjoyed being out," Sandra Calhoun said. "We planted blueberry bushes and grape vines and lots of things that weren't successful too, like apple trees."
Calhoun was proud of his three sons, all of whom received advanced degrees, and six grandchildren, whom he was known to chase around the house.
He was an active member of the Alexandria community, co-chairing the fundraising appeal that contributed to the opening of the Schlesinger Center, home of the Alexandria Symphony Orchestra, and helping found the Scholarship Fund of Alexandria. In 2012, Calhoun was acknowledged for his efforts to improve the city when he was named a Living Legend of Alexandria.
Calhoun is survived by his wife Sandra; children Andrew (Mollie), Rob (Elizabeth Wilmer) and Gordon (Lisa) and grandchildren Thomas, Robert, Zenobia, Ophelia, Lily and Rachel.
No date has been set for a memorial service to be held at Westminster Presbyterian Church in Alexandria, their church where Bob was a popular speaker in the congregational life programs. The family suggests that those who wish to donate in Bob's memory contribute to The Scholarship Fund of Alexandria, 3330 King St., Alexandria 22302 or the Clarke County Easement Authority, 101 Chalmers Court, Berryville, VA 22611.
---