Induction Year: 2023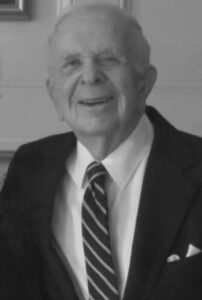 If it wasn't for the dedication and energy that William "Bill" Vosbeck Jr. put into preserving some of the historical aspects of Old Town Alexandria, things that are pertinent around town today might not have survived. Vosbeck was an active architect and preservationist that put a big emphasis on the city.
In the 1970s, emphasis on preserving structures in Old Town was not on the top of many lists but Vosbeck was put in charge and eyed the "area where the fountain and courthouse are," said Jim Carmalt, who nominated Vosbeck as a Living Legend of Alexandria. "He was tasked to rebuild that area."
Around town Vosbeck also worked on churches, homes, schools and historic structures that really needed some TLC."
Vosbeck was born in Mankato, Minnesota, May 13, 1924, and met his wife Betty shortly after high school while attending the University of Minnesota. After graduation he enlisted with the US Marine Corps, serving during World War II and the Korean War. He was eventually stationed at Quantico, which brought him to the Alexandria area in 1957.
"I joined the Marine Corps during World War II since I knew the Marines were being so successful overseas at that time," Vosbeck told the Connection Newspapers in 2020. "I remained in the reserves when the war ended and when the Korean War came along, I had to report to duty immediately. When my time in the service ended, my wife Betty and I decided to make Alexandria our home and I started my architectural firm."
After completing his service, Vosbeck encouraged his younger brother Randy to move East. They became partners in the architecture firm Vosbeck, Vosbeck & Associates, which was opened on Madison Street. After a merger with an engineering company, the firm became known as VVKR. Based in Alexandria, the firm became nationally and internationally known, designing projects such as Alexandria Hospital, various local schools, and the former headquarters of USA Today and Gannett in Arlington. VVKR won more than 60 awards for its work in the Metro area and Mid-Atlantic Region.
As VVKR, the firm landed two awards from the Northern Virginia Chapter of the American Institute of Architects in 1984 for the design of the Maryland Department of Agriculture in Annapolis and for its renovation of a 70-year-old American Security Bank building.
The firm was responsible for buildings such as Alexandria's Public Safety Center, the American Trucking Association headquarters, and the Duncan Library. He also served as the design architect for Yates Gardens in Old Town. Vosbeck was a fellow of the American Institute of Architects, an honor bestowed by the Institute on AIA-member architects who have made outstanding contributions to the profession.
According to Carmalt, a brainstorm Vosbeck had was to get engineers and architects working together. "He was one of the innovators to that concept," Carmalt said.
The Vosbeck brothers wrote a book edging on this concept called "Design Matters: The Story of VVKR Architecture, Engineering, Planning," written by brother Randy who credited Vosbeck throughout. The book is full of pictures and historical records chronicling the works of VVKR, spanning three decades primarily in the mid-Atlantic region of the United States from the 1960s to 1980s.
Around Alexandria, Vosbeck's innovative attitude paid off in many things that he was involved with. That included Belle Haven Country Club, where he was a longtime member, and the Alexandria Rotary Club. Vosbeck was honored by the Rotary Club in 2018 at its Scout Award Luncheon with the Cliff Dochterman Award "for his lifetime achievements and contributions as an Eagle Scout." Vosbeck attained the rank of Eagle Scout while living in Minnesota.
Some of Vosbeck's architectural ingenuity rubbed off on his wife Betty and she put it to good use on the Jones Point Lighthouse. She worked with the Mount Vernon Chapter of the Daughters of the American Revolution to save the lighthouse in the 1970s.
In addition to his professional endeavors, Bill was involved in many nonprofit organizations, most significantly as a founding member of Senior Services of Alexandria.
"Bill was nice enough to meet with me when I became executive director of Senior Services of Alexandria in 2007," recalled Janet Barnett, who worked with Bill on many projects over the years. "I wanted to learn more about the history of the founding of the organization in 1968."
Vosbeck shared his concerns regarding age discrimination among older adults.
"At the time, some older people were experiencing age discrimination, or wanted part time work," Barnett recalled. "Bill advocated for these seniors who wanted or needed to work. The organization was formed and found jobs for older workers. This included professional positions as well as domestic. In fact, I found a babysitter for my son through Senior Services of Alexandria. Bill remained committed to SSA for the remainder of his life through financial support and encouraging others to support the organization. He was proud of how the organization sustained itself and grew to provide other important programs to allow seniors to age with dignity."
As a founder of SSA, Vosbeck became the organization's second president, succeeding Marion Galland. The all-volunteer group started with a $15,000 budget to provide services and opportunities for elderly citizens who wanted to remain active in the affairs of their community and maintain their individual independent living.
Vosbeck served as President of the Alexandria Hospital Board, Trustee on the Virginia Museum of Fine Arts, and Trustee on the Virginia Foundation for Independent Colleges.
He was also respected for his work with individuals with physical and cognitive disabilities. He earned the Citation for Meritorious Service from the President's Committee for the Handicapped.
Vosbeck died in his sleep Dec. 15, 2021, at The Fairfax Retirement Community in Ft. Belvoir. He was the last surviving founder of Senior Services of Alexandria.
By Mike Salmon