Induction Year: 2016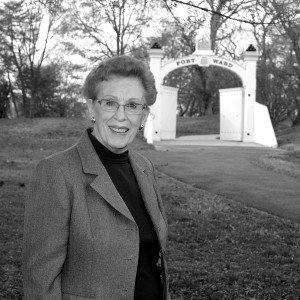 For nearly four decades, Wanda Dowell was a fixture at Fort Ward Museum. In 1965, she filled out an application to work for the City of Alexandria.
"I wrote on the application that I was interested in Civil War history," Dowell recalled. "That got the attention of Col. Joseph Mitchell, who was director of the newly formed Fort Ward Museum. Not only did Col. Mitchell hire me, he encouraged me to succeed in a field that at the time was dominated by men."
Fort Ward, a former Union Army installation located in the West End of Alexandria, was the fifth largest fort built to defend Washington, D.C. during the Civil War. It is now called the Flagship of the Defenses of Washington and one of the best preserved and interpreted.
"When I first started, nothing was catalogued," Dowell said. "I began doing an inventory and through classes at the Smithsonian, I learned all I could about how to do exhibits and manage collections for small museums."
Dowell's efforts were rewarded in 1981with appointments as Director of Fort Ward Museum and Historic Site and as a board representative for the Northern Virginia Region for Virginia Civil War Trails. It was under Dowell's tutelage that the museum received accreditation from the American Association of Museums.
"We were one of the first museums in Alexandria to become accredited," Dowell said. "We are also on the National Register of Historic Places and have won state and national awards for our history education programs. Fort Ward is also one of the reasons Alexandria received its first All-American City Award."
Dowell was instrumental in obtaining signage identifying Civil War fort sites that once surrounded Alexandria. Later she collaborated with other City sites in creating an Emergency Disaster Plan for Historic Properties. On 9/11, Dowell kept the museum open to aid anyone in need of help. She developed a conservation plan for the earthwork fort, one of the first such initiatives developed for earthwork fortifications, and was invited to lecture on the topic at an American Association of Museums national conference. She has lectured on small museum management topics for the Virginia Association of Museums and The Smithsonian.
She has been recognized nationally for her preservation and restoration efforts, and her numerous awards include the prestigious James R. Short Award from the Southeastern Museums Conference for "distinguished lifetime service to the museum profession." She tirelessly used her expertise in education and fundraising to develop symposia, historical camp events, programs for children, educational programs and special events. Although she retired in 2002, Dowell remains a member of the Friends of Fort Ward and after retirement served as an officer for the Civil War Roundtable of Alexandria.
"Fort Ward is a unique museum," Dowell said. "It is one of the best teaching tools that we have and gives the public a whole new perspective on what happened here. We have a responsibility to see that it is preserved and I am proud that Alexandria interprets our history – the good, the bad and the ugly – with integrity. Just because you are a small museum, there is no reason you can't be a quality museum."
The 85-year-old Dowell continues to serve the community through the First Baptist Church of Alexandria. She delivers Meals on Wheels, volunteers at The Clothing Closet (providing serviceable clothing to people in need), and sings with the Jubilee Singers. She has participated in mission trips to Cayman Brac and is a volunteer exercise instructor for seniors.
Credit: Jeanne Theismann