Induction Year: 2010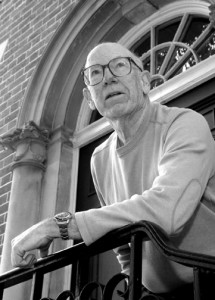 Which identity do you select to profile Living Legend Rodger Digilio?
You can choose from among soccer coach, historic preservationist-developer, anti-drug activist, former school board member, or economic advisor. If there is a single theme to Rodger's involvement, it is his desire to be of service to Alexandria citizens, especially the children.
A native of Philadelphia, Rodger graduated from Lehigh University before spending three years in Oxford as a Rhodes Scholar where he earned a graduate degree in Politics. It was his Rhodes connections that brought him to Alexandria when he began a career in the Federal government while he worked as a Systems Analyst in the Department of Defense. Rodger worked on South East Asia which he steadfastly refused to visit, preferring his analyses to be based on the data, not on tours organized and controlled by the military.
Rodger and his first wife Alice moved to Alexandria because Rodger was attracted by the developmental potential of Old Town properties. The vision Rodger saw for Alexandria historic properties took second place for over a decade while Rodger pursued his career in the Federal government. In addition to the Department of Defense, his service included the State Department and the National Advisory Council for Drug Abuse Prevention. He also spent three years working on transportation issues for Senator Richard Schweiker.
Rodger laughingly remarked that he was always working in new offices. "I figured that new offices had two years to get things done before the existing structure realized that you were there and came after you. Once they knew you existed and wanted to protect their turf, it was time to move on because you won't get anything else done after that."
At the early age of 26, Rodger had one of those moments when you know you have made a difference. Early in the transition to the Nixon Administration, Rodger's analyses caught the attention of Under Secretary of Defense David Packard. He met privately with Rodger to question why Rodger foresaw American Army troops continuing to bear the brunt of the fatalities if the war continued to be pursued in its current form. Within a week of that meeting, a new directive was issued changing the conduct of the war. "After our meeting, they 'Vietnamized' the war. South Vietnam troops took over the main role that American troops had been fulfilling I had had a role in changing the conduct of the war. It was a big moment for someone as young as I was."
When he left Federal employment, it was the time to fulfill his vision of restoring historic properties in Alexandria. He formed OTV, Inc. and his first project was the conversion of the nursing student residence of the old Alexandria Hospital into the Swann-Daingerfield Condominium. Restorations which followed included the Courts Condominium at 1006-1016 Prince Street, the Bank of Alexandria at 133 North Fairfax Street, the Cotton Factory at 515 N. Washington Street, the Doniphan Building at 101 N. Columbus, Durant House at 708 Pendleton, the Coca Cola Plant at 1500 King Street, and assorted other smaller buildings and townhouses around the city. In nominating Rodger for the Living Legend Award, Linda Holland points out that "Without Rodger's vision, energy, and commitment to the city … these historical structures would have been lost not only as buildings but as part of the living history of Alexandria."
Rodger's interests were not limited to Old Town. Properties large enough to be viable development properties are finite and the supply was drying up in Old Town. The first project he redeveloped in the Mount Vernon Avenue area was the Post Office building at the corner of Howell and Mount Vernon Avenue. He also built Potomac Town Square on Mount Vernon Avenue.
Historic properties are only one area in which Rodger has had an impact on Alexandria. He served as the first Chairman of the City of Alexandria Alcohol and Drug Abuse Control Coordinating Committee, was Vice Chairman of the Northern Virginia Drug Abuse Task Force, a member of the Virginia Drug Abuse Control Council, and a member of the Virginia Substance Abuse Advisory Council. He was a member of the Alexandria Jail Study Committee. Rodger was a member of the Budget and Fiscal Affairs Advisory Committee, a member of the board of the Alexandria Chamber of Commerce, and a member of the City Manager's Economic Round Table. He was both an appointed and an elected member of the Alexandria School Board which included serving as Chairman, Rodger was a member of the Alexandria Early Childhood Commission, a member of the Northern Virginia Scholastic Rowing Association, and a board member of the Alexandria Crew Boosters Club. Rodger is currently serving with the Healthy Families Alexandria Resource Development Committee and is Chairman of the King Street Gardens Park Foundation.
Rodger has a fascinating hobby of buying, selling and collecting old cameras. He buys cameras in need of attention, cleans them up and makes minor repairs and then usually sells them, although he occasionally comes across one he keeps. His collecting instincts go way back. Even as a youngster he was always collecting something and somewhere cameras came into the mix. "I go around to shows where I have a table. I buy at these shows or off the Internet."
Although Rodger and Alice are no longer married, they share two sons, products of the Alexandria school system. Ed is a land surveyor and he and wife Laura are the parents of three-year old Julia. David is a screen writer who wrote the script for the Disney film 8 Below and the television series Traveler. He lives in Manhattan Beach, California, with his wife Kim and their six-year old son Alex and three-year daughter Ella.
David played matchmaker for his dad and suggested that he take out the widowed mother of one of his high school team members and good friend. Today, Rodger and that mother, Fredde Ottinger, an interior designer, live above a store on Upper King Street. "I love living in the city. I step outside and everything is right there on my doorstep, wonderful places to eat, great shopping."
It seems fitting that this Living Legend should enjoy living in the area he helped so much to shape.
Credit: Sherry W. Brown
Photo Credit: Nina Tisara