Induction Year: 2014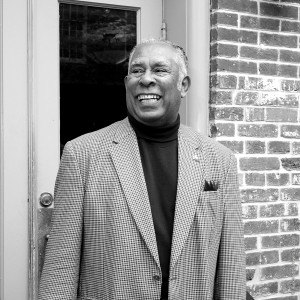 Charles Eugene "Tony" Gee is more than just legendary. He was a pioneering African American business leader during a period of profound social change in Alexandria and played a critical role in the economic development of lower King Street.
What many people think of when they think of Tony Gee is the Snack Bar restaurant, which started out on lower King Street in Alexandria. It was originally owned by Ruth and Salvatore Galardi, who first hired him as a porter in 1958. He quickly became the manager and ultimately the owner. The Snack Bar later moved to Mount Vernon Avenue in Del Ray, where it continued in operation until 1993. At both locations, the Snack Bar was a groundbreaking enterprise and Gee was its face—serving a sizeable clientele of loyal patrons and helping it become a significant community institution. The Snack Bar served more than 500 meals each day, five days a week. Gee made it a point to know the name of every one of his customers and developed good friendships with many of them.
At the same time that he was building his own business, Gee was encouraging other local businesses to get started and to grow. While at his King Street location, he helped organize 84 Alexandria business owners and became the founding president of the Old Town Business Association.
Gee has served on more than 15 local advisory boards, business organizations, and public commissions, including service as chaplain of the Alexandria Jail, as a trustee of the Alexandria Hospital Foundation, as a member of the Election Board of Alexandria, and as a member of the advisory boards of Virginia Power, the George Washington National Bank and Burke & Herbert Bank & Trust.
As president of the Alexandria Kiwanis Club (2003­2004), he led a major project to renovate the Guest House (a nonprofit residential facility that helps women make successful transitions from incarceration back into the community). In addition to persuading Kiwanians to donate funds to the project, Gee developed a partnership with Habitat for Humanity (which did most of the major construction work) and procured interior decoration, plumbing, and other materials donated by the Alexandria business community.
Another example of Gee's leadership was his organizing a "Law Day" while serving as a member of the Criminal Justice Advisory Council of Northern Virginia. It was held at Charles Houston School, and attended by 11th and 12th grade Alexandria City Public School students.A first of its kind event, it featured the Alexandria Chief of Police, City Attorney, Commonwealth Attorney and more than 30 others from the legal communities of nine Northern Virginia counties. The highlight was a question and answer session devoted to the law.
Throughout his years as an Alexandria businessman, Gee found time to pursue the study of religion. He became a Baptist minister and served three congregations for more than 30 years, including four years as Pastor of the Third Baptist Church in Alexandria.
These are examples of what Tony Gee has accomplished on an ongoing basis over several decades. He is recognized as a leader for his many contributions to the Alexandria community and exemplifies what is meant by "good citizen" and Living Legend.
Credit: Joseph S. Shumard
Photo Credit: Steven Halperson