Induction Year: 2011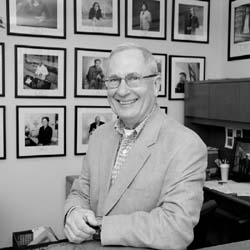 Timothy S. Elliot has served the community in multiple roles from School Board chairman to Parks and Recreation Commission chair to co-chair of the Alexandria Cultural Assessment Commission.
Timothy S. Elliott, the man who championed the Scholarship Fund of Alexandria to give high school students a chance at college, and who worked for a City boating facility to benefit student athletes and local adult rowers, is a 2011 Living Legend of Alexandria.
Former member and chairman of the Alexandria School Board, and a soccer coach, member and chair of the Alexandria Parks and Recreation Commission, co-chair of the Alexandria Cultural Assessment Commission, Elliott said, "I keep my fingers in the pie and that keeps life sweet." Make that multiple pies. He has also served on the City Manager's Small Business Task Force, and vice chair and board member of Old Town Civic Association. He's a member of the Jones Point neighborhood community group and represented the OTCA on the Woodrow Wilson Bridge Task Force. In the 1970s, he was one of the plaintiffs in a suit against Alexandria to prevent constructing apartment buildings on the Alexandria waterfront, where Founders Park stands.
Elliott includes volleyball, tennis, sailing, bicycling, and volunteering at rowing competitions among his recreational interests. He has also built a log cabin.
"I like doing things to make life better for people, and my wife Page is the same way. She may be working more quietly in the background, but she is there." Elliott says he's been inspired by a family tradition that appreciated and participated in public service. "I was motivated as a kid. My father was a lawyer for the government for 36 years and also served in the Army. In 1928, my grandmother campaigned for Al Smith and this was only nine years after women got the right to vote." He is gratified that the life lesson has been passed down through the generations, pointing to a young granddaughter who allots a portion of her allowance to the homeless.
"Time is a vacuum and you fill it up." While on the school board, he was unable to accrue vacation time from his job at the Interior Department, because it was used instead for school board meetings and related activities.
One of the most life-changing acts and generosity came from the Elliott family in the 1980s. They took in Italian exchange student and rower Espedito Gasparo, who lived with them for one year. Page Elliott saw Espedito's college potential, despite his destiny to be a secretary upon his return to Italy. "What would have happened to that kid? There was 27 percent unemployment and the Mafia was everywhere." The Elliotts supported Espedito's nearly impossible dream to attend college. He graduated from T.C. Williams, as did the Elliott's two children Farar and Schuyler. Espedito graduated from the University of Naples, came back to the United States for an internship with an economist and met his future wife. Remaining here, Espedito is now a U.S. citizen and has a master's degree from George Mason University. The Elliotts consider Espedito their son and his two children as among their total of six grandchildren.
Elliott himself graduated from Fairfax High School, then from Brandeis University and Harvard Law School. Elliott performed military service with the New York National Guard, as a telephone crewman and in the Virginia National Guard as a radio repairman.
Elliott began his professional career with the IBM Corporation. At IBM, Elliott's work included federal, state and local government contract law, anti-trust, plant and laboratory management and labor and civil rights law. After 10 years, he left IBM to become an assistant solicitor with the U.S. Department of the Interior where he gave for legal advice regarding freedom of information requests, advisory committees, administrative procedures, ethics, and personnel litigation.
From 1978 until his retirement in 2003, Elliott managed the general law division and legal advice for the department and was assigned to special projects, including cases that went before the U.S. Supreme Court. He personally provided legal advice to nine Secretaries of the Interior. Elliott was surprised to learn that unbeknown to him, his colleagues were referring to him as "The Mayor" of the Department. "I asked them, 'what's that supposed to mean?' and I was told everyone considered me the go-to person whenever a question arose.
Recognition of Elliott came from the highest levels. He is the recipient of six federal service awards, including the Department of the Interior Meritorious and Distinguished Service Awards, the Secretary of the Interior's Silver Award, and the Presidential Meritorious and Distinguished Senior Executive Awards. Elliott was a charter member of the Senior Executive Service and is a member of the New York Bar and U.S. Supreme Court Bars.
Two Alexandria school-related involvements are especially close to his heart, including the boathouse constructed on the Potomac River for the T.C. Williams rowing teams. "The boathouse for public high school students is an unusual facility and we were able to convince the federal government it was essential to our community." Elliott was instrumental in planning a lean-to on the crew facility building to house an adult rowing program. The resulting rent money supports the youth program.
He described the day hundreds of locals "worked like a land-based machine" to pass bricks to construct the lean-to. "It was like in an old movie, passing the bricks one by one. That's the beauty of Alexandria. Here we are sitting minutes from Washington and there's a group of citizens caught up by community spirit."
Elliott's proudest achievement has been leading the Scholarship Fund of Alexandria, which has benefited T.C. Williams High School students for 24 years. Most of the 3,000-plus scholarships given to date are both need and merit-based. "We established the fund with some trepidation. It was something new and it was relatively rare in the United States to have financial aid in the form of a community scholarship fund. Kids either weren't going to be able to attend college or were not going to as high a reach school as they were capable of attending."
He attributes success to a T.C. Williams teacher's belief that there were people in the Alexandria community who would donate to a fund, and to school administrators who have done the groundwork to educate worthy scholarship candidates. To date, more than $7 million has been awarded; $700,000 in the last year. An annual telethon and a spring silent auction highlight the solicitation cycle. "It never ceases to amaze me to see the generosity of our city."
"Kids come back every day and say 'I wouldn't have been able to go to school if not for that $1200. I remember the time a student needed $500 for books and fees. We of course did the right thing and found a way to see that he got it."
"Some of the past scholarship recipients have become donors or served on the Scholarship Fund Board or both. We really wanted the fund to live off itself through its own new generations."
"This is why I love it and why I continue to be motivated in public service — it is community-based and you see the difference it makes in the world and the people around you."
Credit: Diane Bechtol
Photo Credit: Steven Halperson