Induction Year: 2012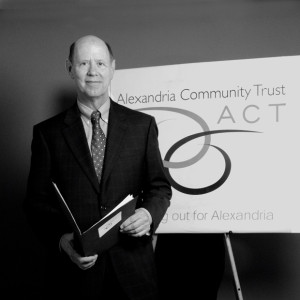 Once there was an Alexandria family of four that regularly acted on an individual's responsibility to serve others in need.
Each member was well educated and appreciated the community's "diversity of people – racially, financially, in thought and in socio-economic status, that for the most part embraced Alexandria's potential."
They were givers.
On 9/11, one of them, the mother, was taken away. Norma Lang Steuerle, a local clinical psychologist who worked intensively with families and children, was killed in an airplane crash the whole world mourned.
Out of the tragedy, father Eugene Steuerle and daughters Kristin and Lynne found a new direction for their family that benefits thousands of Alexandria each year – the creation of the Alexandria Community Trust.
It is a "living legacy" in honor of Norma, but also a continuation of a service-to-others ethic they have always practiced.
Norma Lang Steuerle was killed on 9/11 when she was onboard American Flight 77 when it smashed into the Pentagon. Her family built a legacy out of grief.
Each family member politely – but firmly – deflects praise for their generous role in changing the face of charitable giving in their community. The three Living Legends of Alexandria recipients are quick to credit others and say their role in creating the Alexandria Community Trust (ACT) was in concert with others.
"Most of what is done is not due to us," says Gene. "All we were was the catalyst. It is a fascinating organization with many resources. The opportunity to do things is amazing because Alexandria is fairly rich and well educated. In comparison to other communities, overall, we suffered much less than others in the recession. If we couldn't do it in Alexandria, who the heck could?"
Despite the Steuerle family's modesty, ACT touches almost every non-profit organization in the City and is the center of a vast interconnected web of philanthropists and movers and shakers.
Among the outgrowths of ACT are the Center for Alexandria's Children (preventing child abuse and neglect); Give Back Alexandria (teaching young adults how and where to volunteer in the city) Action Alexandria (giving residents a local focus for proactive community involvement) and Women's Giving Circle (women organizing to fund social service needs.)
"Although it is always an honor to receive recognition," says Lynne Steuerle Schofield, Ph.D, a statistics professor at Swathmore College. "What is best for our family is that we know lots of other amazing people are doing the hard work every day."
"After Mom died, so many people supported us. There was a huge amount of evil, but also a huge amount of heroism in that period of which I was a recipient. In many ways, the creation of the Trust strengthened us as a family. Although we all have heard it before, the three of us learned again that when you strengthen others, you strengthen yourselves. To me, to battle that form of hatred is to embrace others."
In the aftermath of tragic events, the Steuerle family was awarded a large sum of money from the 9/11 Victims Compensation Fund.
"There was a period of grief, of course, but it is a healthy thing to turn your grief to action. You can't control events, but you can control your reaction. You take the positive energy,'" says Kristin. "We wanted to give back to all of the people who supported us during that time."
Kristin is now a pediatrician for Kaiser Permanente.
In providing the seed money for the Trust, says Gene, an economist for the Urban Institute, "the bottom line is that the money we put up was only a catalyst. We were surrounded by a lot of people with a lot of good ideas."
Eugene, Kristin and Lynne suffered an unimaginable loss on September 11, 2001 when wife and mother Norma Lang Steuerle American Flight 77 crashed into the Pentagon. She was killed traveling to Japan to visit Kristin, who was stationed there as a Navy doctor. Gene was traveling on business in Singapore at the time.
"I've always said that her death was a much more public event and received more attention than other people's losses, but the fact is that you don't rank death," Eugene said. "Everyone suffers when they lose a loved one."
Norma Lang and Eugene Steuerle met at the University of Dayton before she transferred to Carnegie Mellon University, where she was class valedictorian. She earned her master's degree from Temple University and a doctorate from the University of Wisconsin, as did Gene.
"My mom was little. She was only five foot three, but she had the energy of a person eight foot three," recalls Lynne. "She dedicated her professional life to people as a clinical psychologist."
Norma and Gene married after he served in Vietnam and raised their two daughters. Gene became a budget, tax and economic policy expert who served as a senior fellow at the Urban Institute from 1989 to 2008.
After serving as vice president of the Peter G. Peterson Foundation, he returned to the Urban Institute. Dr. Steuerle has written 15 books and over 1,000 briefs and articles.
Both of the Steuerle daughters attended T.C. Williams High School in Alexandria and George Mason University for their undergraduate work before Kristen earned her medical degree and Lynne completed her Ph.D. in statistics and public policy.
The Steuerle family elected to form two trusts, the Alexandria Community Trust, which has blossomed beyond expectation, and another one that serves wider interests elsewhere. Of the two, ACT is the better known and more successful.
Gene explained, "Our goal was to promote Alexandria in a very large part through charitable giving. Alexandria Community Trust is a new breed of community organization, not because we can afford to give enough money directly, but because we sponsor so many ideas."
As an economist, he had studied the charitable sector, community foundations and donor-advised funds. In working with other like-minded citizens ("I'm almost afraid to name them, because I'm afraid I'll forget to say someone's name and not give them the credit they deserve,") ACT became an organization that funded modest grants for local non-profits.
But mostly, it "sponsors ideas" through training, legal and financial expertise and organizational mentoring. It also assists or helps underwrite events of other groups to enhance their fund-raising potential.
Gene explained that through the financial vehicle of donor- advised funds, ACT has educated city non-profits to show families and individuals how tax-deductible contributions can be directed over time to give to charities. The concept is now "keeping things running" for organizations that had shorter term financial goals.
Gene points to future charitable needs Alexandria will face in the future. "The classical problems that any community faces. We have an aging population that is fragile. Children's abuse is also in Alexandria and we need to expand activities to prevent it."
Always in mind is Norma Lang Steuerle, a family and child therapist, "who would have loved" the work of the Alexandria Community Trust, says Kristin.
She describes both of her parents as active in community affairs and who gave their own money for many years to benefit others before her untimely death.
One such project established a fund at T.C. Williams High School to assist students with school supplies, clothing and other physical needs. They also raised money for the school's scholarship fund.
"She'd be very happy," agrees Gene. "She was always action-oriented."
"It was the right thing to do," says Kristin. "As a child and family therapist, she gave to her community all of her life. She would have been absolutely over the moon over the children's programs and they way ACT brings resources together for children. I also think she would be very proud of the Women's Giving Circle."
"We are honored to receive this award, but the very best thing about it is the opportunity to share our story and hope that people will be motivated to contribute in their own way," she concludes.
"For me," adds her sister Lynne, "I feel very blessed. We have experienced the generosity and kindness of an amazing community of people doing the hard work. That feels like a success."
Credit: Diane Bechtol
Photo Credit: Nina Tisara