Induction Year: 2017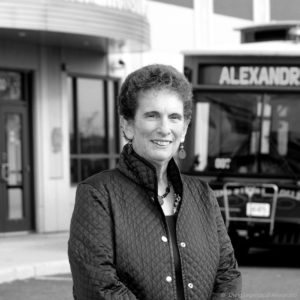 Sandy Modell didn't set out to revolutionize the public transportation world. She just wanted to live in the Shenandoah Valley, on a farm, and get a change from her childhood in Brooklyn.
Decades later, she's retiring as one of the first women to serve as CEO of a public transit system, a builder of both the DASH and DOT transportation services in Alexandria and the creator of a work environment in which employees are comfortable walking into her office with their suggestions and concerns.
It's a career that almost wasn't. While studying sociology and public administration at James Madison College (now University) in Harrisonburg, she applied for a job as a bus driver in the city's transportation system. But she could only work part time and the person in charge said they were only looking to hire full-time drivers. "A few months later I got a call asking if I wanted to come on part-time because. They needed fill-in drivers. I started driving a bus part-time while I was in college. I learned a lot from this, being a new transit system."
She intended to become a sports therapist after graduating from Madison but also wanted to perform some kind of public service and thought maybe she'd work in a park department instead after spending a summer working as a counselor in the Harrisonburg recreation department. But once she got behind a wheel, her career path changed lanes.
She worked full time for the transportation system after graduation, writing grants to help secure funding for additional buses, and kicking off the city's taxi service. Harrisonburg is "the only city I'm aware of that was responsible for operating the taxi cabs in that city," she recalls. Other cities used real estate holdings to financially support the public transit systems.
After a decade in Harrisonburg, she found herself driving up to the Washington, DC, area more often to access the type of art, culture and diversity she missed living on a dairy farm. She was also facing the truth that her boss at the public transportation service in Harrisonburg wasn't ever going to leave.
"To this day he's still there," she laughs. "He's run the bus system there for almost 40 years. I had decided that I really wanted to be the person that led the organization; I really wanted to be in charge and be able to take that organization to a great place. I just couldn't do it there. He wasn't going to leave."
She saw an ad for a liaison for a new bus service in Alexandria and decided to give it a try. "The city was going to hire someone to help facilitate, coordinate and oversee the new system, work with Metro on collaboration and coordination and developing the transfer arrangements. I thought that sounded pretty exciting."
Oddly, it was a visit to Alexandria for a transportation conference that almost dissuaded Modell from applying. During dinner in Old Town, at the former Seaport Inn, she was driving other delegates around town and thought the area looked "really cool," but "who would want to live here, there's so much traffic? I didn't apply for the job but two months later it appeared again." She'd later find out that the person responsible for interviewing candidates took all the applications home and lost them.
When Modell first arrived at DASH—a name which appears to be an acronym but isn't, she says—she was one of three women working in the office. There were "only two women drivers, no women in maintenance, and no supervisors. I decided to do something about that by tweaking our minimum qualifications and also encouraging the women in our organization to aspire to move up within the ranks and go from driver to supervisors and trainers," she says. "The only women who were there were the secretaries and me."
For her work encouraging women within DASH, she was awarded the Virginia Commission on Women's Award for Business and Career Development.
Now, things are greatly improved. "There are women general managers all across the country, there are women in high-level managerial roles in transit. Are we where we need to be? Whether it's engineering or transportation or medical fields, there are more and more women in these careers because of a small number of people willing to take the risk and make it happen. We've come a long way in transit, everything from more women drivers to more women managers and CEOs. It's not as unusual as it was. It was very unusual to be a woman CEO when I became one."
Her work in Harrisonburg also helped when it came time to create the DOT system, providing door-to-door service for persons with disabilities. Through working with Senior Services of Alexandria, the DOT system—again, it looks like an acronym but it's not—was created, giving Alexandria its first para transportation service.
Modell is a member of the Virginia Transit Association's executive committee and chair of the Virginia Transit Liability Pool, in addition to being a founding member; she's had several roles with the American Public Transportation Association including on the diversity committee.. Regionally, she was an original committee member for the creation of the Smartrip card agreements among the handful of transportation systems across the Washington region.
Modell's nomination came from Allyson Teevan and staff at DASH, who comment that she "has amazing talent and skill as an innovative and accomplished administrator and a leader of our community. The success of the DASH bus system is the most visible of her achievements… Sandy's passion for excellence has changed lives within the community and DASH. She has built a culture that focuses on providing a workplace where employees enjoy coming to work with a high morale of employees who take pride in their work and getting customers to where they need to go…on time with high quality transit service built on the basics of courteous drivers and well-maintained buses."
Of her accomplishments with DASH, Modell's very proud not only of the culture she's created and the number of women who now work there, but also the growth of the system, from 17 buses when she started to more than 80 now. That growth was only possible through the funding and construction of a new transportation center, the William B. Hurd Maintenance & Operations Administration Building, which opened in 2009. Modell worked for 15 years to make the facility a reality.
"Without this building, DASH could not have expanded," she says.
In retirement, which Modell announced earlier in 2016 from DASH, she will continue to work in her community and live in the house she rented all those years ago and later bought, in Del Ray, with her partner, Catherine Clement, and their 1 ½ year old Vizsla dog. Her next step, as she "dashes off," is to shift her attention to the Wholistic Hound Academy, a training and behavioral program for dogs in the city. Not surprising for a very busy woman who took the time to create active and sanctioned recreation spaces in Alexandria for dogs and dog owners.
Credit: Amber Healy