Induction Year: 2016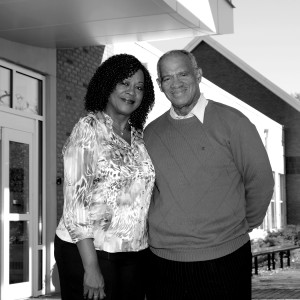 Activism is a wonderful habit. Developed early, it can last a lifetime. It is best when shared with someone special as is the case with Living Legend nominees Ruth and Bill Cleveland, nominated by Living Legends Alice P. Morgan and Lynnwood Campbell. For over 40 years, the Cleveland's have been involved in community activism in Alexandria both as volunteers and professionals. Activism transformed Bill into the first black Republican on City Council where he served fifteen years, including six years as vice mayor.
Born in Pittsburgh, Pa., Bill originally came to the Washington area with the Army and returned after service in Vietnam. In a way he was returning home because his father had been born in Leesburg before migrating to work in the steel mills, which was where Bill assumed he would be heading. Instead he was living with a cousin, one of numerous relatives in this area, and working security at George Washington University when he met Ruth Ann Keys, a native of Washington, D.C. and divorced mother of 5-year old Robert Green and 7-year old Yolanda Green (now Green-Wilson). They married in August, 1974 and moved to Alexandria.
They quickly became involved with the Alexandria Redevelopment and Housing Authority's Resident Council and the Parker-Gray Area in efforts to stop drug trafficking in the neighborhood. Ruth graduated with the fifth class of the Citizens' Academy, and worked full time in several careers. One of her favorites was with the National Center for Neighborhood Enterprise. She began as an administrative assistant and eventually became their event planner, organizing sessions to train the trainers who spread out in the community to teach low-income people how to manage their finances. Meanwhile, Bill became the first black Police Officer at the Northern Virginia Community College before joining the Capital Hill Police Force from which he retired in 2004 after 30 years.
In 1978, Bill began working with the Warwick Village Safety Committee, initially compiling statistics on neighborhood crime. After the move to Warwick Village, Bill formed its first Neighborhood Watch. Bill and Ruth have served on numerous boards and commissions over the years, especially those concerned with community safety. While on City Council, Bill was liaison to several boards and commissions while Ruth has been involved with the Women's Commission and organizations such as the Red Cross and Alexandria Senior Citizen Academy.
Today Bill is especially dedicated to The Untouchables, a nonprofit organization of young men 8 to 17 years old which was started in 1988 by Theodore "T-Tot" Jones, a therapist with Alexandria's Community Service Board and several young men. The club focuses on building the physical, emotional, educational and spiritual capacities of young men of color so they will have the skills to live, work, play and interact with the community in a positive and productive way. The young men who began the club gave it its name because the club's members are "untouchable" from negative influences. Bill is President and Ruth, Secretary. Meeting weekly at the Charles Houston Recreation Center, The Untouchables are learning civic responsibility while giving back to the community. For example, they prepare and serve Thanksgiving dinners for families in the region who would be alone, even hungry, on the holiday. Funded by contributions from businesses and churches but no governments, The Untouchables are learning their own lessons in community activism.
That's what it is still about for Bill, a reluctant Living Legend nominee who is more concerned with "getting the job done" than gaining recognition. By "getting the job done", Ruth and Bill Cleveland's activism has made a difference in Alexandria.
Credit: Sherry W. Brown