Induction Year: 2014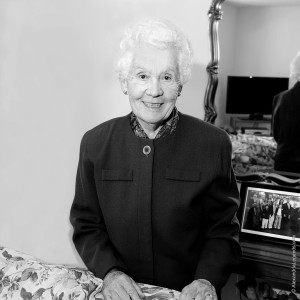 Rose Berler believes that "when you get involved, something good always comes out of it."
At age 16, Rose Berler (known to her family as Rosie), graduated from high school in Norfolk, Va. But she had to wait until she turned 17 to go up north, to Baltimore's School of Nursing at Sinai Hospital. She loved nursing and thrived under the strict demands and high standards of her training.
She won a pediatric scholarship and attended Catholic University's School of Nursing Education but returned to Norfolk to be close to her father who had a serious bone condition. There, she worked for a doctor's office and in a hospital's in­patient post­operative care unit.
In 1949, she married Seymour Berler, a physicist whose work with the Defense Intelligence Agency brought them to Alexandria.
In 1958, shortly after moving into Lincolnia Hills, Berler became a founding member and secretary of Lincolnia Hills Civic Association. Following along the path with her three children's education, she served as president of T.C. Williams High School Parent Teacher Student Association from 1974–75.
She joined the League of Women Voters of Alexandria, serving as their president for two terms from 1970–73 and from 1977-­78, and as vice president from 1974–75.
Berler served as the vice chair of the Alexandria United Way from 1977-­78 and was a member of its Campaign Cabinet from 1976–77 and 1978-­79.
She was involved with the Senior Citizens Employment and Services (now Senior Services of Alexandria) from 1968–79 and served on its board of directors, 1978–79.
In the early 1970's, Berler renewed her passion for health care and became a member of the Visiting Nurses Association of Northern Virginia. She served as a member of the board of directors of Alexandria Hospital Corporation from 1978–86, and continued her affiliation from 1986–97, with what had become Alexandria Health Services Corporation.
Her interests also revolved around the issues of housing, as she became the vice chair and first woman appointed to the Alexandria Redevelopment and Housing Authority from 1974–79. She served as chair from 1979–83. She also became a member of the National Association of Housing and Redevelopment Officials (NAHRO), focusing on women in housing through its task force.
Berler served as the commissioner and first woman appointed to the Virginia Housing Development Authority, attending meetings in Richmond from 1980–84.
Berler transformed her passion for the health and welfare of children into her service as a member of the Alexandria Youth Services Commission from 1985–87 and as a member of the Advisory Committee for Adolescent Health Clinics in 1986.
From 2000 to the present, Berler has served as the chair of the Alexandria Schools Health Advisory Board (SHAB), which improves health services to children in the schools. She was recognized by the school board in fall of 2013 for her years of service to this committee. In 1975, Berler earned the George Washington Citizenship Award from the Alexandria Chamber ofCommerce. And in 1994, she received the Marguerite Payez Leadership Award from the Alexandria Commission on the Status of Women.
Berler believes that "when you get involved, something good always comes out of it. So many people need help." She has enjoyed the good opportunities to make things better. She has met wonderful people along the way and has found "all of her involvement very worthwhile."
Credit: Barbara Holleb
Photo Credit: Steven Halperson