Induction Year: 2010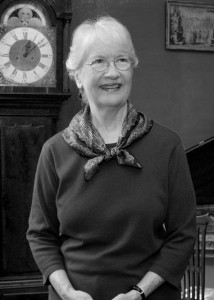 Living Legend Rosalind Bovey: The Engine That Makes Things Run
"I can't praise Rosalind Bovey too highly," said former Carlyle House Board President Oscar Fitzgerald. "It seems like I have known her forever. She is very successful, persistent, has raised significant funds, and I am always impressed by her positive attitude."
The public accolades are many including adjectives like amazing, energetic, persuasive, reasonable, and well-organized. Bovey is admired particularly for her commitment to civic causes.
"Rosalind is super competent," said Planning Commission Chairman and Carlyle House Board member John Komoroske. "She is the engine that makes things run. Lots of us have crushes on her."
"Not only has she done a fantastic job with our Friends group," former Carlyle House Director Mary Ruth Coleman added, "but Rosalind works well with staff. She gives staff, people the respect they deserve." Bovey joined the Carlyle House Board of Directors in 1992 and has served continuously.
Bovey's first brush with history came when restoring the family's Connecticut home. Willing to do "drudge work" – scrape wallpaper and scrub walls – she is a natural to promote Carlyle House's acquisitions and education programs. It was in Connecticut that Rosalind first learned the value of history.
Rosalind, a Navy wife who married in 1960, "moved at least 13 times" before calling Alexandria home.
"I love volunteering in Alexandria," Bovey enthused.
In fact, since the late 1970s Rosalind has engaged in both paid and unpaid employment.
Many first became acquainted with Bovey when she worked as Councilman and Vice Mayor Bill Cleveland's aide (1988-1995). Both are Republicans.
"Rosalind is like a peace-maker," Cleveland said. "She's always bringing sides together and working out differences. She does it all according to protocol."
"Being a Navy wife, with all the difficulties you have to cope with, is good training for almost anything," Bovey said. "When Bob served as Captain of the USS Sand Lance I served as the wives' 'social worker;' helping them through crises, advocating, and planning get-togethers to keep spirits high." Cleveland and Carlyle House Director Jim Bartlinsky attest to Bovey's advocacy skills.
"I am a Republican by marriage," Bovey smiled, "and otherwise bi-partisan. I don't like partisan nastiness." Bovey ran unsuccessfully for City Council in 1994.
"As an aide, she added grace to City Hall," Cleveland replied.
"When I left City Hall I missed the issues," Bovey said. "It's probably why I enjoy working with Agenda Alexandria. My programs have included not only history, but also mental health and the environment."
"We bought a farm 16 years ago in Shenandoah County, Virginia, and there we work to protect the river," Bovey explained. "That's when I'm not gardening, of course." The family loves Rosalind's homegrown tomatoes, cucumbers and herbs.
"If I leave a legacy," Bovey mused, "I hope it is the Carlyle House Herb Sale. The garden, the activity fit so well with the House."
"She started our annual Herb Sale," Bartlinsky confirmed. "She's been its driving force and is still enthusiastic."
In 1981 the North Ridge Civic Association supported Bovey's effort to publish the neighborhood's history. The 72-page book, North Ridge Lore, is a series of short stories, one of which relates to the Byrd machine's 'handling' of paper ballots.
"Alexandria now uses voting machines because a North Ridge resident sued," she noted.
"The Lore was a fascinating project – a group effort – a real labor of love," Bovey recalled. North Ridge Lore, revised in 2000, sells for $5 and is available at The Lyceum gift shop. Proceeds from the book sale benefit the civic association.
"I am Jane Austen-ish, especially my outlook," Bovey offered. "I write from what I know." Austen is Bovey's literary idol. "Austen wrote from life and her characters are marvelous," Bovey explained. "She is probably the reason I enjoy John Carlyle's history so much. John Carlyle was the quintessential second son. His is a huge story of entrepreneurship, two wives and the complications of childbirth."
What is Bovey's life lesson? "I like people, but initially I was shy. As a Navy wife I learned you have to work hard to meet people who are entrenched. If you stay involved in something you're interested in, something worthwhile, it all works out. Only five years ago did I learn to say 'no,' to not bite off more than I can chew."
"When working with boards of directors, joining boards, the ideal board is diverse, a mix of men and women, ages, and ethnicities," Bovey said. Over the years Rosalind has served on a variety of Alexandria boards of directors.
In 2009 the Alexandria Historical Society acknowledged her efforts with a history award.
"I've always been glad she's not in sales," Komoroske grinned. "There'd be no resistance. She's like a rock." Fitzgerald and others agree.

Credit: Sarah Becker