Induction Year: 2013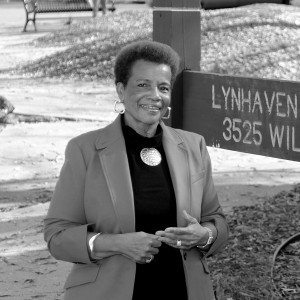 Rosa Byrd and her husband Jack have lived in Alexandria for more than 50 years and for much of that time she has been a community leader and champion for causes to make her Lynhaven neighborhood a safe place to live. They are the proud parents of Patricia Yancey (Alex) and Julious Byrd (Semone) and grandparents of Chanel Yancey, Jordan Byrd and Jalen Byrd.
For more than 35 years, Byrd and her friends inspected alleyways of Lynhaven for code enforcement violations, sanitation problems and lighting outages. They were lovingly referred to as the "Snoop Sisters" by their neighbors. Byrd developed a working relationship with the Mayor, members of City Council and the City Manager that helped to solve many of the neighborhood's problems. She and her neighbors were successful in transforming a vacant lot into a playground for their children. Later, then Mayor Charles Beatley was on hand for the opening of a second park in the area. One former business owner was so appreciative of Byrd's volunteer efforts in her community that he established the Lynhaven/Byrd scholarship at T.C. Williams High School. Del Pepper, Alexandria City Council Member, stated, "In many ways, large and small, Rosa has truly made a positive difference in the neighborhood and community. She has shown courage when that was needed as well as determination, commitment and perseverance. It's caring people like Rosa that have made Alexandria such a wonderful place to live."
Unfortunately, in the late 80's, Alexandria began to attract drug dealers from New York and Washington, DC. Lynhaven was targeted as an area whose streets would become "open air drug markets." The loss of so many youths to drugs and gang activities inspired Byrd and others to take on the dealers and gang leaders to make their neighborhood safe. Byrd was in constant contact with the Mayor, Members of Council, City Manager and the Alexandria Police Department to bring all resources to bear for an all-out attack on the problem. She was instrumental in encouraging her neighbors to establish a bond of trust and respect with the undercover police officers. Residents allowed their homes to be used by police to observe active drug sales. Byrd activated telephone trees to assist a special unit of the Police Department called the, "Jump-Out Boys." The dealers feared this unit because of this its success.
Lynhaven was selected to become the first neighborhood in Alexandria to participate in a program called Community Oriented Policing. This program entailed having one particular police officer assigned exclusively to Lynhaven. The officer worked in conjunction with the residents to establish neighborhood patrols, united with the transportation and environmental services department, code enforcement and the traffic division to help clean and beautify the neighborhood again. Absentee landlords were held accountable for the maintenance of their properties. The COP's program is still in operation. Sergeant Robyn Nichols, Lynhaven's Liaison Officer since 1996 offered this quote; "Rosa held the Police Department and elected officials accountable for combating the drug problem in the neighborhood."
Byrd's influence outside of Lynhaven is just as impressive. Her concern for quality education in all the city's public schools, especially for minority students led to many educational endeavors. She has led by example. In 2011, Byrd and her daughter, Patricia, were honored with the "Generation to Generation" award for community service by Senior Services of Alexandria.
Her concern for quality education in all the city's public schools, especially for minority students led to many educational endeavors. Byrd has served as officer of the PTA's of Cora Kelly Elementary School, Francis C. Hammond Middle School and T.C. Williams High School.
Byrd knows the importance of having input into the day-to-day decisions made by politicians. She knew that the way for the disenfranchised to have a "voice" was through their vote. She actively recruited neighbors to register, she volunteered at the polls, served as a precinct chief, campaigned for city, state and presidential candidates, arranged for transportation to and from the polls and provided any other service necessary in her efforts to get people out to vote.
Former City Manager Vola Lawson said "Rosa Byrd is a real dynamo. She has worked successfully for years to benefit and improve her beloved Lynhaven community. She has also been a strong advocate for the rich diversity of our school children. Rosa's energy, commitment and effectiveness for the causes she cares about are legendary."
Living Legend Ferdinand Day considers Rosa Byrd to be one of his "ladies," a group of community activists who have worked with him and Living Legend Melvin Miller throughout the years. The group includes three Living Legends and two nominees. Mr. Day states "Working with Rosa has been a pleasure. I have known her for many years and I have been impressed with her dedication to the city. Her nomination to Living Legends honors the concept of the Legends."
Credit: Alice P. Morgan