Induction Year: 2020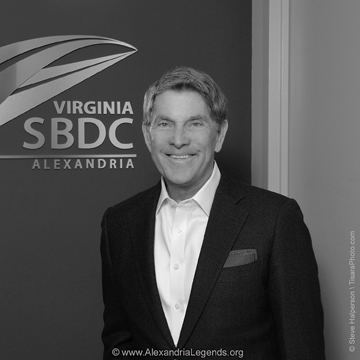 Bill Reagan is not a very good salesman. Yet that is the career path he set upon following the active duty military service that took him around the world and first introduced him to Alexandria.
"When I was in the Army, my specialty was logistics," said the native of Harlingen, Texas. "At one point I was designated chief of protocol and dealt with a lot of dignitaries. This was during the Vietnam era so I interacted with people like Henry Kissinger and Al Haig. I came through the DC area often and was fascinated with what happens here so when I left active duty I knew this is where I wanted to be."
Unsure of what he wanted to do in the civilian world, Reagan was recruited for hi-tech sales with the federal government. "I realized in retrospect that while I liked engaging with people, I was not a good salesman because I didn't like pushing people to buy," Reagan said. "This was the early '90s and I was living in Alexandria and driving every day to a job in Bethesda. In order to spend more time here, I decided to get into consulting for small businesses. It was then that I found out that there were no resources to help me with the process."
Reagan began talking with then-City Council members Lois Walker and Bill Eullie about the importance of small businesses to Alexandria. Together they put in place the structure that became the Small Business Development Center, which opened in December 1996 as part of the Virginia SBDC network.
"While there was a lot of excitement behind the SBDC, there was not a lot of funding," Reagan added. "At the start I was a one-person operation and it was just overwhelming trying to put together this infrastructure. It took a while to get sufficient funding to hire another person then grow enough to bring in consultants. My first hire was Jack Parker as a business analyst and then Gloria Flanigan as assistant director. They have both been with the SBDC over 20 years now and are a big part of our successes."
According to Reagan, about 90 percent of businesses in Alexandria have fewer than 20 employees and they generate about half of the city's gross receipts.
"These businesses are spread out all over the city so you don't see them in any single cluster," he said. "They fit nicely into our nooks and crannies and historical buildings, but they are a powerful force for our economy. It's the small businesses that you think of when you walk down King Street in Old Town or Mount Vernon Avenue in Del Ray. That's what gives Alexandria its flavor and character as well as being a vital part of the economy."
Reagan's successes over the years are many. According to past Chamber of Commerce Board chair Charlotte Hall, Reagan has spearheaded or championed many community-oriented outreach efforts that fall outside of the normal SBDC activities of assisting small businesses get established, grow and prosper.
"Bill created the National Harbor Task Force in anticipation of the opening of the Gaylord Resort and Convention Center to take advantage of the many visitors that would come to the City," Hall said in her nomination of Reagan as a Living Legend of Alexandria. "He also started the monthly Business Association meetings to give all of the local organizations a forum for information exchange. And Bill started the Business/Council Exchanges where groups of small business owners who do not otherwise get their voice heard have the opportunity to meet with two City Council members in a small group setting to discuss issues that are important to them. These are just a few of the things that have tied the Alexandria SBDC to our community in ways that many other SBDCs are not."
In addition to working with small business owners, Reagan has worked with Business Education teachers at T.C. Williams High School to present information to high school students who may be future business leaders in the community. And for 20 years he has worked with a professor of operations in the Virginia Tech MBA Program to enable MBA students and Alexandria small businesses to work together on projects which benefit both the student and the small business. This effort has fostered over 100 projects and developed a relationship that will continue with the establishment of the Virginia Tech Innovation Campus in Alexandria.
"Small businesses have all of the problems that major corporations have," Reagan said. "But major corporations have the luxury of having legal, marketing and accounting staffs. With a small business, it's one or two people making all those decisions. That's where small businesses need a resource to go to that will help them. We have the attorneys, the accountants, the specialists in human resources, government contracting, social media, and nonprofits – we have the experts to help."
Reagan grew up on the same block in Harlingen until he left for college at the University of Texas. He studied natural resource economics and did some post-graduate work in regional planning. While in the military, he served in West Germany, Thailand and West Berlin. His military experience has helped as he expands the SBDC in tailoring programs for veterans transitioning to civilian careers.
"SBDC has served hundreds of veterans over the years," Reagan said. "When serving on active duty, your counterparts are in the business world networking and building careers. We are here to mentor and advise younger and newer veterans who might need a little help in transitioning."
Reagan credits city leaders and elected officials for recognizing the important role small businesses play in the community as he strives to help them stay competitive in today's evolving business environment.
"We try to fine tune everyday what we are doing at SBDC," said Reagan. "While we are not sure what the next new thing is – co-working spaces, solopreneurs – we just try to stay ahead of the curve and think what small businesses will need in resources to keep up with these new trends."
Not one to rest on his laurels, Reagan shows no sign of slowing down and is excited about the future for small businesses in Alexandria.
"I see a lot of enthusiasm in the community with Amazon's HQ2 and the Virginia Tech Innovation Campus coming to the area," Reagan said. "Amazon first located in Seattle because Microsoft was there so there is a great potential for growth here that all spins off to Alexandria's small businesses and I am excited to be a part of that."
Credit: Jeanne Theismann
Photo Credit: Steven Halperson