Induction Year: 2014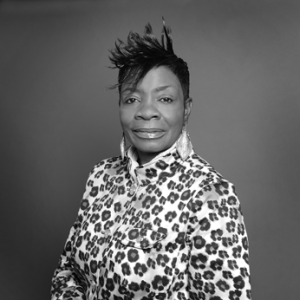 For over 30 years, Ramona K. Hatten has been involved in community service in Alexandria. Hatten graduated from Mount Vernon College with a Bachelor of Arts in Business Administration. Since then, she has used her professional skills to help low income and public housing residents improve their quality of life. Hatten has encouraged them to become involved in civic activities, the PTA, voter registration and public demonstrations for justice. She was a grassroots campaign worker on Joyce Woodson's City Council win.
Hatten was an Alexandria Redevelopment Housing Authority (ARHA) commissioner from 1982 to 1990. In 1988, she was instrumental in the formation of the Alexandria Resident Council (ARC) to assure public housing resident input into ARHA decisions affecting public housing tenants. In 1991, she lobbied city council to establish a resident slot on the ARHA board.
The Alexandria Resident Council (ARC) worked closely with ARHA to develop a memorandum of understanding. Under Hatten's leadership, ARC was active in finding innovative ways to support capacity building among residents, as well as supporting training programs that sought to build competency skills. Some noteworthy achievements were the Job Bank where residents were able to come to the ARC office and obtain information on job openings, the Day Care Program located in the "Berg" for parents who lived in that community and the Safety and Security Training Program conducted by the Alexandria Police Department for ARC's block captains and site representatives.
In 1983 Hatten participated in the "We Care" initiative to combat drug abuse in the home, school, and community through application of spiritual principles. Between 1989 and 1994, Hatten worked to combat drug abuse in public housing. She was a member of the city's anti­drug task force from September to December 1987. In 1989, she was one of the speakers at the Alexandria Town Meeting regarding drugs in the city.
In 1988, she developed a mechanism for helping public housing residents stop illegal drug trafficking into their community. The ARC organized an anti­drug boycott in the 800 block of N. Alfred St. followed by weekly sit­ins. Every Friday evening for approximately nine weeks, public housing residents and others sat out in lawn chairs until after midnight. There was also increased police visibility during this time and throughout the following year. This was a great deterrent to drug dealing in the neighborhood.
Hatten was instrumental in working with city council on changing the hours of operation of the 7­11 convenience store located on North Columbus Street. The 24 ­hour operation invited loitering and other behavior problems in the community. After several presentations before city council and Hatten speaking one­on­one with its members, council passed a motion to have the store close at midnight.
President George H.W. Bush in 1989 established the vision of a "Thousand Points of Light" and he invited the nation to take action through service to their fellow citizens. In 1990, President Bush recognized more than 1000 volunteers, including Hatten, with the Daily Point of Light Award in honor of making a difference in their community.
On January 16, 1990, President George Bush visited the homes of ARC members to show his support of their efforts. The President pledged to use "the success you already have had to offer hope to communities around the country." Also, Jack Kemp, then Secretary of Housing and Urban Development stated that the activities of ARC and others "send a clear signal to not only public housing residents in Alexandria, but to honest men and woman living in public housing all over America that no longer is public housing going to be a safe haven for drug users, dealers and abusers."
The Empowerment Network (TEN) was featured in the April 1993 Empowerment Pioneer:
"During a meeting with Virginia Governor Doug Wilder and his cabinet, TEN Foundation President David Caprara received encouragement for new welfare reform demonstration initiative involving Alexandria public housing resident and clergymen. With the enthusiastic backing of the Alexandria Resident Council, led by Ramona Younger (Hatten), and Rev. Lloyd Roberts of the 'We Care' ministers' alliance, a community­based welfare reform strategy was born."
This drug elimination tactic was replicated by HUD and others. Hatten participated in a HUD discussion group in Montgomery County, Maryland where Alexandria was used as a model. She was also involved in discussions of HUD's drug eviction policy for public housing residents.
From 1989 to 1994, Hatten was president of the Alexandria Residents Council (the appointed board that represents the city's public housing residents).
Hatten initiated and assisted the housing authority in establishing the "Kids are Responsible Workers" (KREW) Program, helping teenagers acquire skills for entering and remaining in the workforce. Though successful, the program was discontinued due to lack of funds. In 1990, she established the first annual event to support and promote traditional family values through a Family Day Festival for public housing residents. This event was held in 1990, 1991 and 1992. Hatten's awards and public recognitions include the Alexandria Anti­Drug Task Force, the Equal Opportunities Commission, the Commission on the Status of Women and the Departmental Progressive Club.
Credit: Alice P. Morgan
Photo Credit: Steven Halperson