Induction Year: 2011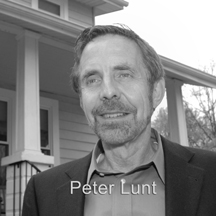 "Go show up." That's Peter Lunt's advice to persons wanting to "do something for their community." For his diligent example of volunteer leadership at Carpenter's Shelter, the Guest House, Teaching Hope, and several other charities, Lunt has been named a 2011 Living Legend of Alexandria.
Gravitating to organizations that give hope and dignity to the homeless, to female ex-offenders, and to uneducated and unskilled Colombian girls, Lunt changes lives and empowers local charities to carry out their work within professional, well-organized and financially stable frameworks.
"Just go show up, and see if you can meet a need. There are so many people who want to do something, but they may not know where to start. My advice is to show up at charities, they always need help. You can man the front desk, mentor someone or do many other things – see what resonates or adds a value. It's possible that you may have to try a few different organizations to find the right fit, but when you do, amazingly positive things can happen."
Peter Lunt says his spiritual and humanist beliefs are at the core of his personal motivation to engage in charitable work. Two events "just tugged away at me to go help the rest of the world." His father passed away unexpectedly in 1992. Real estate was not a lucrative business during the economic bust of the late1980s and early1990s, and "everything had negative values." His grief and desire to meet the needs of others put him on a now almost twenty year mission to assist disadvantaged populations.
In his professional life, Lunt is the general partner for NVCommercial, Inc., the Northern Virginia and Denver commercial real estate company. Prior to his present position, he worked in the investment group of The Northwestern Mutual Life Insurance Company, where he was actively involved in more than $200 million in new investments. Lunt graduated in 1973 with an MBA in Finance from Indiana University, and received his bachelor's degree in Economics from the University of Richmond in 1971. His education paved the way to a career in business, and significantly for Alexandrians, a stellar portfolio as a community-changing and life-changing civic leader.
Lunt was born in New York, raised in Ohio, and attended high school in Staunton, VA. He achieved the rank of Eagle Scout, was a recipient of numerous civic and scholastic awards, and while still a boy, managed a paper route. In college and graduate school, he earned Beta Gamma Sigma honors at both universities and Omicron Delta Kappa honors during his undergraduate years. He has been married to Pilar Vasquez-Lunt since 2008 and together they have a blended family of five children. Lunt has lived in Alexandria for the past 29 years.
Lunt's name is synonymous with Alexandria's Carpenter's Shelter, formerly a 100-bed debt-ridden facility housed in an old rental warehouse and offering only basic services to its residents. Today it is a national model for ending homelessness with aftercare and transitional housing programs. It operates out of a new facility, its debt is retired and it maintains a small endowment created under his watch. Lunt joined the Carpenter's Shelter board of directors in 1994 and served as its chairman from 1996-2001 when Alexandria's homeless shelter had an eviction notice and could not pay staff salaries. Under his leadership, the old lease was renegotiated, an alternative location was identified and obtained, the budget restructured, a new executive director hired and a new board of directors created. Lunt still serves on the board of directors, enjoys participating in the meetings, and takes pleasure in how the non-profit has grown.
He offers his formula for success in community activism and charitable work. "Stay with good causes, believe in a mission, work with boards that are financially stable, and hire good people for the day-to-day operations. It is the execution that's the challenge and it is so important to get the right executive directors, to reduce the risks of ups and downs, and to offer more services. We are so fortunate to have very capable executive directors at both Carpenter's Shelter and Guest House, I can't stress that enough."
Guest House, a non-profit organization dedicated to assist non-violent female ex-offenders become self-sufficient, independent, productive and responsible members of the community, is another focus of Lunt's charitable interests. In 2003, it was forced to close due to financial problems. "I knew nothing about female ex-offenders," Lunt says, but was drawn to the organization after reading a Washington Post article about its demise. He collected a group of like-minded locals to bring new life to Guest House.
"There was very significant support in the community for people who had been dealt a bad hand. Yes, the offenders made some poor choices, but everyone deserves a second chance in life, or maybe even a third. Guest House gives these women a chance to get stabilized and work on their issues. There's a lack of recidivism, it helps parenting skills and allows them to become productive members of society."
At the helm of a new board, Lunt oversaw the renovation and refurnishing of its building with mostly donated goods and services. It reopened in 2004 with a new staff, its inherited debt paid off and a reorganized Friends group invigorated to carry out the mission. Today Guest House receives high marks in Department of Corrections audits, its budget has doubled, programs have been added and more women are served.
A third charitable and educational interest of Lunt's is the Northern Virginia-based Teaching Hope organization. The non-profit start-up provides computer training and English skills for 80 Colombian girls in a country where regulations require that they leave orphanages at age 18, despite possessing only mediocre education and life skills. "Teaching Hope gives them some economic options and a reasonable chance of getting jobs other than turning to prostitution or life on the streets and poverty. " The pilot project is a "laboratory" of social justice and female empowerment and Lunt hopes to see it grow in scope as he envisions his future volunteer involvement.
Lunt says it is very possible to combine compassion with business acumen and he applies that knowledge to his own volunteer activities. "I liken charity boards to start-ups or venture capitals – you have to have the right mix of people. It is so important to get good executive directors and working, not ceremonial, boards of directors. Surround yourself with experts and good people from all walks of life. Boards shouldn't necessarily be unanimous because you need different perspectives and a right to dissent."
Lunt advises purposeful people to follow their impulses to help in their communities. "I didn't know much at all when I first started, but life is so much more meaningful now. It's really been a pleasure. You experience so much over a period of time, and then when it is all well and done at age 90, you'll feel so much better for it.
Credit: Diane Bechtol