Induction Year: 2023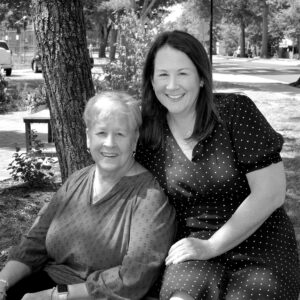 Mother and daughter Patty and Kate Moran have dedicated their lives to the education of Alexandria's children. Both are volunteers and mentors who have contributed in lasting ways to build and promote important events that forever give back to the city.


Patricia "Patty" Moran and her husband moved to Alexandria from Boston for a year in 1976 and "we never went back." She says her son was three years old and her daughter Kate was two-months old.
"We moved into my cousin Jim Moran's house and have been in Del Ray ever since. It's addictive here; the people are so easy to get along with."
Moran started teaching preschool every Sunday at Blessed Sacrament and then taught in the nursery for 20 years so she was always around kids. That and the fact that she is the 4th child of 12 siblings in her family. "We always made our own entertainment."
She coached her son's basketball team in middle school and some of her daughter's sports teams but she began her volunteer work in the schools at what was then TC Williams High School in 1988 when her son entered high school. "I helped the principal with things all the time, and I was so involved with all of the activities that they gave me my own key to the building and my own mailbox. I spent all day there; I couldn't help myself." It wasn't until 2006 that they finally gave her a paying job as the administrative assistant to the principal, which is where she is today.
When she wasn't working at her official job, Moran served as PTSA President, ANGP Co-Chair, Titan Expo Co-Chair, Athletic Boosters Committee, Scholarship Fund. Whenever there is an event in the schools or the community Moran is part of it "acting as an Indian under the chief." Every December she takes a week off work to volunteer for the Alexandria Department of Social Services Holiday Sharing Program.
Moran has served as the sponsor of the Key Club for six years, an organization that brings together students to volunteer for school and community events. "We have 180 members and participate in 65 events a year." Moran says the students provide valuable assistance for these events, and it also gives them a great chance to meet each other with different cultures and nationalities and ages that they wouldn't otherwise have the chance to know.
Moran says she has seen kids over a long time and doesn't think kids have changed. "But what has changed is the things around them. "In the 80s kids had face- to-face contact and had to converse but now there is social media. The kids are the same but the tools are much more sophisticated." And of course the clothes are different. "Society is much more accepting."
Moran and her daughter Kate work on many of the community events together with one of the most important being the Nancy Dunning Memorial Garden Committee. The purpose is to help plan and design a meaningful and peaceful garden in Del Ray dedicated to her sister Nancy Dunning's memory after Dunning's murder in 2003. Every year Mount Vernon Avenue is lit with 1,000 luminaries in remembrance, and Kate Emcees the Holiday Tree Lighting and reminds the community of her aunt's contributions to Del Ray.
Moran was awarded the coveted annual Del Ray Business Association Award in 2007 for her years of dedicated work in organizing, supporting, volunteering, fundraising and making a difference in Del Ray. She has received many other awards including the Salute to Women Making a Difference Award, the Joan White Grassroots Volunteer Award, Alexandrian of the Year, the Alexandria Red Cross Burke Award and was Grand Marshal for the Annual Turkey Trot.
Moran says she was born a volunteer. "Whenever I see anyone needs help on Facebook, I'm there. I'm a soft touch."


Kate Moran couldn't decide which way to go. Lucky for Del Ray she made the decision she did. Moran grew up in Alexandria and was active in drama in high school. At the same time she took a special high school class where she was paired with a student who was verbal but cognitively challenged. "I helped him with reading and writing. It was a great experience. I learned some of the basics of teaching."
Moran majored in theatre at Catholic University and followed it with a Master's in Special Education from the University of Virginia. When she graduated she headed to Europe with three friends "to see the world. But when I came back I had to get a real job."
So she headed for a teaching career and has spent 25 years working in special education. Her first job was teaching students K-2 with intellectual challenges in Loudoun County. She moved to middle school where she eventually established a behavioral program "back when this was fairly new." The suspension rates were cut in half, and no student was put in private placement while she was there.
She left to teach in Alexandria where she started as a teaching assistant in the Alexandria Public Schools and later became a Special Education Coordinator. Now she is working at the U.S. Department of Education in the Office of Special Education Programs.
But she always did music on the side and has been able to combine her passion for helping kids with her love of music and performance. She says the purpose behind all of these things was to bring people together.
Moran started her award-winning Rainbow Rock Band where she performs as a singer- songwriter in the metropolitan area and as far away as New York. Her mother Patty serves as Pattycake Patty in the band. Moran released an award-winning CD "Meet the Rainbow" in May 2015 based on her show.
Moran and the Rainbow Rock Band went to Haiti after the disaster and worked with the kids to get school supplies. With her job at the Department of Education she spent 45 days in Puerto Rico walking door-to-door through remote areas in the mountains working on disability integration— making sure people there had generators and needed medical supplies.
Moran established Rock the Rainbow, a non-profit dedicated to meeting the needs of children in her Del Ray neighborhood and beyond, and partnered with the Alexandria Department of Human Services to collect coats for kids in foster care.
With the help and support of her mother Patty, Moran founded the very successful Del Ray Music Festival which has become a popular yearly event. Moran was also a lead organizer with Well Del Ray from 2014-2018.
Moran and her mother co-chair the Nancy Dunning Memorial Garden Committee to create a peaceful garden in her aunt's memory. "When my aunt was murdered in 2003, I wanted to keep all the things she did going for her legacy. She did Halloween, Carpenter's Shelter, so much in the background to support and help all these events in the community." At Christmas Kate and Patty help fill the 1,000 luminaries lining the Avenue, put them out and light them in memory of her aunt and Patty's sister, and Kate gives a speech recounting her aunt's many accomplishments.
Moran along with her mother received a Star Award from the Del Ray business Association for their years of dedicated work in organizing, supporting, volunteering, fundraising and making a difference in Del Ray. Moran has received the National Parenting Products Award, Mom's National Choice Gold Award as well as Family's Choice Gold Award, US Department Peer Recognition Customer Service Award, and has served as an advisor to the Washington DC Recording Academy. She is currently a Recording Academy Washington D.C. Chapter Governor, supporting children's musicians in the DMV.
By Shirley Ruhe
Photo Credit: Steven Halperson/Tisara Studios