Induction Year: 2012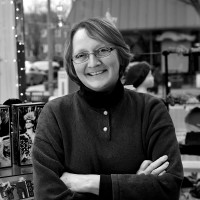 If a community is lucky, it includes people who raise their hands when there is work that needs doing. Alexandria Living Legend Pat Miller is the sort of person who raises both hands.
Born in Carroll, Iowa, Pat started life on a farm, the middle child with an older brother and sister and a younger brother and sister. When Pat was in the fourth grade, they moved into "town" where overnight the addition of the seven Millers swelled the existing population of 90. Pat's father worked at the local farmers' coop and her mom opened a café. Unlike many youngsters in Alexandria who spend most of their time with children their own age, in Pat's small town, children of many ages played and studied together. In Pat's classroom fourth through six graders studied together. This experience may have triggered Pat's belief in inclusiveness: that bringing everyone together builds a stronger community.
Pat moved to Cedar Falls/Waterloo, Iowa to attend the University of Northern Iowa, the first in her family to go to college. After college, she worked for a television station in Waterloo as the "token" female reporter covering a three-way race for Governor. Eventually she worked in Governor Robert Ray's re-election campaign and then as Mrs. Ray's Administrative Assistant and the Assistant to the Governor for Appointments.
Pat then managed various campaigns in the Mid-West, including Ohio statewide issue initiatives, the Mayor's Race in Kansas City and a Congressional Race in Iowa. These experiences earned her a job at Bailey, Deardourff & Associates political media firm and brought Pat and her husband to Washington, DC. During this time, she also met Paul Wilson and today works with him at Wilson Grand Communications where a flexible schedule allows her to have a "day job" as his Operations Director.
While looking for a place to live, Pat and her former husband stayed with Paul and his late wife Kathy, who at the time was Chair of the National Women's Political Caucus (NWPC). Kathy invited Pat to a NWPC conference and when Kathy mentioned a myriad of tasks that needed doing, Pat, of course, raised her hand to volunteer. Work on issue campaigns followed right up until recently and included Youth e-Vote which set records for national turnout for elections.
Pat's pick-up truck is a familiar sight in Del Ray. After the death of Kathy, who had become Director of the Abracadabra Child Care and Development Center, Pat received one of the strangest requests for using it. Paul's neighbors had removed two large tree stumps which they offered to Abracadabra's playground if someone would just move them. Paul and five guys showed up planning to load them into Paul's car. Eventually, reality set in and Pat got a call asking to borrow her truck. Nothing is too small or strange for Pat to lend a hand.
Another local area for which Pat volunteered was the Avenue Partnership which today sponsors the Del Ray Farmers Market. Given her family background, it is not surprising that Pat took on the role of Market Manager. She selects the vendors who offer the very best in local produce, flowers, bakery, meats and cheese. Besides offering wonderful shopping, the Market is the place to socialize with neighbors and enhances Del Ray's sense of community.
Pat is an "evolver" who takes an idea to the next level. That is what she did in 1995 with the Del Ray Block Party, now the nationally known Art on the Avenue. A free multicultural art and music festival held on Mt. Vernon Avenue, Art on the Avenue hosts more than 300 artists, food vendors, a children's stage and three music stages. Pat has included the participation of nonprofit organizations at no cost to staff children's activities. Pat has made the arts an integral part of the music and craft projects. She works tirelessly to raise funds for the event and organizes it each year. Art on the Avenue has brought attention to Del Ray with features on WETA Neighborhoods, in the Washington Post and Washingtonian Magazine.
Another example of Pat's evolving an idea is the shop created by Pat and her business partner, Maria Wasowski who nominated her for the Living Legend honor. "A Show of Hands" provides a store for local artists who have evolved from selling to acquaintances or traveling to weekend shows and are ready to begin marketing their art professionally. Pat especially enjoys featuring artists who like to come into the store and meet and share with potential customers their enthusiasm for their work.
Pat's interest in the arts led her to volunteer to serve on the Alexandria Commission for the Arts which she has chaired since 2006. Under her leadership, the Commission has strengthened its emphasis on public art with projects in various stages of creation such as installations at Freedman's Cemetery, Charles Houston Recreation Center, and the Public Safety Center. She injected a local arts component into the Old Town Festival for the Arts assuring a juried, invitational exhibition of local artists which continued for several years. She also add local performing arts groups to the Festival which continues today.
It is not always about the arts. Pat serves on the Board of Directors for Community Partners for Children, a small nonprofit that conducts Alexandria's two largest holiday toy and school supply drives for children in need. She joined the board in 2001, was elected Co-Chair in 2004, and President in 2008. She takes part in all of the organization's activities from putting out collection boxes, to inventorying items or making deliveries to schools. Her porch has become a popular drop-off point for toys and school supplies.
The Del Ray community has benefited economically from Pat's dedication. She expanded her work with the Avenue Partnership (TAP) from Market Master to planning and implementing advertising campaigns and events that attract people to the community and promote its businesses. In 1996, Pat was named President of TAP. That led to her appointment by City Council as an ex officio member of the Potomac West Alliance Interim Planning Board. When the Potomac West Alliance (now the Del Ray Business Association) was formed, Council unanimously appointed her to an at-large seat and she was elected the first President. She set about setting goals and structuring the new organization which successfully met those goals.
Today, Pat is involved in the Del Ray Business Association's annual Halloween Parade, the 5K Turkey Trot, and First Thursday. She even finds time to mentor new business owners. One regret is that she sees so many other opportunities for involvement but has to sit on her hands to keep from taking on all of them!
Pat does take a little time for herself. A broken hand has cut down on her time on the tennis courts but she enjoys reading fiction, especially mysteries. She loves country music and finds time for evenings at the Birchmere. To relax, she will tune into the Food Channel but that may be part homework. It helps her keep up with food trends that may show up at the Del Ray Farmers' Market.
So in gratitude for all the times Pat Miller has raised her hand for Alexandria, Living Legends is pleased to give her a big hand.
Credit: Sherry Wilson Brown
Photo Credit: Joe Bleach