Induction Year: 2020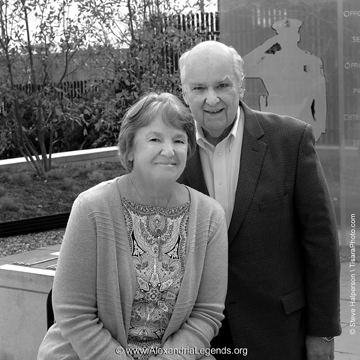 The Alexandria Police Foundation was originally founded in 2002 to provide health insurance for retiring police K9 dogs. Under the leadership of Richard and Ginny Obranovich, the Police Foundation has grown to now sponsoring wide-ranging programs reaching into all parts of the community as well as working to enhance the effectiveness of Alexandria police officers.
The Police Foundation supports a youth summer camp and sponsors activities to promote community-oriented policing, the 10-week Community Police Academy, Teen Law Enforcement Academy for kids 14-18 years old and a soccer program led by school resource officers. Richard and Ginny serve as volunteer executive co-directors making these programs and opportunities into a full-time job.
According to Ginny and Richard, the biggest challenge when they joined the Alexandria Police Foundation in 2012 was the building of the Fallen Officers Memorial in front of Alexandria Police Headquarters on Wheeler Avenue. The purpose was to create a living, breathing tribute to honor 18 fallen officers beginning with the first constable in 1823. Ginny's first husband, Corporal Charles W. Hill, is one of the officers honored on the memorial. Hill was killed in the line of duty in March of 1989 during efforts to free a teenage hostage.
Ginny says there was dedicated space for a memorial in front of APD headquarters but no City funds were available for construction. Ginny and Richard jumped in. With support of the Police Foundation board and using the same architect and construction company as had been used for the current building, they assisted in raising over $400,000 to build the memorial. Construction began in 2014 and the Memorial was dedicated on March 28, 2015. Richard says this has been their biggest success so far. It was not only an important tribute to the fallen officers but it also called attention to the rest of the programs sponsored by the Police Foundation.
The next project was the Cops, Kids and K-9s initiative to promote community-oriented police activities to increase understanding and solidify relationships in the community. One of these efforts partners cops with kids to shop for a holiday toy at Target. Ginny says about 30 low-income kids are recommended by the officers who know them from working in their communities. The officers take the kids shopping for presents for themselves or a family member.
Richard says by having contact with the kids at a younger age, the officers have a better rapport with the kids when they are older. The community policing efforts extend to providing Thanksgiving dinner to 50 needy families. And Ginny says a new effort this year was photos with Santa. "It was a huge success. The kids got two presents and a photo with Santa."
Another popular effort was supporting the Alexandria Police Youth Camp, a nonprofit established by police officers that sends 150 kids to a one-week camp every year. Ginny says the Police Foundation funds 20 of those kids who can't afford to pay for camp. Camp is located in Kilmarnock surrounded on three sides by water with waterskiing, fishing, and crabbing. The officers sign up to attend the camp and serve as counselors and chaperones, creating lasting bonds between officers and kids.
Part of the Police Foundation efforts is focused on holding family events for officers. Recently they held Law Enforcement Appreciation Day where they provided a light lunch for the officers. The Police Foundation also assists with college tuition for officers. Ginny says it isn't always so easy to be a police officer in today's climate, but Alexandria's police force is full of dedicated officers and the Police Foundation tries to recognize the importance of their service.
When Ginny and Richard are not coming up with new ideas to promote officer performance, morale and effectiveness and to foster relationships with police officers and the community, Ginny is challenging the all-volunteer board of directors with fundraising goals. For instance, it costs about $1,000 a year for canine insurance. There will be eight retired canines by the end of the year.
One of the most popular fundraising events is Karaoke for Cops. In its first year the police chief had just begun belting out "Footloose" when he declared he couldn't sing and brought on a surprise guest – Kevin Bacon – to finish his song. Many people from the community stepped up to the mic as well as officers and the mayor. Three officers sang "I Shot the Sheriff." Tickets were sold to be placed in glass bowls to vote for best voices. Richard said they raised $3,000 the first year and doubled that amount the next year.
Another fundraiser is the annual show and reception at the Little Theatre of Alexandria, scheduled this year for September. For $40-50 you get a show and good food which has been donated. This raises about $10,000 for their programs. Other fundraising efforts include Doggy Yappy Hours and Chicks for Cops, an event attended by all women "except for the Chief."
In an overlapping role, Ginny serves as the volunteer coordinator for the Alexandria Police Department. She says she has about 30 volunteers who perform a variety of functions including fingerprinting for citizens who need it, data entry, patrol translators who ride with officers to handle conversations with non-English speaking citizens when necessary, and volunteers who help with the Alexandria Police Academy.
What's next? Ginny says this is the 150th anniversary of the Alexandria Police Department and activities have been planned for each month. Ginny says the foundation has been asked to do a reception at the George Washington Masonic National Memorial on July 15 as part of the celebration. On July 15th at City Hall (Market Square), the department is planning a program and will take a photo of retired and active officers at the same location as a photo taken 100 years ago. The original Police Station was located on the 100 block of North Fairfax Street, the original site of City Hall, and the original sign is still on the building.
Ginny says she and Richard are good partners in their Police Foundation mission. Through their efforts to foster community-police relationships and enrich the lives of the APD officers, they have added value to all the lives they touch.
Credit: Shirley Ruhe
Photo Credit: Steven Halperson