Induction Year: 2015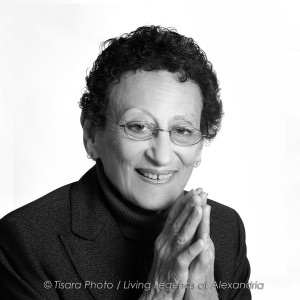 Although she and Living Legends of Alexandria are sometimes seen as one and the same, artist-photographer Nina Tisara had a life before she founded Living Legends and is living the life she planned after her retirement from its management.
Living Legends of Alexandria (LLA) is an ongoing, not-for-profit photodocumentary project that tells the stories of the people who are shaping the physical and cultural face of the city. Though there are many recognition programs no other program has chronicling the current history of Alexandria as its mission.
The idea for Living Legends came when within a two-week time in the fall of 2006, the City and the Gazette Packet came to the Tisara Photography studio asking for photos of people who had died to include with stories they were writing. When the photos weren't there, Tisara thought why not photograph people while they're still alive. From there it was a natural step to capture their stories at the same time and create an ongoing historical record. Incorporated in July, 2007, LLA is beginning its ninth year. The Legends are selected annually by the LLA board of directors from nominations received from the public.
Tisara majored in sculpture at the High School of Music and Art in New York City. She had just turned 18 when she moved to Washington, D.C. from Brooklyn, N.Y. on Christmas Eve, 1956. She soon married and had four children, Julie, David, Steven and Lynn.
Early in her working career, Tisara worked for an Air Force photo unit. One of the airmen volunteered to teach a class to those responsible for selecting photos for the permanent archives. That, mused Tisara, created the "latent image" that developed many years later when she took a photography class at Northern Virginia Community College to reward herself for passing Economics. A fellow student told her about a possible job opening at the Port Packet (now the Alexandria Gazette Packet) and that was the start of a 30-year-plus career as a photographer.
Later, Tisara worked for a national association of state agencies on Capitol Hill while freelancing for the Port Packet on the weekends. She incorporated Tisara Photography in 1985 and in 1990 she quit her full-time job and opened her photography studio in the newly developing King Street Metro area. Two of her children, Lynn Mills and Steven Halperson, joined her as partners in the business endeavor. Halperson now runs the studio specializing in portraits and special events.
While still operating from the basement of her Fairlington home, Tisara taught photography to senior citizens at the Durant Center and to children at the Mount Vernon Recreation Center. She collaborated with a photography teacher at the Capitol Children's Museum, then located near Union Station in Washington, D.C. At the end of the class, the children's work was displayed at the museum in an exhibition curated by Jim Coldsmith, then the editor of the Alexandria Port Packet. Tisara was gratified to learn many years later that one of her students had become a professional photographer.
At the time she started Tisara Photography, Tisara was accepted in the Torpedo Factory Art Center and was a founding member of the Factory's first photo gallery, Factory Photoworks (now Multiple Exposures Gallery). She gave up her gallery membership when she was awarded a grant from the Alexandria Commission for the Arts to document worship in Alexandria and could no longer maintain the required number of gallery hours. For the project she called "Converging Paths" Tisara photographed over 50 churches and synagogues in the City of Alexandria—all in black and white and all in available light. The work was exhibited at the Lyceum, the City's history museum, from December 1985 through April 1986 and later in other locations including the Campagna Center and Marymount College in Scranton, Pa. Some 15 years later, Tisara focused her lens on the City's African American churches and produced "United in the Spirit" which was exhibited at Alexandria's Black History Museum.
The national recession at the time Tisara opened her King Street studio motivated her to become active in the business community. She joined the newly formed group, KSMET (the King Street Metro Enterprise Team), and became its second president. Tisara served for six years on the board of directors of the Alexandria Chamber of Commerce and received its Outstanding Board Member Award in 1995 and its Friend of Small Business Award in 1996. She was a member of the King Street Metro Task Force, a group of citizens and city staff concerned with the development of the area, and an establishing member of the King Street Gardens Park Foundation. The park is an award winning public art project in the area.
Tisara's recognitions include: Women to Woman Award for Outstanding Achievement in Cultural Affairs and the Arts, Alexandria Commission on the Status of Women, 1989; the Alex Award for contributions to the Arts, Alexandria Chamber of Commerce, 1991; the Alex Award for work as an artist, Alexandria Arts Forum, 1991; Outstanding Service Award, KSMET, 2004; Service to the Community Award, Alexandria Department of Recreation, Parks and Cultural Affairs, 2006; Alex Award for Service to the Arts and Living Legends of Alexandria, Alexandria Commission for the Arts, 2008; Marian Van Landingham Lifetime Service Award, Volunteer Alexandria, 2011; and Donna Bergheim Cultural Affairs Award, Alexandria Commission for Women, 2013.
Since 2007 LLA has chronicled the stories of over 200 extraordinary Alexandrians and when in 2014 Alexandria lost three legends, LLA was there to tell their stories, just as it was created to do. Legends lost that year were civil rights leader Ferdinand Day (age 96), former councilman Nelson Greene, Sr. (age 100), and Gladys Seisler. Tisara was especially pleased that Day and Greene had recently attended LLA's 2nd annual Theatre Night at MetroStage in September. Held in celebration of the 50th anniversary of the Civil Rights Act, the occasion honored those Legends who played key roles in fostering civil rights in Alexandria in the 60s. In addition to Day and Greene, also honored were Melvin Miller, Connie Ring, Patsy Ticer, Gwen Menefee-Smith, Dorothy Turner and the memories of civil rights activists Vola Lawson and Mel Bergheim who were named Living Legends in 2007 and 2008 respectively.
"Having this group of iconic leaders gathered at one time in one place was a dream come true for me," said Tisara remembering the event with a smile.
In a move that is near and dear to Tisara's heart, LLA plans to focus more in the future on "Family Legends." The free programs have been offered at local recreation centers, the Alexandria Black History Museum and Carpenter's shelter for the homeless. The program expanded last year with a new collaborative effort with Alexandria City Schools (ACPS) and the PTA on their Reflections program. Reflections is a national arts recognition and achievement program for students. This past summer a Family Legends component was included in the ACPS Summer Enrichment Program.
Asked what she plans to do next, Tisara reports happily "I want to continue working with children and adults to encourage their appreciation for photo-documentation–and several years ago I started creating intricate mosaics of porcelain tile and bits of stained glass. I'll be looking for exhibition sites."
Credit: Pam St. Clair
Photo Credit: Steven Halperson