Induction Year: 2015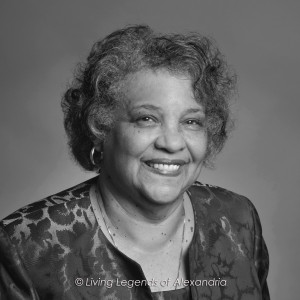 Suppose you must select one word to describe 2015 Living Legend Alice P. Morgan. There are many choices: groundbreaker, activist, and nurturer come quickly to mind. But perhaps the most all-encompassing is inclusive. Morgan is about including people. For example, when Morgan chaired Alexandria's annual Martin Luther King Day celebrations, she found a way to include anyone who showed an interest, even children.
"Youngsters were never too young to help, even if all they did was distributing programs. If they wanted to help, they could," she explained. "Some of those young volunteers returned each year. It gave them their first experience as volunteers." Kenya Turner, today a Community Center Director in Fairfax County, explains, "I have known Mrs. Morgan all my life. She introduced me to my first role in public service when I was 5 and she allowed me to be a hostess for the Annual Dr. Martin Luther King Jr. Memorial Service." With continued backing and encouragement from Morgan, Turner went on to receive an Outstanding Achievement Award as a senior at Alexandria's T.C. Williams High School and eventually to obtain a degree in Public Administration from George Mason University.
Morgan initiated Alexandria's Martin Luther King Memorial Service in 1973, before the holiday was officially recognized by the Commonwealth of Virginia or the United States Congress. She went on to volunteer as chair for 34 of the next 35 years before finally retiring in 2008, leaving behind a well-established legacy.
Perhaps, it is the pioneering side of Morgan (another good word) that motivates her to undertake challenges no one like her has attempted. It is part of why she was selected in 2010 by the Alexandria Commission on Women for the Marguerite Payez Lifetime Achievement Award. Her nomination cited that Morgan was the first woman and the first African American woman to be appointed to the Alexandria Planning Commission (on which she served two terms). This was during a significant period in Alexandria. Ira Robinson had been elected to City Council, the first African American since Reconstruction Times and he faced all-white Boards and Commissions. Robinson had been mentoring Morgan with whom he worked on voter registration and his Council campaign. At his urging, Morgan applied for the Planning Commission and was appointed.
In 1979, she was the first African American woman to run for City Council. Although not elected, her candidacy was an encouragement for other African American Women. Morgan's activities have led to entries in Outstanding Young Women of America (1970), Who's Who among Black Women (1975-76), and World Who's Who of Women, 4th Edition (1978).
The first child in a closely-knit family of two brothers and a sister in Richmond, Morgan graduated from Maggie L. Walker High School which was named for her grandfather's half-sister. Her father, Elmore W. Johnson, Jr. was an acquaintance of King associate Reverend Wyatt Tee Walker whom he held up to his children as an example of service with the reminder that "if you are not part of the solution, you are part of the problem." Morgan believes that she developed her interest in community service from that and in social work from her mother, Fannye Mae Quarles Johnson who often fed or housed friends and relatives in need.
After high school, Morgan earned a B.A. from Virginia Union University and a Master's Degree in Social Work from Virginia Commonwealth University. She had an eye toward being an Army nurse but a dislike of needles and blood ended that so she concentrated on a professional career as a social worker focusing on mental health. In 1980, Morgan was one of 25 people selected nationwide for an Intergovernmental Management Program sponsored by the Department of Health and Human Services. Her field placement was the Bureau of Medical Services as a Program Analyst while taking accelerated classes that led to a Master's Degree in Public Administration from the University of Southern California Washington Center. Among her duties was preparing a briefing book on Public Health for the Reagan Transition Team. Now retired, she had been a Social Work Administrator in various positions in such organizations as Prince William County Welfare Department, Hopkins House, then an Alexandria settlement house, and St. Elizabeth's Hospital which began as a Federal Government hospital now serving the city of Washington, D.C.
Volunteer is another good description for Morgan. Volunteering became an early pattern for her. At seven, she began making "Use Me" books for the Red Cross. Using construction paper, she created books that included such things as a stick of chewing gum and invited the reader to "chew me" and a comic strip that invited the reader to "read me." That was followed by being a Candy Striper. By the time Morgan was in her third year of college, she was recognized by the Red Cross for having donated over 500 hours of service. She also volunteered in Richmond for voter registration and for marches and sit-ins to desegregate restaurants and movie theaters.
Morgan moved to Alexandria in 1967. Early involvement focused on affordable housing, senior citizen advocacy and affordable health care. Among her first activities were volunteering for the Alexandria Tenants' Council, the Alexandria Boys Club and the Legal Aid Society. She served on the Police Community Relations Task Force, the Board of the Alexandria Mental Health Association, and the local chapter of the National Conference of Christians and Jews. From 2010 to 2013, she was on the Board of Living Legends of Alexandria. Since 2007, she has served on the Board of Agenda:Alexandria organizing programs on African American history, affordable housing, immigration, and T.C. Williams students after graduation. The last is especially important to Morgan as her children Weldon "Donnie" Morgan and Arvette Morgan Reid are graduates.
In 2012, she received the President's Volunteer Service Award for Community Service in Alexandria which was accompanied by a certificate and letter of congratulations signed by President Barack Obama.
She has been married to Wilson Miles Morgan since 1966. They "met" in college but on a visit home, Morgan discovered that they had known one another as toddlers when their parents swapped babysitting duties. She is the proud grandmother of W. Miles and Alexandra "Zan" Morgan and Jarren M. and Sovay A. Reid, a new generation to include in Public Service.
Credit: Sherry Wilson Brown
Photo Credit: Steven Halperson