Induction Year: 2011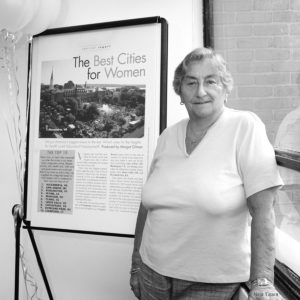 Mollie Abraham has made a difference for young and old, women and minorities throughout Alexandria.
Living Legend Mollie Abraham's 50 years as an advocate have one common thread: she speaks for those who need a voice from youth through seniors. She speaks out against bigotry and intolerance wherever she finds it and encourages minorities and women of all ages to effect change by becoming involved in the political process.
Born in Baltimore in 1926, Mollie met her husband Mike on a blind date and they married in 1949. Shortly thereafter, they moved to Alexandria where he worked in the White Star Market, his family business on King Street. Mollie eventually worked the cash register. Soon afterwards, they took over and made a success of Tom's Garden, (aka The Sportsman's Grill), a restaurant on lower King Street that catered to working class people. After they sold it, they undertook many family enterprises: restaurants, slaughterhouse, and markets including the Vienna Inn which Mollie and Mike owned and ran from 1960 to 2000.
Despite her busy work schedule, Mollie found time to serve the community. She began by chaperoning B'nai Brith youth at her synagogue Agudas Achim. She and Florence Price started the Valley Drive preschool at Agudas Achim when Mollie's son, one of her three children, was small. She also became active with the PTA especially as an advocate for the integration of the Alexandria City Public Schools – "whatever it took," she said. "I always spoke out for anything that benefited women and minorities of any sort, whether of race, gender or religion."
Mollie helped start the Alexandria Chapter of the National Organization for Women (NOW) in the mid-1970s and served as state coordinator of Virginia NOW in 1976-77. She remained active in both organizations for years. Mollie worked at Common Cause for almost 16 years. She was appointed to the Alexandria Commission for Women in 1994 and is the only person to serve three terms as chair. She advocated for equity in pay and benefits for women to prevent their impoverishment as they age and led the Commission in advocating for retirement benefits for part-time city employees. She represented the Women's Commission on the Human Rights Commission and served on the Alexandria Youth Policy Commission. Under Mollie's leadership, the Commission supported the efforts of the Commission on Aging for inclusion in the City's Affirmative Action Plan and Utilization Analyses.
Mollie's awareness of the increased risk of breast cancer for older women and the importance to survival of early detection led her to serve on the City Manager's Breast Cancer Awareness Committee. In this capacity, Mollie advocated for legislation to require that women diagnosed with breast cancer be provided adequate information to make treatment decisions. In 1994, this Committee initiated the annual Walk to Fight Breast Cancer to raise funds for mammography for women who cannot pay for them and for the education efforts about the importance of mammography, especially for women over 50. As a cancer survivor, Mollie is a strong supporter of this annual walk.
In 2001, Mollie won the Marguerite Payez Leadership Award, the highest award of the Alexandria Commission for Women, for her lifelong dedication to leading, advocating for, and helping women and others needing representation, and training others to do the same. In 2010, Mollie and her granddaughter Mary Reid were among those honored by Senior Services of Alexandria for passing along skills "Generation to Generation." Again, the award recognizes not only the contribution of individuals to the civic life of the community, but their role as mentors and examples who pass along their sense of responsibility.
She has been active in the Seminary Valley Civic Association and served on the Call to Community Steering Committee, co-chairing the Neighborhood Forum/Meeting Subcommittee. This is a City-wide effort to bring residents of Alexandria together to talk about and celebrate their diversity and to address the issues that divide the community by race, ethnicity, and other differences.
This busy grandmother of seven and great-grandmother of two still finds time to relax with reading. James Patterson and Faye Kellerman are among her favorite mystery writers and she enjoys reading fiction by female authors. Among her favorite recent films are The King's Speech, Black Swan, and Love and Other Drugs. Mollie fits in a little television especially Jeopardy, Wheel of Fortune, The Good Wife, NCIS and The Closer. She tries to catch Amy Brenneman whenever she appears on television since meeting the actress at Gloria Steinem's 75th birthday party.
The question of what her restaurateur husband might cook as her favorite meal led to laughter at the idea of Mike as a cook. Mollie did the cooking for the family and dinner at Mollie's house might feature a brisket cooked in wine with potatoes and carrots, flavored with onion soup mix and served with a nice salad followed by truffles ice cream. She makes a mean chicken-matzo ball soup that starts with boiling the chicken with fresh dill and fresh parsley.
Mollie describes herself as "heavily into ceramics." She starts with shaping the slip, painting it and firing it. She also enjoys working with glass and is looking forward to getting into making jewelry by enameling copper. She has also begun sand blasting glass.
She spends part of the year as a "snowbird" in Florida where she has a condominium. When reached for this interview, she had spent the morning relaxing in the 94 degree swimming pool while Alexandria expected a late snow. She just returned from a cruise that included Roatan and Belize. She began cruising six years ago when she overcame motion sickness with the same determination she brings to all her efforts. The cure is to start taking Bonine the day before she sails and taking it at the same time every day throughout the cruise. When combined with an inside cabin (so she doesn't see the water) and keeping her eyes on the horizon, she manages quite well.
By keeping her eyes on the horizon Living Legend Mollie Abraham has made a difference for young and old, women and minorities throughout Alexandria.
Credit: Sherry W. Brown