Induction Year: 2019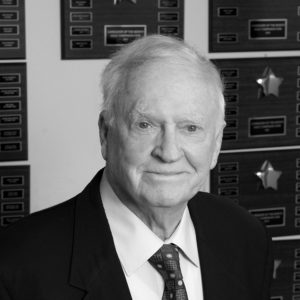 The word "hero" is used far too often. So is the word "courage." In the case of Capt. Eugene "Red" McDaniel, neither word accurately describes the horrors he endured as one of the most brutalized prisoners of war in Vietnam.
When his A-6 Intruder aircraft was shot down over North Vietnam on May 19, 1967, McDaniel was captured and spent six agonizing years as a POW in the infamous "Hanoi Hilton" prison. In the face of unrelenting barbaric and sadistic torture, McDaniel remained a source of hope and strength for his fellow POWs by clinging to his faith in even the darkest of hours.
"There is no feeling quite like knowing you are in a strange country, surrounded by a people who know no rule but death to the enemy," said McDaniel of his time in captivity. "Still, the one thing they could not take from me was my faith. There were many times in my lonely cell when my victories were known only by me and God."
It was McDaniel's 81st combat mission over North Vietnam. McDaniel was a Top Gun pilot who was also a member of the "White Knuckle Club," a group of pilots whose daily work routines consisted of dodging enemy fire from Surface to Air Missiles (SAMs) and Russian MIGs.
For three years, McDaniel was listed as Missing in Action while his wife, Dorothy, and three children, Michael, David and Leslie, did not know if he was dead or alive. In 1970, the Hanoi government finally acknowledged that McDaniel was being held prisoner. After six years in captivity as a POW, he was released on March 4, 1973.
When McDaniel returned home to Virginia from Vietnam, he was awarded the Navy's highest award for bravery, the Navy Cross. Among his other military decorations are two Silver Stars, the Legion of Merit with Combat "V," the Distinguished Flying Cross, three Bronze Stars with Combat "V" and two Purple Hearts.
After his release, McDaniel resumed active duty and served as Commanding Officer of the USS Niagara Falls and as the Commanding Officer of the aircraft carrier, USS Lexington. He also served as the Director of Navy/Marine Corps Liaison to the U.S. House of Representatives before retiring from the Navy in 1982.
Following his military retirement, McDaniel and his wife settled in the Mount Vernon section of Alexandria. He authored a book, Scars and Stripes, recounting his time in captivity and how his faith kept him grounded. Dorothy McDaniel published her own book, After the Hero's Welcome, detailing her experience as the wife of a POW and advocate for nearly 20 years following her husband's return.
It was during this time that McDaniel founded the Alexandria-based American Defense Institute, a nonprofit organization to increase public awareness among young adults for the need for a strong national defense. Still active today, ADI provides citizen education and leadership training for young Americans. Its POW Awareness Program focuses public attention on American servicemen who are still missing in Southeast Asia.
In 1994, McDaniel helped found Adult Companion Care, (now known as ACCfamily, Inc.) after his own struggles to find quality home care for a family member. Headquartered on North Fairfax Street in Old Town, ACCfamily is a senior home care agency whose vision is to allow people to stay in their home for as long as they desire. ACCfamily still operates in Alexandria, but has grown to serve seniors in southern Maryland and throughout Northern Virginia.
Long before the "aging in place" movement became popular, McDaniel saw the need to change the face of aging and help people stay independent for as long as possible. To him, the first step to extending independence was being able to live at home.
McDaniel was the eldest of eight children born to poor tobacco sharecroppers in North Carolina. He attended what was then Campbell Junior College then Elon College on athletic scholarships. On his first night at Campbell, in September of 1950, he met Dorothy Howard, the daughter of a beloved pastor and professor who would later become his wife.
"Dorothy had a grace and poise about her that made me want to be around her," McDaniel recalled. "It wasn't only her beauty, charm and poise but her character and sense of values, which were deeply rooted in her belief in God."
Following his graduation, McDaniel joined the Navy rather than pursue professional sports and chose flight school because of the elite challenges it presented. He was deployed to Vietnam in October of 1966.
McDaniel lost his father while he was still in college. In addition to raising his own family, he helped support his mother and siblings while pursuing his military career. He saved what he could and in retirement used his resources to found a company to provide what he saw as a desperately needed option for seniors. That concept – aging in place – continues to explode as an industry around the nation but prior to the founding of Adult Companion Care, home care options for Alexandria seniors were virtually non-existent.
Through the founding of Adult Companion Care and its growth into ACCfamily, McDaniel's vision for seniors in Alexandria provides an option that many had thought was lost to them – the ability to age in place with independence and most importantly with dignity.
For more than 37 years, McDaniel has been a respected and productive member of the Alexandria business community through the two companies he founded – ADI and ACCfamily. He was able to triumph over unimaginable circumstances and return from serving his country to honorably serving his community.
"People think courage is the absence of fear" McDaniel said. "But courage is the presence of faith."
At 87 years old, McDaniel is still active and in demand as a speaker. He and Dorothy raised three children and have nine grandchildren and two great grandchildren. "I saw a need and an opportunity to serve people," McDaniel said. "I don't consider what we do a business. I consider it a ministry."
Credit: Jeanne Theismann