Induction Year: 2016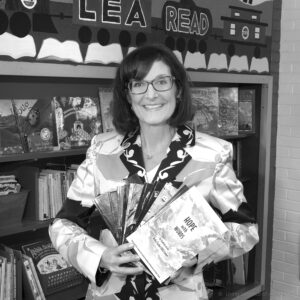 "The Dream Dog story: see a Need, Create a Program!" So says, and does, Lorraine Friedman, attorney/mom/volunteer/songwriter/teacher whose creative programs reach broadly and deeply into Alexandria, serving adults and children of all ages.
Daughter of a speech, debate and drama teacher in Dallas, "Rainey" Friedman earned dual degrees in Spanish and in Communications at University of Texas, Austin. Achieving the Juris Doctor at Georgetown University Law Center in 1989, she plunged into early law cases for homeless rights with the National Law Center on Homelessness and Poverty. By 1993 she was head litigator on behalf of children with disabilities for the District of Columbia's Protection and Advocacy system, serving until 1999.
Anticipating the arrival of her two children, Jared and Cameron, Friedman created stories and characters for her boys' learning and imagining. One of their favorite characters was Jazz, the Dream Dog. Jazz can sense what children need and empower them to find magic in themselves. When children show problem-solving and resilience, Jazz's brown tail takes on rainbow colors and swirls with delight.
The stories became picture books and CD's. Friedman's creative energy became the nonprofit DreamDog Foundation in 2002 with a mission to instill a love of learning through empowerment and literacy programs for children. The publications would support the community programs. "Rainey" volunteered as a visiting author in Alexandria elementary schools, inviting children to "jump in the book" and act it out.
"Kids Making a Difference" followed, at the boys' elementary school, Charles Barrett. The entire school made give-back projects each quarter, such as cards for the elderly, blankets and treats for the animal shelter, coats, mittens and books, with artful leaves emblazoning a "giving tree" at holiday time.
"Kids Empowering Kids," begun in 2007, involves students writing, producing and performing their own music video and sharing it with the school and on YouTube. At William Ramsay, Martin Luther King inspired the topic; the children's refrain urges us not to judge others "by the color of their skin or the clothes they are in." At John Adams, the mayor of Alexandria and the superintendent of schools joined students with "The end of bullying starts with ME," launching a city-wide anti-bullying campaign.
Summer of 2009 saw "Do the Right Write Thing" in a program of daily community service and writing projects. A participant wrote to "Rainey," "We fly right past normality and spread joy. That's what your camp is about. . .thanks for showing us how. I love you."
"Conexciones" began the same year, connecting Latino parents to their children's school community and resources in Alexandria. "Family Links" debuted in 2010 to assist two dozen teen parents still in high school with support for their current studies and future dreams, plus weekly parenting and life skills lessons and hands-on help for the new moms and babies.
Young authors from elementary to high school have seen their poetry, stories and essays published in 100+ page handsome paperback editions through the "Book of My Own" (BOMO) program. Their writer workshops are based at Alexandria City Public Schools Family and Community Engagement (FACE) Centers and Community Lodgings.
Since 2012, Friedman and DreamDog Foundation have placed some 250,000 free books for children in 35 sites throughout the city of Alexandria through Alexandria Book Shelf.
"I advocate through creative means," says Lorraine Friedman, who, like Dream Dog, fills a child's need with energy, commitment, and love. BOMO authors at Community Lodgings wrote in 2015, "Thank you for believing in us and making us believe in ourselves." "It's cool to be a joy spreader," says Friedman.
Credit: Kathleen Baker