Induction Year: 2010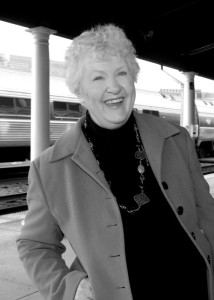 It is hard to pinpoint when Living Legend Lois Walker first recognized the importance of good public transportation but talk with her about Alexandria for long and the subject will come up. During her time as an elected official and since, she has been an active advocate for transportation with a visionary's image for what transportation should and could be.
Lois is dedicated to seeing the creation of a City-wide transportation system that blends various modes of public and private transportation into an integrated system. She was an enthusiastic supporter of
"Smart shelters" and "Smart stations" that use existing technology to provide up-to-date travel information. In an ideal situation, riders can track the locations of their buses, trolleys or trains to avoid delays and arrive at nearby shelters in adequate time to catch their transportation modes without wasting time. "A rider could know before leaving home if there is a delay so he could finish that second cup of coffee in comfort and still be there when the delay is resolved."
"It's not about new technology," Lois explained, "as much as it is about looking at things differently and using technology in better ways. Planning and land use go together and we can't have walkable communities without public transportation. Everyone, young and old, fit and impaired, needs access. Transportation must be easy, usable, and available. Thank goodness former City Council member Tim Lovain is carrying on the fight for a street car system. It is ironic that we are going back to the past to come up with a solution to modern transportation problems."
Transportation may be in her genes because her grandfather was a railroad engineer. It may have been her early experience with trains when she lived in Japan as a youngster, but later she certainly used public transportation to get to and from high school. While she is a fan of Metro and believes it has its place in a cohesive transportation system, she reminds us that public transit is more than the subway.
"It's not all Metro. We need, dare I say it, light rail and street cars. The key is modes of transportation that people are willing to use and that provide frequent, easy to use transportation at street level."
As a City, State and Regionally recognized authority on transportation issues, Lois served on the City's Ad Hoc Alexandria Transportation Committee where she advocated a system that is not only efficient and economical to operate but that will be safe and attractive for everyone to use. For two years, she chaired Virginians for High Speed Rail, working at the State, regional, and national level to support passenger and freight rail as an alternative to vehicles. She continues as an active member of its Board of Directors. At Mark Warner's request, she served on the Governor's Ad Hoc Commission on Transportation and Urban Growth Policies.
During the two terms she served on Alexandria's City Council, Lois significantly influenced transportation policy as Alexandria's representative on the Washington Metropolitan Area Transit Authority (WMATA) Board of Directors and while serving on the Boards of the Northern Virginia Transportation Commission, Virginia Railway Express, and the Northern Virginia Transportation Coordinating Council. Lois was a member of the Virginia Municipal League's (VML) Transportation Policy Committee and served as chair of VML's Urban Section. In addition, she was an active member of the Metropolitan Washington Council of Governments' Transportation and Planning Board. It was her courageous and determined action that assured that there would be space for public transportation on the new Wilson Bridge.
Transportation is just one of the areas in which Lois has been active in Alexandria. She was a founder and first president of Friends of the Torpedo Factory Art Center, a co-founder of the Alexandria Commission on Information Technology, a co-founder of the Potomac West Business Alliance, Chair of the Washington Street Task Force, a member of the Chesapeake Bay Policy Committee and a member of the King Street Task Force, Waterfront Committee, and Braddock Area Team. Additionally, Lois served on the National League of Cities' Leadership Training Council. Lois managed a number of Marian Van Landingham's early political campaigns including her first election to the Virginia House of Delegates.
More recently, Lois has been president of KSMET, the association representing Old Town Businesses; chair of Agenda: Alexandria; chair of the 2005 Alexandria United Way Campaign; vice chair of the Old Town BID Committee, a member of the Advisory Board of Healthy Families Alexandria, secretary of the King Street Gardens Park Foundation, and treasurer of GWEN (Getting Women Elected Now). She is a founder of Vital Public Spaces and president of Walker Real Estate. She is an active member of the National Trust for Historic Preservation. She received the Marian Van Landingham Legislation and Public Policy Award from the Alexandria Commission on Women.
Does Lois have any regrets about Alexandria?
"It seems that we really don't care about how Alexandria looks, how Alexandria appears to those who live here or visit. I chaired the Washington Street Task Force hoping that this would not turn out to be an architectural debate but a movement toward creating a great street. I could imagine driving down the George Washington Parkway and entering the City of Alexandria. There would be a nice sign saying'Welcome. This is the home of George Washington, Robert E. Lee, etc., founded in 1774.' And then there would be a grand, tree-lined avenue with uniform trees, trash planters, and a median strip."
"The debate in Alexandria often comes to real nitpicking like the width of sidewalks or building heights and that does not allow the creation of simple solutions. I co-chaired the King Street Business Improvement District task force and felt that appearance was the most important thing we could do — keeping sidewalks clean, installing hanging baskets of flowers and doing cornice lighting rather than tree lights. These are the kind of things that could be done without a great deal of money. We have lived here long enough to know that many things can be done by moving in a direction. When money is spent, spend it toward a goal."
Despite her busy public life, Lois Walker has an equally busy private life. She continues to run her late husband John Walker's real estate business. Her daughter Donna Walker James and son Boyd are closely associated with her in the family business where it's not unusual for Lois's dog, the unsinkable Molly Brown, and Donna's dog, Smoky, to be on hand. Lois is a proud grandmother to her three grandchildren, Boyd's daughter, Alo Lenk-Walker, a budding musician, and Donna's artistic sons Tobin and Tyler.
Lois Walker is a wonderful example of the involved citizen, sometimes as a public official, and sometimes as an individual who continues to give time and effort to a community she loves and to causes in which she believes. The key to her success?
"You just do it. Sometimes it is almost civil disobedience. Sometimes you have to nag, well, more politely, 'remind' a lot so you don't get lost in the shuffle. You just have to stay focused on what you are trying to achieve and keep pushing. If you are not willing to nag a little, I just don't think you care enough."
Credit: Sherry Wilson Brown
Photo Credit: Nina Tisara