Induction Year: 2012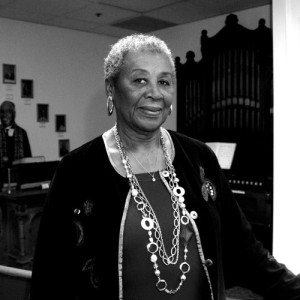 Volunteer. Historian. Educator. Wife. Mother. Activist.
There is no one noun to describe fourth-generation Alexandrian Lillian Stanton Patterson, nominated to be an Alexandria Living Legend by her daughter, Marilyn Patterson, and Volunteer Alexandria Executive Director, Donna Walker James.
The eldest of seven children, Lillian was Dr. Oswald Durant's first Alexandria delivery when she was born at the family home in the Uptown community (now the Parker-Gray Historic District) on the northeast corner of Oronoco and Henry Streets, 1021 Oronoco Street.
Sadly, their home which housed both the Gray/Stanton family and Gray & Campbell's Funeral Directors, her maternal grandfather's mortuary business, no longer stands.
Her father, Reverend N. Howard Stanton, was a pastor at Ebenezer Baptist Church before serving 50 years as Pastor at Nazareth Baptist Church in Orange, Virginia. Her mother, Esther Gray Stanton, was a teacher, as was her maternal grandmother, Lillian Curray Gray.
Lillian's siblings still live in Alexandria or nearby and their reunions can attract 60 or more family members. Her first ancestor, Nace Stanton, was brought to this country as a slave in 1779, married, and had one son. Nace was sold again, separating him from his wife and son. His son Garland's freedom was eventually purchased by his free wife.
Lillian's great-grandmother, Annie Brannon Curray, had four brothers who were sold away. Unfortunately, they and their possible descendents have never been traced.
In the segregated years of Lillian's public education, when African American students never had the benefit of new school books, she did not allow that obstacle to deter her from graduating from Parker-Gray High School in 1944 and receiving a BA in Social Studies from Storer College in Harpers Ferry, WV in 1950. She also did graduate work in Sociology at American University and in Early Childhood Development at UVA's Northern Virginia extension.
Lillian met and married the late Edward Lloyd Patterson who was Music Teacher and Assistant Principal of Parker-Gray High School until it was dissolved, then Principal of Parker-Gray Middle School. He retired as Director of Staff Relations and Student Activities. Together they raised two daughters, Marilyn, who now owns Joyous Events, LLC, an Event Management business in Alexandria, (where Lillian often works) and Valerie Patterson Connors who lives in Owings Mills, Maryland. Marilyn has one son, who has made Lillian a great-grandmother, and Valerie has two sons.
She and her husband led a busy civic and social life, often attending several formal events a month. Lillian enjoyed sewing and often made her evening gowns for these occasions as well every day clothes. She made her sister's wedding dress and cotillion dresses for her daughters and several nieces. One cotillion dress was such a hit that a few years later another niece wanted a dress just like it. Lillian found similar material and made a copy to everyone's satisfaction.
Lillian started her years of service to this community at Shiloh Baptist Church as a young child. Her strong spiritual foundation was the springboard that opened the door to a history of over 50 years of impassioned involvement in the City of her birth. Lillian volunteered her time and sought opportunities to broaden her exposure. She did not just join organizations, she took an active role in them.
Despite the busy period while her daughters were growing up, she became a charter member, Treasurer, and then Vice President of the Alexandria-Mt. Vernon Chapter of Jack & Jill of America. She remained an active member,(1965 -1985) until her second daughter graduated from TC Williams High School. In addition, in the 1960s as Alexandria was learning to deal with the demands of desegregation, Lillian became a positive agent of change, serving on the Boards of the Human Relations Council (1965-1967) where she worked with Episcopal Theological Seminarians to develop a tutoring program and with the League of Women Voters (1965-1981) to plan legislative forums to inform voters on candidate issues.
Her interests then led Lillian to serve on the Board of Directors of the Alexandria Community Health Center (1975-1979) where she was Chairperson. While on the Board of Directors at the Alexandria Community Y, she was a Heather Chairperson. In 1977, Lillian was invited to join the Alexandria United Way Board and until 1983 served on the Membership and Allocation panels for the Washington Metro Area United Way.
Twice between 1980 and 2009, she served as President of the Seminary Civic Association. This led to a 2004 invitation to join the Board of Directors of the Seminary Hills Association, a position she still occupies.
By example, Lillian shows that a life of service makes a difference.
One example is her joining the Alexandria Volunteer Bureau (now Volunteer Alexandria) in 1990. The one office she did not want was Secretary but when the incumbent resigned mid-term, Lillian agreed to take the job until they could find a permanent replacement. She went on to serve in that capacity for nine years but her time on the Board was an opportunity to learn more about the importance of volunteer service and how to engage more people in volunteerism as a lifestyle choice.
In 1995, Lillian, joined the Project Discovery Board of Directors and used her talents, influence, and resources to help financially students that are the first in their families to go to college. Through her involvement with Project Discovery, she continues to encourage students to pursue the educational dreams that will positively impact their futures.
History has always interested Lillian and she serves as Historian for Shiloh Baptist Church where she spearheads a committee that is writing the rich history of this 150 year old African-American congregation. Her professional life included serving as a Curator at the Alexandria Black History Museum from which she retired in 2010 and where she continues to volunteer for special projects.
Lillian Patterson is a tireless leader. At a time in life when many of her contemporaries are just watching others work in the community, she continues to be active in shaping Alexandria's legacy.
She is a guest host for Comcast Community focus segments produced by Hoop Academy and is a member of the Ad Hoc Naming Committee at Charles Houston Recreation Center formed to ensure that prominent African-American community leaders are properly remembered. Lillian also supports the Concerned Citizens Network Association by sharing Alexandria and local African-American history with Hammond Middle School students to encourage more interest in the city they call home. She is on the Board of Harambee Community Development Corporation which created Beasley Square affordable housing for seniors.
Through the years she has been recognized by numerous agencies for her tireless contributions with such awards as the Outstanding Community Service Award (United Way National Capital Area); Community Service Award (Hopkins House); Community Service Award (Alexandria NAACP); Women-to-Women Making a Difference Award (Alexandria Commission on Women); and Generation to Generation Award (Alexandria Senior Services).
She does occasionally treat herself to "down time." She just finished reading Condoleezza Rice's autobiography ("very interesting") and she enjoys listening to smooth jazz, easy listening, and gospel, but "not necessarily in that order." TV mysteries are a special treat with Matlock, Murder She Wrote, and Perry Mason reruns particular favorites.
Lillian Stanton Patterson, now an octogenarian, enjoys Alexandria and willingly works with those who are moving and shaping its policies. She demonstrates how to live in a way that makes a difference.
So while there is no one word to describe Lillian Patterson, two words very accurately and deservedly do: Living Legend!
Credit: Sherry Wilson Brown
Photo Credit: Nina Tisara