Induction Year: 2018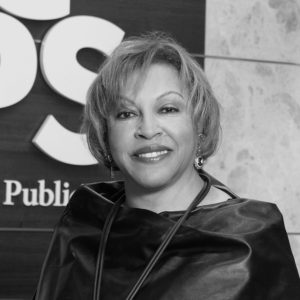 When Gwendolyn Hubbard Lewis learned in 2009 that Alexandria had the highest dropout rate of any district in Northern Virginia she connected right away. "It is sad. I was one of those drop outs."
Lewis attended Parker Gray High School but "I never thought I would live to graduate." So she moved to Arlington to live with a relative there and "kids were so different, respectful and accepting of me." But the different high school was "a nightmare for me,"so she quit to get a job. "It was the worst decision ever." She married much too young (16), suffered abuse, and now had a child to raise and educate. She realized she should go back to school not for a "GED" but a regular diploma. After graduating from George Washington High School, she attended College. She was married 25 years to Melvyn Wayne Lewis. They raised 4 girls. Gwen has been widowed since 2003 and has seven wonderful grandchildren.
Now Lewis is Executive Director of Concerned Citizens Network of Alexandria (CCNA) and its after-school program "Reach and Rise for Excellence" (RARE), which she inspired several other Alexandria City residents to established in 2009. CCNA through the RARE program mentors and tutors middle school children and works with parents to make sure they are engaged in their children's education. The goal is to catch those students, who are at risk, early in their middle school development. This is a critical period before high school where caring adults can turn young lives around and improve their future opportunities for employment and productive lives.
RARE focuses on students at Hammond Middle School which was enthusiastic about trying the pilot program. Thirty-six children receive after school instruction in math and reading as well as a number of enrichment activities. Lewis says when she initiated the idea of helping kids overcome their obstacles — you are somebody, you can do it — she organized a group of local citizens which spent two years researching what would work, attending forums and developed a strategy using proven practice and evidence-based program methodology.
Each afternoon RARE starts with a heavy snack and then moves to a review of homework to make sure students understand what is required. After they complete the homework at home, Lewis says students have the regular school teacher initial the homework. The students then bring it back to RARE thus closing the loop on accountability with parents, teachers, students and the after-school program.
The teachers focus on math and reading "because you can't do math or anything else if you can't read." Lewis says they have certified math teachers and have added a Reading Specialist for all grades. On Monday they have coding. They also receive information about things such as the importance of having good credit and how to write a check. "We cram in as much as we can in this program. We teach the "whole child."
There have been a number of challenges with the establishment of this new program including insufficient funding, community and Alexandria City Public School's initial skepticism as well as a lack of parent participation. "We have done everything we can do in the last 8 years to let people know about us, but there are still people who have never heard about CCNA." She says, "we had a huge vision, but it was really hard to do. Everyone has his or her own fiefdom. We had to break the ice."
She says it has been a struggle to get the parents to turn out. "We always feed the families and we offer parent workshops on how to discipline their children, that you don't have to take a belt. We also focus on how to build relationships with them. "But poor parents may be working 2-3 jobs and they are tired or one may be on drugs or another in jail. And if it rains or snows, that's a challenge." She says this is a nation-wide issue for poor families, not just in Alexandria, "and we try to find the carrot to get them engaged."
The program is successful through networking with businesses, organizations and churches to provide resources and funding. For instance, Alfred Street Baptist Church, where Lewis is a member, provides backpacks full of school supplies and new shoes. The Alexandria City Public School gave RARE two buses to transport the kids after school. A number of people donate time for the special programs such as Career Day when they come in and share their different careers and show the students how they too can have a career in the patent office, as a doctor or lawyer or on Capitol Hill "because your existence is different now you can take responsibility for your own education. They love it; it is very eye opening."
Lewis says she would love find funding to expand RARE to grades 5-9 and to all the middle schools and Minnie Howard. This year the City of Alexandria budget didn't provide any funding for the program. "I was so disappointed but they did keep the partnership in place."
Lewis wants to provide the same kind of inspiration she got when she returned to George Washington High School at night "because I wanted a diploma, not a GED." She says she had a typing teacher who was so wonderful and kept working with her until "I PASSED" the typing test which allowed her to get a Federal job with the Army, then later the Environmental Protection Agency where she ran into another angel who always hired her back when she quit her job to go back to school full time. After a BS and MS at the University of the District of Columbia (UDC) she ended up at the General Services Administration as a Procurement Instructor then at the Federal Acquisition Policy Office and later an Internal Revenue Service Project Manager. She retired from the Federal Government after more than 30 years of exemplary service.
Along the way she was elected to the Alexandria School Board twice and served one term as its Vice Chair where she changed the focus with her strong advocacy and strategy for middle school students. Recently she was appointed to the Child, Youth, and Family Collaborative Commission to advise city leaders on the effective integration of services for youth and their families. She now serves on the Board of Trustees for UDC.
Lewis says since 2011, "we've been there. We want the kids to know there is continuity and they can count on us. She adds, "I pray God will make a way. Every time we think we're going to have to shut down, something good happens."
Credit: Shirley Ruhe
Photo Credit: Steven Halperson