Induction Year: 2013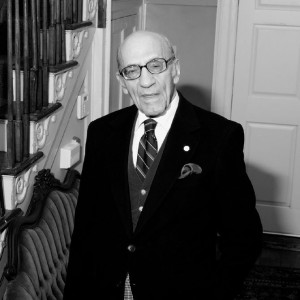 In his 43 years at the Gazette, Lewis Stearman held myriad positions, including working in the accounting/bookkeeping department, as editorial writer, general manager, vice president and treasurer. Photo by Louise Krafft.
Lewis A. Stearman has supported Alexandria's youth for almost 75 years. His passion for serving young people developed when, as a compassionate 16-year-old, he sent Valentine's Day cards to patients at Children's Hospital in Washington, D.C.
From that day forward Stearman's volunteerism grew from his belief that today's youth are tomorrow's future. "Our young people are rich resources that we must cultivate and mentor to inspire them to be our future leaders of tomorrow," he said. "They are our precious jewels and I have always wanted to help."
Stearman was born on Feb. 8, 1924, at Garfield Hospital in Washington, D.C., son of Joseph Stearman, a salesman, and Esther Rose, a homemaker. His family often visited his grandparents, who lived in Alexandria and were owners of a pawnshop and dry goods store across from the Alexandria Gazette newspaper.
Stearman's family moved to Del Ray when he was six years old. He attended Alexandria public schools and began work for the Gazette as a substitute carrier when he was 14. In his 43 years at the Gazette, many of those years alongside his mentor, president, editor and publisher C.C. Carlin, Jr., Stearman held myriad positions, including working in the accounting/bookkeeping department, as editorial writer, general manager, vice president and treasurer. In 1983 he served as consultant to the newspaper's 200th anniversary edition.
In March 1967, after Carlin died, Carlin's wife Sarah publicly recognized Stearman for his devoted support: "He tries daily to do his job in such order that may contribute to his job, his community, thus to his family. He quietly gives hours of time to unknown and thankless tasks. In short, he is his brother's keeper."
Stearman met Mildred, who would become his wife, at a dance where she had come as a friend's blind date. With his friend's blessing Stearman invited Millie to dance. He saw she was beautiful and a great dancer, and later learned she played piano exquisitely. Stearman immediately knew she was the one. Within a year, in 1950, the couple married. The Stearmans have three sons: David, who is deceased; Douglas; and Joseph, who lives in Alexandria. They have nine grandchildren and one great-grandson. Stearman and Millie still love to dance. Stearman says "she's been a great supporter throughout the years."
Of 39 charter members of the Optimist Club of Alexandria, founded in 1946, Stearman is the only survivor. During the club's first year its members raffled off a car to renovate the Alexandria Boys Club, now the Dunbar Alexandria-Olympic Boys and Girls Club. The relationship between the organizations continues today. The Optimists continue to donate to the activities of the Boys and Girls Club. Stearman became an Optimist life member in 1952 and was honor club president in 2006-2007. He was chosen Optimist of the Year in 2007-2008. He continues to serve on the Optimist's board of directors. Stearman also wrote the 40 and 50 year history of the Optimist Club.
In 1952 Stearman was elected to the board of directors of the Salvation Army in Alexandria. Motivated by the goal of helping youngsters, he helped organize the Salvation Army's Century Club, which enabled 1,000 underprivileged children to attend Camp Happyland. For 13 years he was chair-fundraiser for the Salvation Army's Annual Civic Banquet. He served as chairman of the board in 1962-63 and again in 1986-87. He was honored as the Man of the Year in 1965 and in1967. In 1968 he was presented the prestigious William Booth Award. In 1991 he was given a certificate for life board membership. He said he is still enthusiastically committed to help the young and distressed.
In 1958 Stearman was elected to the board of directors of the Alexandria Boys Club. He has remained an active board member for more than 30 years. Stearman's father had known the club's founders, the Barretts, as well as its first president, Roger Sullivan, who initially suggested that Stearman's father bring his son down to the club. Even as a child Stearman was grateful children had such a place. He felt that someday he would do what he could do to help kids. Significant accomplishments include assistance with the merger of the Alexandria Boys Club and the Olympic Boys Club, writing the 50-year history of Alexandria-Olympic Boys and Girls Club and 13 years as banquet and fundraising chair. He raised the bar for donations by bringing in celebrities such as Elizabeth Taylor, U.S. Sen. John Warner, Judge John J. Sirica, Mark Russell and Joe Theismann, all of whom shared Stearman's vision of mentoring youth.
Stearman is a member of the board and trustee of the Maurice D. Rosenberg Lodge of B'nai B'rith International in Alexandria. In 1953 and 1968 he received awards for Outstanding Merit in Journalism for promoting better community relations through journalism.
In 1968 Virginia Del. Marion Galland approached Stearman with an important challenge: to become a founder of the Alexandria Senior Citizens Employment and Services, now Senior Services of Alexandria. The goal was to start an organization for people over 60, to mentor them, bring them dignity and make them feel worthy. He became one of 16 founders and served on the board of directors as president in 1970-71.
The highlight of Stearman's tenure as chair of the Alexandria Mental Health Symposia Committee and president of the Alexandria Community Mental Health Center was bringing 1,700 attendees to the T.C. Williams High School auditorium for a discussion on mental health featuring U.S. Sen. Abraham Ribicoff and renowned anthropologist Margaret Mead.
Stearman has served as a leader in many other organizations and championed their causes, including the Visiting Nurse Service of Alexandria, Park & Shop Alexandria Corporation, Alexandria Hospital, the local branch of the American Red Cross, the local branch of the American Cancer Society and the Alexandria Board of Trade, which became part of today's Alexandria Chamber of Commerce.
Stearman turned 89 years old in February 2013. He said: "I thank God for one more day in my life. It's a blessing and I appreciate each day that I take a breath, feel wonderful and can carry on doing things I want to help kids."
Credit: Melinda Sigal
Photo Credit: Louise Krafft