Induction Year: 2014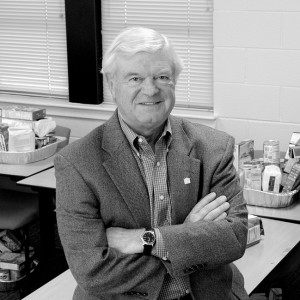 When you ask Lissette Bishins (Executive Director of the Carpenter's Shelter) about Lee Fifer, she will tell you that he "is a lifelong Alexandrian who is a passionate advocate for those in need. His touch is all over Alexandria. He loves this city and the people in it; he is philanthropic and drives others to follow his lead." Although recently retired, his professional career started when he joined the law firm of Boothe, Prichard and Dudley (now McGuireWoods) in 1972. He maintained a practice focused on land use and environmental law, real estate law, affordable housing and sports law. He managed numerous residential, commercial, industrial and institutional projects including regional malls, corporate parks and planned communities and has guided projects that have produced thousands of residential units. Fifer co­authored the first affordable housing ordinance in Virginia and has authored subsequent enabling legislation.
Fifer has made significant contributions to the Alexandria community. He has been chairman of the Alexandria Chamber of Commerce (1987), chairman of the board of governors of St. Stephen's & St. Agnes School, and served on the vestry and strategic planning committee of Christ Church.
Fifer, along with Bill Perkins of the Old Dominion Printing Company, helped found the Alexandria Volunteer Bureau In the early 1980s. Fifer served as chair for five years, helping to hire its first executive director, Marian Van Landingham. Two years ago he was a co­chair of the "Spring for Alexandria" Philanthropy Summit organized by Volunteer Alexandria, the successor to the Alexandria Volunteer Bureau.
In the early 80s, then Mayor Charles Beatley appointed Fifer to the Mayor's Multi­modal Task Force which studied transportation issues, including Metrorail. Fifer subsequently served on the board of the Northern Virginia Transportation Alliance, which focuses on transportation issues for Northern Virginia. For almost 20 years he was the general counsel of this organization and is a life member of the board.
Fifer's irrepressible interest is in housing. He is a founder and former chair of AHOME (Affordable Housing Opportunity Means Everyone) and the AHOME Foundation. This regional organization, started in 1985, promotes workforce housing development and affordable housing. Fifer served on the board and was treasurer of the George Mason Foundation for nine years helping to establish a Masters degree program in real estate development at George Mason University. For more than four years he served on the board of HomeAid, the charitable organization associated with the Northern Virginia Building Industry Association. It helps homeless shelters and similar charities with building projects.
In 1994, the Carpenter's Shelter, one of only a few establishments for the homeless in Alexandria, was on the verge of going out of business. It could not pay its staff or its rent; its spaces needed improvement as well. It was about then that Fifer joined the board. His first assignment was to lead a fundraising effort, where (as he will tell you) with the help of many others, he raised $600,000 in six months. That gave Carpenter's Shelter the money it needed to move and improve new facilities and carry on its vital services to the community. He was chairman of that board for ten years and is still serving on it to this day.
The impact of Lee Fifer on life in Alexandria should probably be measured in truckloads. His generosity and service are almost overwhelming…and legendary.
Credit: Joseph S. Shumard
Photo Credit: Steven Halperson