Induction Year: 2016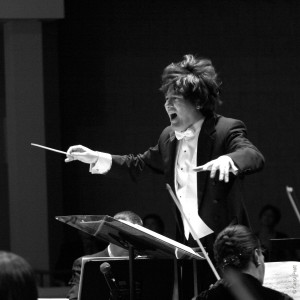 It was 28 years ago when a young doctoral student at the University of Maryland beat out 500 other applicants in an international search for the job of music director for the Alexandria Symphony Orchestra, a fledging amateur orchestra that performed in the old T.C. Williams High School auditorium.
"There weren't a lot of people in the audience back then but we came together for the joy of performing," said Kim Allen Kluge, the young Korean American student filled with hubris and a vision for a world class orchestra in Alexandria. "But there was a magic here from the very beginning. I sensed immediately the enormous opportunity to create an organization that could serve Alexandra in a new and powerful way."
In only his second year, Kluge professionalized the ASO, and in defiance of skeptics, decided to perform at the Kennedy Center.
"Some thought there was no way we could fill 2,800 seats," Kluge said. "But we did. We got rave reviews and ended up performing a whole series of concerts at the Kennedy Center, which instilled a new kind of pride in the community and a new sense of possibilities for us."
Kluge continues to contribute to the rich cultural fabric of Alexandria through his outstanding artistic leadership, a commitment to education and a strong connection to the local community.
In his first season, Kluge greatly expanded the educational offerings not only to school children but also to adults. The ASO became a national leader in arts education by integrating music with art, literature, mathematics history and social sciences.
Under his leadership, the ASO moved to its current home at the Rachel M. Schlesinger Center. Because of Kluge, the ASO has attracted high-profile guest artists including Branford Marsalis, Sarah Chang and Midori, who in 2012 selected Alexandria as one of only two communities in the nation to participate in her Orchestra Residencies program. The Washington Post heralded this as "a major coup" for Kluge, the ASO and high school musicians in Alexandria.
Kluge has forged artistic partnerships between the ASO and groups such as Bowen McCauley Dance, Metropolitan Chorus, Heritage Signature Chorale, Virginia Bronze, The Washington Ballet, The Shakespeare Theatre and the National Gallery of Art.
In 2003, Kluge founded the Children's Arts Festival, which tied public concerts and activities to in-school, curriculum-based programs. For Alexandria City Public School students, he developed mentoring programs and side-by-side concerts, which paired aspiring young musicians onstage with ASO professionals. In 2013, the ASO announced the Kluge Young Composers Competition to celebrate the emerging talent of composers age 18 and under in Virginia.
A valedictorian of Oberlin Conservatory of Music, Kluge pursued doctorates in piano and conducting from the University of Maryland and participated in the Tanglewood Music Center Program. In 2006, he received the Wammie Award as Conductor, given by the Washington Area Music Awards, bringing additional accolades to the ASO.
Under his music directorship, the ASO developed the first El Sistema-inspired program in the Washington, D.C. region, ASO Sympatico, which has been honored with a 2015 Yale Distinguished Music Education Partnership Award. In announcing this award, The Washington Post called Kluge "a passionate advocate for music education."
"It's very gratifying to look back and see what the ASO has accomplished," Kluge said. "I hope I have made a lasting contribution to the city that I love so deeply. I truly have a sincere belief in the power of music to transform everyone's life."
Credit: Jeanne Theismann