Induction Year: 2013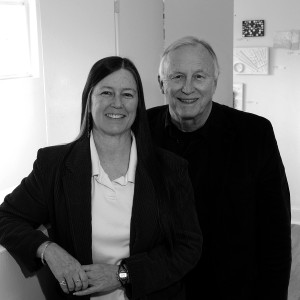 The civic activist team of Kathryn A. Brown and Marlin G. Lord has positively influenced Alexandria and its residents for more than three decades. Through community service, philanthropic endeavors, other tangible contributions and their commitment to the betterment of the city, its people and institutions, Brown and Lord have led the way to a better Alexandria for all.
An accomplished architect, Lord's leadership brought forth a design for a safer and more efficient trip along Route 1 with the straightening of the Monroe Avenue Bridge. The project also created more parkland for Simpson Field and enhanced the symmetry of the Potomac Yard development. He is, as is Brown, a founding member of Del Ray Artisans (DRA), a nonprofit organization with the mission of promoting art and community. Lord's business and negotiating skills have helped rejuvenate Mount Vernon Avenue as Del Ray's safe and thriving main street. A Minnesota native, Lord earned architectural degrees from the University of Minnesota in 1960 and 1962.
Brown met Lord when she worked at the Alexandria architectural firm Vosbeck, Vosbeck, Kendrick and Redinger (VVKR) as a draftsperson. She is an accomplished commercial and artistic photographer and an arts advocate. She is an affiliate member of the American Institute of Architects, Northern Virginia chapter. A native of New Jersey, she holds degrees from Pennsylvania State University and Northern Virginia Community College.
Responding to an unusual appeal in 2009 and again in 2012, Brown donated more than 17 inches of her long hair to Locks of Love, a Florida-based charity that collects human hair to make wigs for children who lose their hair as a result of disease. In doing so she also raised substantial funds for DRA's Ted Eichers Memorial Art Scholarship, awarded annually to a graduating senior. Brown had not cut her hair since eighth grade until her donation to Locks of Love.
In addition to their being founding members of DRA, Brown's and Lord's other joint civic endeavors include the King Street Gardens Park Foundation, Chinquapin Organic Gardens and the Alexandria Arts Forum, a coalition of artists, arts administrators, arts advocates and art patrons. Lord, also an accomplished photographic artist with a number of juried shows to his credit, has served on a host of city committees and task forces. For 20 years he served on the Alexandria Park and Recreation Commission, including seven years as chairman. Brown's long list of civic service includes the Del Ray Citizens Association, Agenda:Alexandria, the Alexandria Arts Forum and the Alexandria Commission for the Arts Visual Arts Panel.
Lord and Brown, residents of Alexandria for 47 and 28 years respectively, continue their commitment to the betterment of the city through a myriad of citizen involvements.
Credit: Chuck Hagee