Induction Year: 2011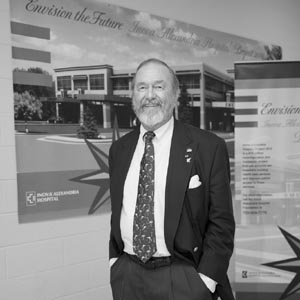 "Joe Viar is an inspirational leader," said fellow Inova Alexandria Hospital Foundation Board member T.J. Fannon.
"I don't know what that means," Viar grinned. "What I do know is how to rally people, make them believe in themselves.""There are three things Joe loves: the hospital foundation board, his alma mater, and fishing," Fannon continued. Viar joined the Alexandria Hospital Foundation Board in 1984."Fly fishing is my passion," Viar laughed, "but I'd rank the hospital and Hampden-Sydney College pretty close. And, yes, there are analogies between fishing and fund-raising." Viar smiles easily.A champion fisherman, Viar returned to fly fishing 20 years ago. Now he fishes worldwide, mostly as part of the Redbone Celebrity Tournament Series. Redbone fishermen stalk redfish and bonefish. The Series, which originated in the Florida Keys, raises money for cystic fibrosis."I got hooked on the tournaments and I'm the only guy to win all three Superfly tournaments in a year," Viar boasted. "My partner of 18 years, Bonnie Christ and I 'catch for the cure.'" Redbone.org donates approximately $1 million annually to The Cystic Fibrosis Foundation.
Viar retired from the computer business in 1995. Fund-raising is his business now. Not satisfied to do-good, he is dedicated to doing good well. Twenty-five years ago Viar and Fannon teamed to successfully raise money for Alexandria Hospital's Cancer Care Center. Today Inova Alexandria Hospital Foundation Director Mary M. Myers calls Viar "Alexandria's $40 million man." He readily shares the fund-raising credit with Myers and members of the hospital foundation board.
"You don't do anything alone," Viar reminded.Born in Philadelphia in 1941, Joseph Viar Jr. was raised in Lynchburg, Virginia. Then his passion was football. A college football player, Viar was named to the All Mason Dixon and All-Virginia State College football teams. With football, as with high school, a later business network formed.Viar depended on scholarships to in part pay for college. He followed the money; physics gave way to mathematics, and in 1963 Viar graduated Dean's List from Hampden-Sydney. Prior to graduation he had read a TIME magazine article about computers; saw his first computer on a General Electric interview and loved it. The rest is business history.Computers fascinated Viar. Whether technically involved or involved in contract sales, he was motivated to succeed. Viar held various jobs: designing electrical circuitry, simulating war games, and writing computing models. Within a few years he "knew as much as anybody about computing.""I could analyze problems, recommend fixes and eventually realized computer consulting was where I belonged," Viar continued. "I was self-confident, cocky, and enjoyed both technology and selling. I've always been a salesman; in Lynchburg I sold clothes at an Ivy League men's store."Viar arrived in Alexandria in 1971 and five years later he established his computer company Viar & Co., Inc. in the city. "If you're going to start your own company, name it after yourself," Viar advised. "I worked 60-80 hours a week and in 1983-1985 Inc. magazine listed Viar & Co. as among the country's fastest 500 growing private companies. We specialized in federal and Virginia contracts." He sold Viar & Co., Inc. to Dyn Corp in 1991."Most small business owners can't cash out well," Viar said. "I did well." "Viar & Co. was my greatest accomplishment," Viar concluded. "You couldn't hire people away from me. My real legacy was creating an environment in which people wanted to work.""Now I raise funds," Viar added. "I have the same drive I had then. I lead by example and success is meeting or exceeding the fund-raising goal."
"Joe does lead by example," Inova Alexandria Hospital Foundation Board member Shawn McLaughlin agreed. "He's the kind of person you want to rally behind. His style is warm, sincere, and he never pounds the table." Fannon describes him more simply: Viar has "energy, energy, energy."
Viar became Chairman of the Inova Alexandria Hospital Foundation Board in 1999. "Since then, we've jumped the fence," he explained. "In 1989 the entire Cancer Center, including build-out, cost $3.5 million. But expenses have changed. To replace one piece of Center equipment now costs $5 million. It takes real money to turn a community hospital into a first class hospital center."The Inova Alexandria Hospital Foundation Board is in the process of raising $25 million, its contribution to the hospital's 2010 Project. The Foundation, under Viar's leadership, has raised $23 million to date. Most of the money has been secured from individual Alexandria donors."Alexandria is a prideful community," Viar exclaimed. "Basically we don't have corporations in the city. It is individuals who donate, who help to improve access to health care." The 2010 Project includes 68,000 square feet in renovations and improvements, especially the emergency, surgical, cardiovascular and interventional radiology departments.
What is Viar's life lesson? "A lot of life is a leap of faith. Life is a series of choices every day. Am I going to take a gamble or not? I cannot say often enough how important employees are to business, any business nonprofits included. It's my knowledge of people that has translated so well to fund-raising. I am not a theory man, I'm an action man."
Viar has received many awards over the years. In 2007 The Alexandria Times named Joe Citizen of the Year. A year later Virginia Delegate Brian Moran, and others, introduced House Joint Resolution No. 260 commending Viar on his many accomplishments. He is not sure why either was done.
"Joe is the type of person who puts community above self," said Vic Dymowski the Foundation Director who recruited Viar to the Alexandria Hospital Foundation Board. "He exhibits an extraordinary knowledge of human nature and his personal commitment to cause is inspirational to others. They say I can do that, too."
"Every community needs a Joe Viar," McLaughlin concluded. "He is the very definition of a Living Legend."
Credit: Sarah Becker
Photo Credit: Nina Tisaa