Induction Year: 2010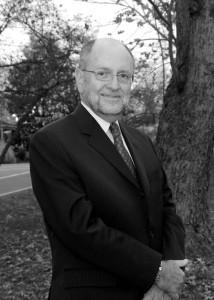 When John Porter first entered an Alexandria City Public school, Eisenhower was in the White House and his first grade teacher was Miss McKinney.
Last summer, more than 50 years later, he retired from ACPS and is now the executive director of ACT for Alexandria.
Just for the record, it didn't take Porter 50 years to graduate; he did that in 1965. He attended Maury Elementary School, Robert E. Lee Middle School, Jefferson School for eighth grade and George Washington High School.
After ACPS, Porter attended North Carolina Wesleyan, where he studied education. "I didn't really plan to come back to Alexandria to teach but there's a draw to the City, especially if you have grown up here," he said. "I was offered a teaching contract in North Carolina but took a chance and came home without a job."
Porter's goal was, "to get a job that paid the bills and the only teaching position that was open at that time in ACPS was at Parker-Gray teaching social studies.
During that first year, one of his students was Alexandria Sheriff Dana Lawhorne. "I know, it's surprising I didn't quit," Porter quipped. "Dana spent even more time in my class my third year when I was in charge of the crisis room where teachers sent kids who were being disruptive in class."
After 40 years, Porter and Lawhorne are still close friends. "He was such a nice guy that I misbehaved in class just so I could spend time with him," Lawhorne said. "Then, in 1986, when I became a detective with the Alexandria Police Department, I worked with John at T. C. Williams High School. We worked together for the next 19 years on some very difficult issues during very difficult times in Alexandria.
Of his time at Parker-Gray, Porter said, "I learned more in the first month of teaching than I did in undergraduate school. I really enjoyed the time I spent at Parker-Gray.
"I really enjoyed working with elementary school children because they are still willing to hug you and show that they really enjoy seeing you," Porter said.
After Ramsay, Porter went to John Adams Middle School. In 1979, Porter became the associate principal at T.C. Williams High School under Principal Tony Hanley.
"I was the detail person who was responsible for the master schedule and coordinating all of the logistics of running a large high school," Porter said. When Hanley retired in 1984, Porter became the principal at T.C., where he remained until 2006. In 22 years, there were highs and lows, laughter and tears.
"The most difficult time I had at T.C. was September 11, 2001. I remember walking outside near the Career and Technical Education wing with the ROTC major. We heard a loud noise and saw smoke coming from the Pentagon. The major's brother was at the Pentagon so he ran to find out what was going on.
"Dana Lawhorne came by and told us that there was another plane that might be headed for Washington and we put the campus in total lockdown," Porter said.
The following fall, the school faced lockdown once again when a sniper terrorized the Metropolitan region. "We had a string of tragedies with September 11, the sniper, a hurricane and the deaths of some of our students," Porter said. "The times that were the most difficult were when you really couldn't control the situation."
Porter had a reputation for knowing every student's name at T.C. and for remembering something about the student even after graduation. He knew two of his students particularly well: his sons Bryan and Scott.
"He gave me the choice of going to private school but I said no because all of my friends were going to T.C. and that's where I wanted to go," said Bryan Porter, an Assistant Commonwealth Attorney in Alexandria. "I never thought of my time at T.C. as any harder than any other student's. I guess that some teachers might have been harder on my brother and me because our dad was the principal.
"I do remember one of my teachers going to Dad's office one day to ask where I was. I was skipping. Also, there was the time that he picked up the phone at our house to hear one of his own recorded messages about "˜your son or daughter missing one or more classes'. He made it clear that I probably shouldn't skip classes," Bryan said.
Porter has been involved with ACT since its inception. "In 2002, Gene Steuerle came to me and some others in the community to talk about a way to help Alexandria using the money that he got as a result of his wife, Norma, dying on the plane that terrorists flew into the Pentagon on Sept. 11," Porter said.
As the successful chairman for Alexandria's United Way campaign, Porter has some experience raising money and, "he can work a room better than anyone I know. Now, he's going to get paid for shaking hands with people and being friendly. It sounds like the perfect job for him," Bryan said.
While leaving ACPS was sad, "it was the right time and the right job," Porter said. "In many ways, leaving T.C. was harder. I enjoyed my three years in Central Office but it was not the same as being involved with the kids every day.
Credit: AlexandriaNews.org Staff
Photo Credit: Nina Tisara