Induction Year: 2023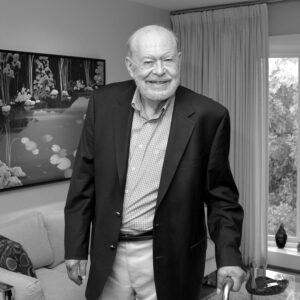 Jack Sullivan was destined to be involved in community affairs. Born John H. Sullivan in Toledo, Ohio, he observed his father, a dentist, get involved in helping the middle-class neighborhood where he was raised.
"My father was very much a civic activist," Sullivan said. "I was paying attention to him and what he was doing. I learned from him the difference that one can make in a community."
Educated in parochial schools, Sullivan served in the U.S. Air Force Reserve and Ohio Air National Guard from 1959 to 1965. He began his professional career in 1959 as a newspaper reporter for the Springfield Ohio Sun and the then Milwaukee Sentinel. He moved to Washington in 1961 as an aide to Rep. Clement J. Zablocki of Wisconsin and joined the Foreign Affairs Committee as a staff consultant in 1969.
"For 20 years I worked on Capitol Hill," Sullivan said. "For a time I was the youngest on the Hill – I was maybe 22 years old."
Sullivan was active in legislative initiatives of the 1970s, including heading the House staff on SALT I arms control legislation, economic aid to wartime Vietnam, implementation of the Sinai Accords, and passage of the War Powers Act. In 1976 he was named Deputy Chief of Staff of the Committee.
Sullivan served as a member of the U.S. delegation to the United Nations General Assembly session in 1973, and in 1976 was with the first Congressional staff group to visit China.
In 1977 he was chosen by the newly-elected Carter Administration to manage the transition process at USAID and subsequently selected to head its Bureau for Asia and the Pacific. In 1978 he was awarded the Agency's Superior Honor Award for "outstanding leadership in the areas of equal opportunity and affirmative action," for his appointment of women and minorities to executive positions.
Following his tenure with the Carter Administration, Sullivan turned to consulting, which allowed him more time to focus on issues closer to home in Alexandria.
"I can think of no one else who has made as many exemplary contributions to our community than Jack Sullivan," said Carter Flemming in nominating Sullivan as a Living Legend. "For more than 40 years, Jack has tirelessly advocated to educate and involve his fellow residents on issues of importance. He has set a high bar for others to follow."
Sullivan served as chair of the Cable Television Commission, where he widened public affairs broadcasts to cover important city meetings that are now taken for granted, such as the Planning Commission meetings. This had not been done previously and Sullivan's vision brought new transparency to city government.
He served on the HIV-AIDS Taskforce in the 80s and also chaired the committee to select Alexandria's first Poet Laureate in 2007. He has served on 11 various boards and commissions.
Sullivan was a volunteer curator and cataloguer for the Stabler-Leadbeater Apothecary Museum's collection of artifacts and served as a volunteer cataloguer and transcriber for a Civil War diary for the Alexandria Library. A long-time member of the Seminary Hill Association board, Sullivan twice served as president and was treasurer for many years. He also served as a member and co-chair of the Alexandria Federation of Civic Associations.
Of his many accomplishments, perhaps the two most impactful have been centered on environmental issues: The creation of Boothe and Brenman parks, and the expansion of the Combined Sewer Outfalls project.
Sullivan was a member of the Citizen Advisory Group on the Conversion of Cameron Station from 1988-1995. While the city focused on the potential revenue to be gained by adding more than a thousand housing units on the site, Sullivan and Col. Ben Brenman focused on the need to provide open space for the new residents. They obtained concessions from the original plan to create both Boothe and Brenman parks.
In 2017, Sullivan was appointed as a member of the Combined Sewer System Stakeholder Advisory Group II to consider the state mandate that the city cease polluting the Potomac River with sewage overflow when it rains.
While the state originally mandated that Alexandria remediate three of the city's four outfalls, and the Advisory Group recommended that plan to City Council, Sullivan wrote a minority report which argued that the fourth outfall at Oronoco Bay, which is the largest source of pollution into the river, should be included in the project to end the pollution that has been discharging into the Potomac for over a century.
"The major outflow in Old Town was not going to be fixed," Sullivan said. "Every year we were dumping the equivalent of 200 tanks of raw sewage into the Potomac. This outfall in Old Town was the equivalent of the other three – we were basically only fixing half the problem."
Sullivan's report caught the attention of Virginia State Senator Scott Surovell, who brought it to the state legislature.
"The state passed a bill mandating that the city fix all four outfalls by 2025," Sullivan said. "At that point the city had no option but to include the Old Town outfall in the project."
Said Flemming, "Future generations of Alexandrians will enjoy a clean and safe Potomac River, and we owe Jack Sullivan a huge debt of gratitude for guiding us to the correct decision."
As a result of this effort, Sullivan was given the Ellen Pickering environmental award in 2022.
Sullivan holds B.A. and M.A. degrees in journalism from Marquette University and a doctorate in international relations/political science from the American University. The university bestowed its Distinguished Alumni Award on him in 1976 and again in 1979.
A resident of Alexandria for more than 55 years, Sullivan and his wife Paula recently celebrated their 60th wedding anniversary. They have two sons, John and Brian, and one granddaughter. He is an active member of Our Lady Queen of Peace Church in Arlington. He retired professionally in 2015 at the age of 80.
"I think I have done some positive things," Sullivan said looking back on his community activism. 'I hope I made a difference over the years."
By Jeanne Theismann
Photo Credit: Steven Halperson/Tisara Studios