Induction Year: 2008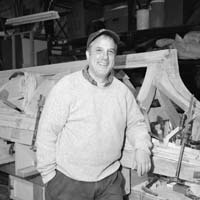 In the beginning, it was all about building wooden boats: the chance to work with good wood, to design and create objects of beauty and utility that would take people out on the water. But Joe Youcha has made his true contribution through helping rebuild the lives of young people.
Youcha is Executive Director of the Alexandria Seaport Foundation, a nonprofit organization housed in a floating boat building school on the Old Town waterfront and some rented warehouse space in Robinson Terminal. The Foundation runs boat building programs for communities, individuals and families, but its chief mission now is its apprenticeship program for young people. Apprentices who graduate end up not just having learned to build a simple boat, but also having acquired high level carpentry skills, self-confidence, and a new outlook. Youcha says the program has a 70 percent success rate.
Apprentices in the 4-month program are paid a starting wage of $6.50 an hour. They work from 7:30 a.m. to 4:30 p.m. Time is built in for the program's integrated GED program, with on-site teachers and tutoring. If they are late, their pay is reduced to minimum wage. If they miss a day, they are docked two days' pay. Too many violations can get an apprentice fired from the program. But with time and skills, the pay can go up to $11.50 an hour.
Many of the participants are troubled youth, often school dropouts. Some have had brushes with the law. Retired Judge Stephen Rideout says Youcha has a special understanding for teenagers who have come up under difficult circumstances, even though he grew up in a supportive middle class family.
The young people find their way to the program through counselors, parole officers, or just word of mouth. To graduate from the program, they must complete their general equivalency diploma (GED), be clean of drugs, and have a driver's license and tools. Those who complete the program are eligible to become members of the United Brotherhood of Carpenters Apprenticeship Program through an agreement between the Seaport Foundation and the union.
Chris Heinz, a Seaport Foundation board member and former government affairs director for the United Brotherhood of Carpenters, helped negotiate the connection between the Foundation and the union. "The quality of the students that come out of the Foundation's program is at the top of the line in terms of work ethic and skills. They know what the industry entails and what they have to do to become good solid carpenters and union members," Heinz said.
The program relies on volunteers who help teach the apprentices to build boats. "The boats are a hook into volunteers, and also a good teaching tool," Youcha said. Many of the volunteers first come to the Seaport Foundation to learn to build wooden boats, or for help in building one they have planned or designed. As the apprentices help with the work, the adults get hooked into the role of teaching.
Board member Brian Lockett once took a 6-month sabbatical from his job as a journalist to work with the program. He likes the way the program puts academic work in context. "Most kids, sitting in a classroom find it hard to see the value of learning fractions," he said. "But when you're about to cut into an expensive piece of wood, that makes it come to life."
The other part of the work is instilling good work habits. "Someone relying on you makes you see the need to show up for work," Locket said. In many cases, no one has been setting an example for them. Youcha says the program socializes participants, helps them understand that society can use and want them and their skills. "We broaden their horizons, give them wider options and expectations of what their lives should be, that they can make $60,000 to $80,000 a year and have health care," Youcha said.
Jay Creech, who is retired, spent time round the water and built boats in his youth. "These folks gave me a chance to come back to boat building – and an opportunity to teach young people, which is a real kick," Creech said. He volunteers in the shop two days a week, working 7:30 to 3:30, sometimes more, teaching boat building and, in the process, some math. Of the young men he teaches, Creech said, "You have to earn your position and their respect each time you get new kids in. You treat them like adults, they'll respond in kind."
Board member Tom Tuttle says, "Joe is a great boat builder and a better teacher." Together, Youcha and the board work to keep the operation afloat, to shape it to this community's needs. Tuttle says Youcha has the ability to get along with all kinds of people to get his job done, from high net-worth donors to mature volunteer practitioners of the building craft, to the kids in the apprentice program. He adds that Joe takes the mission very seriously, but not himself. "He's the first guy to laugh, he's fun to be around."
Vicki Youcha, Joe's sister, says he's always been that way. "You know how most babies will wake up in the night crying? Joe laughed in his sleep. When he got older, he would fall out of bed laughing in his sleep."
Youcha grew up in Rockland County, New York. He started sailing at 5 and by the time he was 6, was helping his father work on the family sailboat, built by a friend who worked at a boatyard. He graduated from Columbia University in 1984 with a degree in history. He married Jessica Kaplan in 1988, and by 1992, they were living in Colorado, where he had a computer job he hated, writing training manuals and interactive videos. So he started looking for programs that were building wooden boats. He found two, one in Seattle and one in Mystic, Connecticut, learned all he could about them, and then began looking for ways to do something similar. A chance meeting over lunch with William H. (Bill) Hunley while Youcha was visiting a friend in Alexandria introduced him the Alexandria Seaport Foundation.
Hunley, who was chief naval architect of the U.S. Navy when he retired, had been a volunteer for the Foundation since 1986. The Foundation was established in 1982 to promote and preserve the maritime heritage of the city of Alexandria, but by the early 1990s, had fallen on hard times financially. In 1992, Hunley joined the board as its new program chairman, and at his first meeting, offered plans for a boat building school. He found a building at the former Smoot Lumber Yard location at 1201 N. Royal Street, and soon after meeting Youcha, hired him to run the school.
"Not many people predicted success," Hunley drily recalls. But gradually, as the program grew and developed, Youcha and the Foundation fine-tuned the use of volunteer mentors and eventually were able to hire some staff. Youcha was good at fundraising and at finding a niche for the Foundation. From then, Hunley said, "The Foundation prospered." Getting the floating Seaport Center built was one of Youcha's successes.
People often mention how generous Youcha is, with his time and other resources. When program graduate Steve Hernandez returned from a stint in the Marine Corps, he and his girlfriend planned to marry before a justice of the peace. Instead, he recounts, "Joe and my auntie planned my wedding upstairs in the Seaport Center I helped build – as a surprise." Clearly, it meant a lot. Hernandez, who now works for the Seaport Foundation, says kids come into the program for the opportunity it offers, just like he did.
Antonio Robinson and Leo Durkim are part of the current group of apprentices. "I'm here to stay off the streets. I like working with my hands," Robinson said. Durkim, 21, says he's been in trouble with the law, and heard about the program from his parole officer. His uncle is a carpenter in Ohio and has promised to get him a job if he completes the apprenticeship program and gets into the union. "This program helps us with our math and also our skills. Carpentry is a good profession." Durkim says he's fallen in love with the program, and hopes to get his GED and graduate.
Hunley, now 82, admits to having a soft spot for the man he hired. "Joe," he says, "is a teacher, entrepreneur, and mentor to the kids. Some of them bring back their brothers. They learn they can build something that is useful, that will last, and they've not done that before."
Joe and Jessica have two children: Emma, 11, and Zach, 8. They are taking sailing lessons this summer.
Credit: Christa Watters
Photo Credit: Nina Tisara