Induction Year: 2010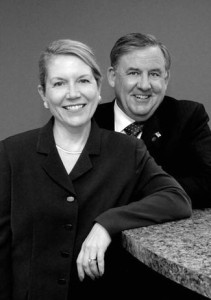 In 2008, John Renner proposed to his fellow Rotarians that they present a premiere fundraising event to raise money for local charities.
The event became the annual "Taste for Giving," led by John and Joan Renner and a team of very capable Rotarians, which raised more than $69,000 over the past two years to help children and the needy in our community.
"I told the club we could do it, and we did," said John. "It was great to see the whole club come together and work for such a worthy cause."
Both active Rotarians, past treasurer and past secretary, they have supported a number of club efforts. They enjoyed helping foreign visitors learn about Alexandria by opening their Seminary Ridge home to guests and hosting receptions for the Group Study Exchange and Open World programs that help participants from all over the world expand their professional skills and learn about the American people and culture.
The couple received the 2008-2009 Rotarian of the Year award from the Rotary Club of Alexandria.
For a number of years, John and Joan Renner have epitomized that rare combination of community service and selfless leadership.
As chair of the Alexandria Chamber of Commerce in 2004, Joan promoted the benefits of Alexandria business. As chair of the Scholarship Fund of Alexandria in 2008-2009, she advocated to help qualified, needy T.C. Williams High School seniors have the money for higher education. She now serves on the Board of the Goodwin House Foundation where her parents live.
John is the founder and managing shareholder of Renner and Company, CPA, P.C., one of the largest CPA firms in Alexandria.
With a staff of 20, the firm serves a variety of local businesses, individuals, and nonprofit organizations providing tax, audit and accounting services.
As CPAs, John and Joan and their firm have provided vital support to a number of Alexandria charities. John has worked to build consensus around important community issues as a member of the Board of the Alexandria Chamber of Commerce, KSMET, the Police Foundation, ACVA, First Night, as well as the City of Alexandria Waterfront Committee, the City Manager's Performance Audit Task Force and the City's Budget and Fiscal affairs Advisory Committee, (BFAAC).
They have also promoted the arts through their service on the Boards of the Alexandria Symphony, and the Friends of the Torpedo Factory Art Center.
The Renners "serve and have served in many areas in the community," said former Del. Marian Van Landingham.
"If you look in charitable campaign literature of the Alexandria area like the Breast Cancer Walk or the Alexandria Symphony Board quite often you will find Joan, John or the Renner & Co. logo," Van Landingham added. "Their contacts and influence are wide spread and long standing in the community and region. They share their professional expertise as well with financial management and tax advice for various non-profit groups in Alexandria usually on a free or reduced fee basis. Their generosity in terms of time talent and treasure is vast and brings credit to them and to Renner and Company."
In 35 years in public accounting, Renner has helped countless small businesses grow and flourish. Renner and Company is known for its service to the community.
In 2008, Renner was named "Super CPA" by the Virginia Society of Certified Public Accountants. "I appreciate being recognized by the profession and I believe in the importance of giving back to your profession and your community," John Renner said.
"We love Alexandria and we enjoy doing our best to help our City," Joan Renner said.
Credit: AlexandriaNews.org Staff
Photo Credit: Nina Tisara