Induction Year: 2009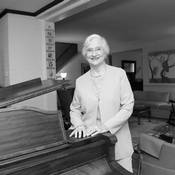 To understand what makes Jane Ring tick, put on a CD of Emanuel Ax or the young genius Alexander Gavrylyuk: Ring's favorite concert pianists.
"Gavrylyuk is the best I've heard. And I've heard a lot," Ring said. "Including Arthur Rubenstein."
Since childhood, music has been Ring's life force, shaping her extracurricular activities through childhood in Raleigh N.C., driving her master's studies at Duke University, even pointing her toward Carlyle "Connie" Ring, her husband of more than 50 years. They met during a summer waiting tables at Chautauqua in New York's Catskills, attracted there by the music.
"We courted in the hotel refrigerator," Ring laughed.
Her many friends and admirers would be hard pressed to name the one activity of so many that qualified her as an Alexandria Living Legend. Her service to the community is great and varied. But once again, music was the driver.
Her extraordinary work over the years raising funds for the Alexandria Symphony Orchestra has substantially helped assure the resources that made possible a professional orchestra in a city the size of Alexandria. ASO produces five regular season concerts, a Pops Concert, a Holiday Concert, and a Children's Festival, an unheard of achievement for a community orchestra.
"Jane's endless work behind the scenes has been vital to the Symphony's success," said ASO Executive Director Adrian Findlay. Performances almost always sell out. ASO's charismatic music director Kim Kluge is popular with the city's music lovers. He leads the extraordinary group of musicians he has been able to attract with poetry and passion. But ticket sales cover only 30 percent of ASO's costs.
Enter Ring, who has been a mainstay in ASO's fund-raising efforts since she joined the Symphony Orchestra League of Alexandria (SOLA) almost 20 years ago.
There's little in the orchestra's fund-raising arena in which she hasn't played a major role. For the past four years, she has chaired SOLA's annual holiday Virginia Diner Peanut sales, one of the Symphony's most successful fundraisers.
In the past, she has chaired the annual symphony ball, which brings in $100,000 or more, and has been its constant support. For the past 10 years, she has maintained the SOLA database, received Ball reservations and sent out acknowledgements to ticket purchasers. She has served as SOLA co-president and assisted with SOLA's Mary Graham Lasley Music Scholarship Competition each year. Not surprisingly, in 1997, she received the organization's Volunteer of the Year Award.
"Of all the thousands of musicians and music lovers I have been privileged to know, Jane Ring stands out for her ability to bring out the best in us," said Kluge.
Even Ring's non-SOLA activities tend to be centered on music. At Westminster Presbyterian Church, where she and her husband have been active and involved for years, she sings in the choir; provides piano and organ music for worship services, funerals, and holiday performances; and has been a member of the advanced English handbell choir since 1970.
And beyond church, music underpins many hours of volunteer work. In the 1960s, Ring provided music activities for the Alexandria Daycare Center when it was still meeting at Shiloh Baptist Church. She serves on the steering committee for the Monday Morning Music Group here in Alexandria. In 1973, she and her husband founded the Sing-a-Long for Uniform Law Conference, a national professional meeting which they attend annually. She has been the pianist for this much-anticipated break in the lectures since the sing-along's beginnings in 1973.
In the 1970s, she accompanied the George Mason Elementary Chorus. Today, she volunteers with George Mason's "Dragontones," led by music teacher Kathleen Baker — another star in Alexandria's musical constellation. Ring accompanies the chorus for their musical productions.
Part of her success is her ability to involve so many others. "If it were possible to say 'no' to Jane, many of us would not be involved in all of the wonderful activities that make this city such a wonderful place to live," said Rose Fullerton, co-president of SOLA and the person who nominated Ring as a Living Legend.
The alternate theme of Ring's life is support. Others star, she helps create their opportunity. And that holds true even when the subject goes beyond music.
She has been a member of THE TWIG, the Auxiliary of the Alexandria Hospital since 1968, serving as its president from 1973 to 1974. She remains a sustaining member and is its second-longest serving member "oldest?" she joked. She and her husband support the Hospital Foundation through the 1872 Society.
And it doesn't stop there. She also provides a level of volunteer support for Westminster Presbyterian Church that most mortals would call a full-time job in itself: three terms as elder, co-superintendent of the church with her husband, a former president of the women's group, provider of meals for receptions, assistance to families during funeral and memorial services as a member of the Compassion Guild, and food every month for Carpenter's Shelter for the city's homeless families. She has also chaired numerous church activities and served for eight years as the church's business administrator.
And more: As a dedicated member of the city's GOP, she was long the backbone of Connie Ring's successful campaigns for City Council and in 1961 was a founding member of the Commonwealth Republican Women's Club. Back then, she recalled, "a Republican hadn't been elected on the local level since Reconstruction."
To help encourage voting in general, she became a notary in order to help place the required stamp on any voter's absentee ballot. "I believe in two-party democracy," she said.
Oh, yes, family life is very important to her. She and her husband have raised four very impressive children "the cycle of the Rings," she called them. "Some of the most fun I have is "jamming" with my banjo-picking son, Roddy."
How she fits it all in is a mystery. She is relaxed, bubbly, and every bit the gracious Raleigh-bred born lady she is.
Suddenly, without even being asked, one has ordered a case of those peanuts.
Credit: Pat Durkin
Photo Credit: Tisara Photography