Induction Year: 2023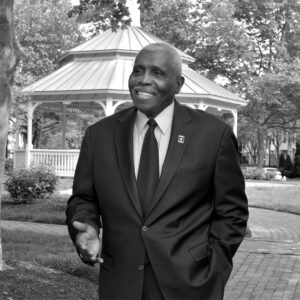 When Jim Paige was growing up in Robinson County, N.C., he had dreams of becoming a professional baseball player. The youngest of five siblings, he was a gifted athlete but realized the odds were against him.
"I realized in high school a professional baseball career wasn't going to happen so I pivoted to do something else," Paige said. "I went off to college and was in the Army ROTC during the heart of Vietnam."
That something else turned into a nearly 30-year career as a military officer, shaped by the Vietnam era and turbulent events of the '60s.
"Some flagship moments happened when I was in school," Paige said. "In 1968 Martin Luther King got killed. Bobby Kennedy was killed. I had a classmate who was shot by the National Guard in the dorm, so there were some sentient moments that shape the way you see life."
Now a retired colonel, Paige is a distinguished leader and visionary who has dedicated his life to the betterment of his community and the promotion of education, healthcare, and social justice. Currently serving as the Executive Director of the Concerned Citizens Network of Alexandria, Paige's journey towards community empowerment began in 2009 when he co-founded CCNA alongside his colleague, Gwendolyn Hubbard Lewis.
"At that time, the Washington Post had an article about T.C. Williams being the worst high school in the state," Paige recalled. "So Mr. Ferdinand Day and Gwen Lewis said 'Hey Colonel, why don't we try to do something about this dropout rate?' So that's how we got into CCNA."
Over the years, CCNA's mission has expanded to encompass a wide range of equity-related issues. Their work now extends to addressing affordable housing, ensuring access to quality healthcare, promoting mental health awareness, and enhancing academic performance for students.
Before CCNA, Paige founded the Pioneer Student Leadership Academy in 2004.
"We started the leadership academy because we saw a lot of minority kids who were not ready to go into the workforce," Paige said. "I want my students to be ready to rock and roll when they step into corporate America. The first class was in the University of Houston in 2004, which included underserved students in the Native American community."
Paige graduated from North Carolina A&T State University in 1970. Following his military service, Paige retired in Alexandria, where he founded an international consulting firm specializing in strategic planning, health affairs, executive coaching and youth development.
Paige regularly works with city officials, the faith-based community, and institutions such as the American Psychiatric Association Foundation. Additionally, his involvement with Virginians Organized for Interfaith Community Engagement (VOICE) reflects his commitment to building bridges and creating positive change.
"Along the way you develop a cadre of family members, a continuum of folks you connect with – like a ripple in a pond," Paige said.
Added colleague Jackie Burrell, "The Colonel sees CCNA as putting that first pebble in the water and letting it ripple out. He is the catalyst of bringing organizations together and watching them benefit one another and the community at large."
Paige serves on several boards and committees, including the Alexandria City Public School Law Enforcement Partnership Advisory Group, the Alexandria Racial Equity Task Force, the Saved Hands Foundation, the Commonwealth Attorney Community Advisory Board, the Lions Club, the Rotary Club, and the Alexandria Region Action Committee Workgroups. He is a founding member of the Community Health Improvement Planning Committee Task Force.
Paige's leadership shone during the COVID-19 pandemic and the social unrest following the death of George Floyd in 2020.
"COVID and social unrest had us adjust the way we do things," Paige said. "We sat down and said we can give up and let it go away, but Gwen Lewis said 'that dog is not going to hunt.' So we reinvigorated ourselves. This is the hand we got so let's play it."
Paige adjusted CCNA's program delivery to provide continuous support to students and families, including more Community Forums for information sharing. Under his guidance, CCNA established the Reach and Rise for Excellence program.
Collaborating with community partners, Paige leads a coalition offering free eye exams and glasses to families and sponsors citywide community resource days. In partnership with APAF, he established the Mental Health Coalition of Virginia to address mental health wellness for Alexandria and the surrounding communities.
As Senior Advisor for the U.S. Army National Museum Project, Paige conducted oral interviews with military veterans, including the Tuskegee Airmen and Sioux Code Talkers. He also worked with several minority-serving institutions to develop the Student Development Mentoring Program, cultivating curators and historians for the museum system.
Paige served as a project manager on behalf of the World Bank's Post Conflict Unit and served as a security advisor to the Joint United Nations Programme on HIV/AIDS.
Paige is co-founder of the Page1 Foundation College Prep and Mentoring Academy, which, along with his children Kai and Kevin, assists underserved high school students in navigating the college admissions process and finding scholarships.
An advocate for veterans and their families, Paige works to address issues such as veteran homelessness, PTSD, and suicide prevention.
Paige is a lifetime member of the Omega Psi Fraternity, "the best fraternity in the world," and was recognized at the 2006 Trumpet Awards for his support to victims of Hurricane Katrina. Earlier this year, Paige was awarded the Presidential Lifetime Achievement Award for Community Service.
Said Paige, "My vision is to continue to shape the area so that it is a good place for people to live and grow and survive."
By Jeanne Theismann
Photo Credit: Steven Halperson/Tisara Studios