Induction Year: 2011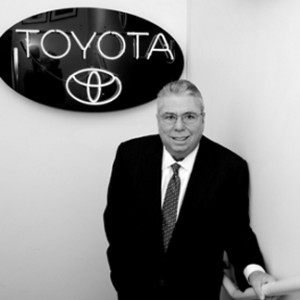 Neither tsunamis nor earthquakes; shortages or recalls discourage Jack Taylor of Jack Taylor's Alexandria Toyota from reaching his goals. Taylor—a recent recipient of ACT for Alexandria's Legacy of Service Award—is a self-made businessman. Caring is how he is most often described. "Jack doesn't realize how many lives he has changed," Gayle Reuter said.
"Jack Taylor is a personal friend of more than 30 years," Alexandria Mayor William D. Euille declared. "We met on the basketball court on Lee Street. He is a very successful businessman, a kind man with a big-heart."
"Jack's the type of person if you befriend him he befriends you," Euille continued. "He does unto others as you would have others do unto you."
"Yes, I used to play basketball everyday at the Lee Street Park," Taylor grinned. "But the Golden Rule, the credo? If someone treats me well, I treat them well. If not, I try not to hold grudges but I'm capable of doing it."
"He who has the gold makes the rules," Taylor finally decided.
"Jack shares his success because it is the right thing to do," Euille concluded. "He is about love, unselfish love." Taylor is known for his philanthropy.
"Jack is a huge giving person," Pat Miller agreed, "and not just financially. He never puts himself first, loyalty comes naturally and he is a tremendous friend."
Born in 1946 in Washington, D.C. John E. Taylor, Jr. was raised in Falls Church, Virginia. Jack describes his family as "fairly middle-class." His father was a political activist, a sheriff long-affiliated with Virginia's Byrd machine.
"My father spent a lifetime helping people," Taylor recalled. "It seemed he went to a funeral very day."
"We had our father-son issues," Jack explained. "I was not a particularly good student. I was not well understood as a student and attended high school at Fork Union Military Academy. The Academy voted me most likely not to succeed."
"I have Attention Deficit Disorder," Taylor continued, "and was on academic and social probation in college. I finally graduated from Campbell University. The draft was actually a good thing." Taylor served in Viet Nam, a decorated member of the Army's military police.
"Right out of Viet Nam Jack started selling used cars, then built his Toyota Empire here in Del Ray," said Mike Anderson, Chairman of the Alexandria Chamber of Commerce. "The best part is, along the way, he never forgot the community that supported him. He continues his generous support still today." Taylor went into the car business in 1973, partnering with Bill Page Toyota.
"The only way I could ever become school valedictorian was to become a valedictorian sponsor," Taylor insisted. "I have a strong interest in children. The very old: the very young."
"Lots of kids have issues when they go to school," Taylor said. "T.C. Williams High School represents 100 different countries. The school gets a bad rap so I help with scholarships like the Ruby Tucker and Bill Nichols scholarships. The Scholarship Fund of Alexandria is a core charity." Taylor also contributes to Capital Hospice, The Salvation Army and the Alexandria Police Foundation.
"Jack leads by example," explained Susan Yowell Executive Director of The Scholarship Fund. "He understands that education is the key to the economic viability of the community. We have recognized his many, generous contributions with what we call the Jack Taylor Corporate Partner Scholarship." Jack Taylor knows how to effectively leverage Fund contributions, including Toyota of North America.
"I don't like the term give back," Taylor said. "It implies I took something. Alexandria Toyota gives because we can, from the heart and with advertising."
What is Jack's life lesson? "All my life, if I felt strongly about something, I'd fight for it. Even if I thought I could lose. Stick to your convictions. If you believe in something don't be afraid; believe in the strength of your convictions even if you fear the unpopular. If you believe in it, believe it and then give back."
In 1991 Taylor was among a handful of concerned dealers who established an independent political action committee (AFIT PAC) to give dealers an active voice in electing free trade oriented members of Congress. Alexandria Toyota has the country's third largest service department and is in the top 10% of the country's sales.
"I'm never satisfied," Taylor sighed, "just very practical. Business—like politics—involves relationships, especially if you want to get bigger. I've always been competitive and only want to be as good as I can be."
"If I were trying to recruit a major company to Alexandria, a company like General Dynamics, then I would want the company's decision-makers to meet Jack Taylor," said Shawn McLaughlin, former Chairman of the Alexandria Chamber of Commerce. "You need look no further than Jack Taylor to showcase the community, to understand its intangibles. He is the type of person that makes Alexandria the special place that it really is."
"I never reach goal because I always have new goals," Taylor concluded. "Life doesn't always give you what you want, it often gives you more. Maybe I can't change the world, but I can better the community."
What is Jack's latest goal? "I want to die with dignity, and I want all children to have the same opportunity." Taylor said. "I'm just a lucky guy who really cares."
Credit: Sarah Becker
Photo Credit: Steven Halperson