Induction Year: 2020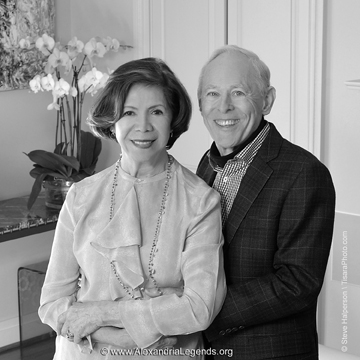 Passionate. Dedicated supporters. Generous. Inspirational. Humble. These are just a few words to describe Tom and Magaly Hirst's philanthropic efforts to give back to Alexandria through the Mason Hirst Foundation. The lovely couple met in 2007 at a Wolf Trap event. Soon afterwards, they married and moved to Alexandria. The Hirsts began contributing to nonprofit organizations whose missions support early childhood education, mental health, juvenile delinquency, family health, homelessness, rehabilitation, workforce skills development and related issues. So, who are Tom and Magaly Hirst?
The son of a real estate broker and political activists, Tom Hirst was destined to become a change agent in his community. Hirst was born and raised in still-rural Fairfax County. He worked on the family farm in Annandale, along Little River Turnpike. Hirst completed his secondary education at St. Stephen's School in Alexandria then went on to college at Princeton and Harvard. He studied urban history and wrote his thesis on changing concepts of the ideal community. In graduate school, he studied urban and regional planning. Hirst started early in the real estate business, eventually in 1972 creating and running the Mason Hirst Company. In 2007, he started the Mason Hirst Foundation and began to dedicate his time and efforts to helping as many nonprofit organizations as possible in Alexandria and beyond.
Magaly Galdo-Hirst was born in Bolivia. She spent her youth observing and learning from her mother's activism in a variety of causes supporting the less fortunate in their community. Shortly after her high school graduation, she moved to the United States for her college endeavors at American University and Catholic University in the DC area. In the 1960s, Galdo-Hirst relocated to the Mount Vernon area. With her passion for joining efforts dedicated to bringing equality care to communities, she pursued a rewarding career with the Pan American Health Organization, the American Office of the World Health Organization (PAHO/WHO). Her 30-year exposure to people in need throughout the Americas further strengthened her desire to participate in missions that improve the health and well-being of all. In 2010, Galdo-Hirst joined the board of ACT for Alexandria: A community foundation that strives to increase charitable investment and community engagement in Alexandria.
The Hirsts became familiar with the work, goals and effectiveness of many amazing non-profits serving the community through ACT. Their work began by supporting organizations that matched their philanthropic mission. This included visits to facilities, studying the strategies and most important needs, becoming acquainted with the people served and learning about the successes. Organizations serving and advocating for disadvantaged, abused or at-risk youth received many of the foundation's grants. Examples include: Campagna Center, Casa Chirilagua, the Center for Alexandria's Children, Child and Family Network Center, Community Lodgings, the Dream Project, Just Neighbors, RunningBrooke, SCAN and Space of Her Own, among others.
In 2011, ACT launched Spring2ACTion, a 24-hour day of giving to Alexandria nonprofits. The Hirsts saw an opportunity to grow the impact of their investments through matching grants. With matching grants, every dollar contributed to the same organization would be doubled by the Mason Hirst Foundation grant. The goal was to encourage more individuals to contribute some amount, no matter how big or small, to a cause important to him or her.
Initially, the Mason Hirst Foundation offered a few of these grants. Seeing the nonprofits' impressive success in doubling or even tripling their gifts, the MHF matching grant program expanded to over 30 nonprofits by 2019. Perhaps inspired by this example, other foundations and individuals began to set up matching grants. It has led to an even greater impact throughout the city.
Countless volunteers and donors, led by the dedicated staff of ACT and board members, worked to make Spring2ACTion a success. The amount raised for Alexandria's charitable organizations grew from $105,000 in 2010 to over $2.08 million in 2019 – when over 9,000 donors supported 162 local nonprofits.
In 2019, the Center for Alexandria's Children awarded the giving couple the Champion of Children award. This award is given to local citizens who advocate for the children and families of Alexandria. A quote from the Center for Alexandria's Children:
"Tom and Magaly with their Mason Hirst Foundation have had a profound impact on Alexandria's Children. With their thoughtful grant making, a passion for progressive causes, as well as a desire to improve the lives of the most vulnerable members of their community, Tom and Magaly exemplify what we all appreciate about Alexandria…. A deep sense of community and accountability to each other. They have profoundly changed the City and the quality of life of Alexandria's Children."
While Tom and Magaly are very glad to help in this way, they feel the real heroes are those who work in these organizations – staff, board members and especially the volunteers. They encourage everyone to get involved in their community's activities and recommend volunteering to understand the needs and provide in-kind contributions. Of course, they urge everyone to participate in making the community better by offering a small donation during Spring2ACTion.
Tom and Magaly reside in Old Town. When asked what Alexandria means to them, the response was "It is a community that has an open and welcoming feeling." They are impressed with the leadership and generosity of so many individuals who work to make this a better place. They continue to work quietly through the foundation. As Living Legend honorees, they say "It is a privilege and honor to be included among this year's honorees. It encourages us to do more. There is still so much to do."
Credit: Dominique Clayton
Photo Credit: Steven Halperson