Induction Year: 2016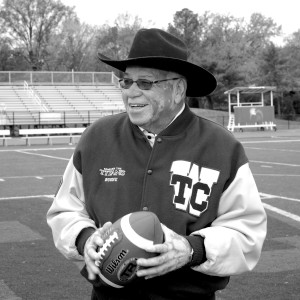 Herman Boone's successful coaching techniques led the T.C. Williams High School football team – the Titans – to numerous victories, the most spectacular of which was the 1971 season when the team was 13 and 0, won the state championship and advanced to the national championship, making them the number two team in the nation. Boone built a cohesive and cooperative football team out of rival teams brought together by integration into a single senior high school. He also sought out and obtained full athletic scholarships for more than 50 African American athletes, none of whom had been provided opportunities for scholarships before his arrival.
Born in 1935 in Rocky Mountain, North Carolina, Boone received his B.S. in biology and physical education and his master's degree in physical education, both from the University of North Carolina. Beginning in 1958, Boone coached football in Nottoway, Va., and moved in 1961 to become head football and basketball coach, biology and physical education teacher, and janitor at E.J. Hayes High School in Williamston, N.C. He led his teams to 13 state championships. This winning record made him a nationally known figure. Despite this record, the integration of schools in North Carolina threatened to derail his career. With plans to integrate the high school, he was to be demoted to assistant coach, because, "This town just is not ready for a black coach." His replied, "I'm not a black coach. I am a coach who happens to be black."
Meanwhile, hearing of his winning record, the Alexandria School Board recruited him as assistant and then head football coach at T.C. Williams High School to help ease racial tensions in Alexandria. Tensions were high as former head football coach Bill Yoast was moved to serve as assistant coach in an approach opposite to that proposed in North Carolina.
Boone held clinics to help players with their homework, keeping them eligible to play and helping them get into college. Boone took an active interest in the lives of players and kept in touch with former players, such as now Alexandria Police Chief Earl Cook.
Boone volunteered with Alexandria Civil Rights organizations, including the NAACP and the Urban League of Northern Virginia. He participated in many civil rights meetings that took place over more than 40 years in Alexandria, but "not in leadership roles, just as supporting cast." He revered and learned at the knee of great Alexandria Civil Rights leaders: Ferdinand Day, Nelson Green, Sr., Ira Robinson, and Melvin Miller, among others. He was also part of many "kitchen table" meetings on race relations, civil rights, and helping young people achieve. Boone says that "my goal has always been to be an agent of change for all people." His inspirational speeches and quotes continue to this day.
Boone is married to Carol Boone. They have three daughters: Sharon Henderson, Monica Merritt and Donna Dulany, who died in November, 2014 (d. 11/2014).
Credit: Donna Walker James