Induction Year: 2019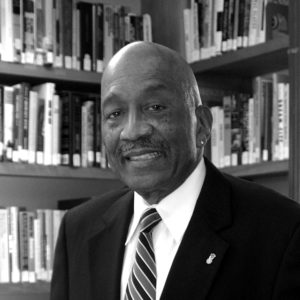 Ask James Henson how he is doing and he doesn't hesitate to answer with what has become his signature phrase: "Too blessed to be stressed," he always answers cheerily. Henson was born in the Alexandria Hospital, "the old one on South Washington Street," to Catherine Henson and Clarence McGuire.
"I was raised in a single parent household," Henson said. "My mother worked hard to overcome a lot. I owe my mother and her sister Agnes so much for where I am today."
Henson joined the Air Force when he was 17 and remained there for 20 years. He served in Vietnam and was awarded a Bronze Star for Merit in 1970. "Eight of those 20 years I was stationed at Andrews Air Base." Henson served in the distinguished 89th Military Airlift Wing.
Being stationed at Andrews AFB allowed Henson to get involved in the Alexandria community. It was during this time, in 1967, that Melvin Miller sponsored Henson to join the Jaycees. He subsequently was elected to the Board of Governors.
Henson says he has been involved in many Alexandria projects but in his mind the most useful contribution to the City was the initiation of the Dribble and Shoot competition while he was in the Jaycees.
He explained it was a project for boys that involved shooting baskets at the foul line and under the basket in a prescribed timeframe and then dribbling a ball weaving in and out between chairs. "The first time, in 1968, we had 270 kids show up in Alexandria and then the Virginia state Jaycees adopted it and made me State Project Chairman. The state had 5,000 competitors in 50 cities. The kids really liked it."
He says it allowed the kids to execute their skills and brought diversity with black and white together." He says it was significant because Dribble and Shoot got adopted on a national level in 1969. "The first black to play in the NBA, Earl Lloyd, was from Alexandria." He says, "I felt like we were bringing cultures together who lived in the City. When I see one opportunity to do good, I get a blessing from the Lord to do it."
Henson has pursued his interests in the youth population from his membership in the PTA as a parent to mentoring his grandson and now other minority youth boys through a support group started by Dr. Patricia Zissios, the principal at Lyles-Crouch Traditional Academy. "When you're 82 years old, you should have learned a little something you can contribute. The governor presented the Departmental Progressive Club with an award for the youth mentoring program we started at Jefferson-Houston School." Henson said he got interested in education because "It seemed like that's where the need was."
Henson has been active in the Departmental Progressive Club since 167 when Ferdinand Day sponsored him for membership. The DPC's objectives are to improve character, develop wholesome recreational activities, develop strong fellowship among members and focus on strengthening individual and coalition involvement in the community. He said this involved things like a cancer drive, working with seniors and joining the community at large together to address challenges. "I have been involved with so many projects."
He noted that this year's Meet the Legends fundraiser will be held in the George Washington Masonic National Memorial. "I used to ride my bike there and sled down the hill during the snow at high speeds. But I couldn't go in, so I'm looking forward to it."
The home where Henson currently resides is the site of the former Seaton School built for African American boys in 1867, which became part of the Alexandria Public School System in 1870. The school later burned down in a fire in 1915 with students taught elsewhere until Parker-Gray Elementary School was established in 1920.
A decade after Parker-Gray High School closed in 1965, Henson and several others founded the Parker-Gray Alumni Association whose main mission was to provide scholarships for former family members of the Parker-Gray alumni. These scholarships are still being awarded 42 years later. "It is important to keep the Parker-Gray experience alive in the community."
From 2009-2013 Henson was named by former Mayor William E. Euille to chair the Charles Houston Ad Hoc Naming Committee to name the Charles Houston gym Louis Johnson/Morris Siebert Gymnasium after two popular individuals in the community. In addition, the swimming pool was named The Memorial Pool after nine African American children who died while swimming in the Potomac River during the segregation era. "They didn't have access to the city pool."
Henson co-authored a book in 2013, African Americans of Alexandria: Beacons of Light in the 20th Century. He says, "I recognize history that needs to be written about and publicized." Currently he is working on a second book, which he describes as a trilogy from 1789 to the present. It begins with his great, great, great-uncle, the Rev. Josiah Henson, continues with his great-uncle Mathew Alexander Henson and ends with his own life. "The theme is three Hensons dealing with three of the great issues beginning with slavery, then reconstruction and my issue of civil rights."
Later in life, Henson learned that his uncle was Matthew Henson (1866-1955), an explorer best known for reaching the North Pole with the expedition of Admiral Robert Peary in 1909. Henson now gives presentations to Alexandria schoolchildren on his famous uncle, who was one of the few African American explorers of his generation and the first to the North Pole.
Henson is a civil rights lawyer who got his law degree after returning from the Air Force and has practiced law for 38 years. He worked for the Howard County Executive as the first African American Human Rights Administrator heading a staff of three investigators and dozens of volunteers who worked toward eliminating discriminatory employment and housing laws.
Now retired, Henson says he is still active with ideas, "not just my ideas but the Lord put people in my path and I was blessed to be invited to be involved." Henson adopted the philosophy of a 1960 book on the Jaycees titled Young Men Can Change the World. "Above all, I want the Lord to be pleased with my efforts."
Credit: Shirley Ruhe