Induction Year: 2016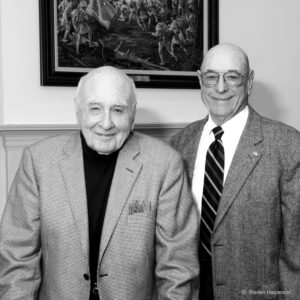 In the early 20th century, Gadsby's Tavern and the adjoining City Hotel were in such a dilapidated condition that the Metropolitan Museum of Art in New York City made an offer to purchase some of the woodwork, including the ballroom, to preserve its history because the destruction of these buildings seemed imminent. The buildings were prominent in the 18th century as a meeting place for patriots of the revolution, including George Washington and Thomas Jefferson. Each of the first five presidents of the United States was entertained there.
In 1928 members of American Legion Post 24, who were veterans of World War I, were seeking to establish a tribute to those who died in that war. They learned that the Gadsby's Tavern buildings were to be razed and decided to acquire them as a memorial to the war dead, to restore one of the most historic buildings in America, and as a home for Post 24. A portion of the purchase funding was raised from donations and members of the Post leadership initially took ownership. In 1932 a corporation was formed to hold the property in trust for Post 24: Gadsby's Tavern and City Hotel, Incorporated.
Harry Warden Foley and William McNamara are veterans of World War II who met in the 1950s at Alexandria's American Legion Post 24. Foley was born in Berryville, Virginia in 1927. He spent his Navy service in the Pacific Theater on the Marinas Islands and with the Seabees on Saipan.
McNamara was born in 1921 in Washington State and joined the Washington National Guard Headquarters Troop 24th Calvary Division at age 15. His unit was called up in 1940 and sent to the European Theatre in 1944. At age 23, he was the youngest Army major in Europe and established Stars and Stripes newspaper operations in the United Kingdom and in France after D-Day.
In the years following WWII, Foley and McNamara rose in standing as members of Post 24. Both served on the Executive Board (Foley still serves there to this day) and each served as Post Commander. They both contributed to maintaining the Gadsby's Tavern buildings, to promote the history of the buildings, and to encourage the Post membership to be involved. They enlisted the support of organizations such as the Colonial Dames and the Daughters of the American Revolution who supported the American Legion Auxiliary in seeking donations of historic furnishings and in carrying out many history-related activities in Gadsby's Tavern.
Foley did considerable maintenance on the site using his engineering prowess and was there to open the building for historic tours most weekends for decades. McNamara did significant research for grants and other support available from charitable foundations to help defray the ever-increasing costs of owning this historic property. He eventually became President of Gadsby's Tavern and City Hotel, Incorporated.
In 1972, when significant Federal funding became available, Gadsby's Tavern and the City Hotel buildings and furnishings were offered to the City of Alexandria as a gift of American Legion Post 24. Many officers and members of Post 24 were involved with this gift, including 15 members who are still alive today. But because of their positions of leadership at American Legion Post 24 over many decades, and the recognition that this gift would never have happened without them, Warden Foley and Bill McNamara have been selected as Living Legends. They exemplify selflessness in their service to the city and citizens of Alexandria and in their dedication to the preservation of this historic landmark, which has become the cornerstone of Historic Alexandria.
Credit: Joseph S. Shumard