Induction Year: 2009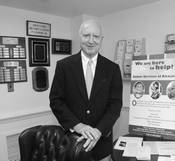 It can be a long journey – geographically and spiritually – from Pittsburgh, Pennsylvania to Alexandria, Virginia. Reverend George Pera has made that journey and arrived in Alexandria to become one of its Living Legends.
Today this 78-year old "retiree" is as active as many of the seniors he serves. Born and raised in Pittsburgh, Pera's journey included graduations from the University of Pittsburgh, Princeton Theological Seminary and New York University (where he was a Chaplain). Other stops included serving as chaplain at Ohio State, and as pastor in Greenwich, Connecticut and The American Church in London, England.
While in London, Pera preached the first American Thanksgiving Day Service ever held in Westminster Abbey. CBS-TV was all set to air part of this historic service but Pera lost his worldwide audience when the broadcast was preempted by coverage of the Rhodesian Prime Minister's resignation, a fact Pera explained to the former Prime Minister when they met years later. It was also in England that George Pera studied two rather unique topics which continue to serve him well. He worked with a voice coach from the Royal Academy of Dramatic Arts and studied with Dame Cecily Saunders, founder of the world-wide hospice movement.
From London, his journey finally brought Pera, wife Nancy, son David, and daughter Tracey to Alexandria where for 15 years he was pastor of Westminster Presbyterian Church.
Sandy Calhoun, Westminster's Director of Seniors' Ministries (retired), describes one impact Pera had on Westminster. "Ahead of the trend, George Pera had the foresight twenty-five years ago to create a staff position to advocate for and assist senior adults, a position the church session has continued to fund after George's retirement. George Pera inspired his congregation to worship, to care, to be informed, to travel, and to embrace life. His unique blend of faith, erudition, humor, enthusiasm and compassion benefited not only the members of Westminster but also the greater Alexandria community. He continues his involvement in community organizations benefiting seniors."
Today, he is Westminster Presbyterian Church's Pastor-Emeritus. Raised by a Presbyterian father who was in the furniture business and a Roman Catholic mother, Pera grew up believing that religion meant service.
"The God I worship calls people to make human life more human in whatever profession one chooses. I felt that the church, as I observed it growing up, gave a person a unique opportunity to do that. I believe the church is in the world to serve the world. I felt that to know the world I had to get out in it. That sense was what propelled me into becoming as involved as I have been," Pera said.
"This interest in the world about me has served me well in my preaching. The theologian Reinhold Niebuhr said when a pastor writes a sermon, he should hold the Bible in one hand and a newspaper in the other."
Rabbi Jack Moline of Agudas Achim Congregation, who nominated Pera for this recognition, tells of the time Pera was a guest at his Passover table and mentioned that he goes with some regularity to the Holocaust Museum to "remind myself what I'm capable of."
Pera believes in doing what you can with what you have and hopes that his involvement in the world about him will inspire others to join him. Given all the activities in which Pera is involved, there is plenty of scope for involving others. He is a past-president of Senior Services of Alexandria, a co-founder and past chair of Agenda:Alexandria (a non-partisan forum for the exploration of local issues) and was a member of the Steering Committee of the Call to Community (which deals creatively with Alexandria's diversity). He was on Alexandria's 250th Anniversary Committee and was president of the board of Elder Crafters of Alexandria. He is chair of the Inova Alexandria Hospital Pastoral Care Fund which helps to support pastoral care for hospital patients and staff 24 hours a day, seven days a week. The hospital has a full-time pastor (who is also a registered nurse) supplemented by volunteers.
Pera and his wife Nancy will celebrate their 48th wedding anniversary on New Year's Eve. They share a love of travel and he has traveled in over 50 countries. He used to conduct tours but has given that up since September 11. "It just became too complicated to escort a group of people through security but we continue to travel on our own," explained Pera.
Long before Pera became a senior himself, he recognized the value of tapping into what seniors have to contribute to the Alexandria community. "I think the life experiences they have had are a valuable source of knowledge." The symbiotic relationship of seniors and the community is reflected in Senior Services of Alexandria which "provides accessible, comprehensive and affordable services within the City of Alexandria and adjacent areas and promotes the independence and self-sufficiency that enable seniors to age with dignity in their own community." In 2003, Pera was the recipient of the Alexandria Commission on Aging's Annie B. Rose Lifetime Achievement Award.
What currently occupies this busy Legend? "I serve on the Development Council of A.L.I.V.E., Alexandrians Involved Ecumenically. I'm coming to the end of a very long six-year period as chair of the National Capital Presbytery's Stewardship Committee. That has meant explaining the Presbytery's budget to 110 area churches. I'm also a trustee of the Inova Alexandria Hospital Foundation. I'm working on fund-raising for Inova. It's expensive to keep equipment up to date but we want the best for Alexandrians."
Pera has never lost his marvelous sense of humor. His "retired" business card includes "bon vivant."
How does George Pera do it? "I think when you want to get people involved, you can't just stand there and point to what needs doing. You have to take the paint brush, climb the ladder and start painting. That's how you get others involved. You lead by doing."
This colorful Living Legend is "climbing the ladder to paint" for a lot of projects for Alexandria!
Credit: Sherry Wilson Brown
Photo Credit: Nina Tisara