Induction Year: 2023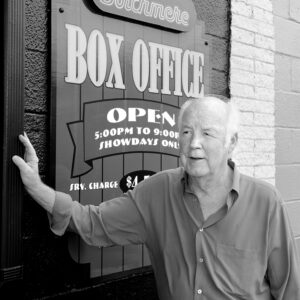 Legendary Birchmere owner Gary Oelze was, if anything, an extraordinarily humble man. He was legitimately proud of what he had done over five-plus decades as the owner and facilitator of one of America's most cherished music venues. But he never wanted the ascension, reputation, glory, or even the cherished book about the Birchmere that he co-wrote to be about him.
He wanted the legacy of the Birchmere to be about all the people who have had unforgettable experiences playing shows there, or indelible moments attending those shows, and even the comrades who worked with him at the Birchmere over those many years. To Gary, it was always about all of them, not him.
Gary Oelze came from Kentucky and, although he never became a full-time musician there, his musical experiences helped pave the way for his achievement as the revered Birchmere maven. As a young man, he struggled to learn guitar, but those challenges gave him insight into how hard it is to become an accomplished musician.
Gary often played what were looked upon as out-of-control local gigs with no security, teaching him the good and bad of accommodating talent and audiences. In the military, he learned discipline and routine, two staples of success. All those experiences helped him eventually create and maintain a genuinely beloved music venue people could rely on, relish in, and never forget being a part of.
Gary arrived in the Northern Virginia area in 1963, soon after being discharged from the Air Force. He got work at a local drugstore where a fellow employee, impressed with Oelze's management skills, offered him a job that included stock in a restaurant in Shirlington that was later razed. With Oelze as co-manager, it re-opened in a north Del Ray strip mall as the Birchmere in April 1966.
Early on, it kept up a successful lunch business, but to boost the venue during the evening slots, Oelze, who played in the restaurant's first band, decided to add live music to the mix, and bluegrass kicked things off.
"Bluegrass was very popular here in the beginning," Gary described, "I had a lot of trouble getting into the bluegrass business. Bluegrass people in those days thought the pie was only so big, and it was like, what was I doing sticking my nose in it? But I just knew people wanted to hear this music."
Over the years, every possible act from bluegrass and country to rock and roll and comedy has come through town and played on the Birchmere's legendary stage, with musician after musician relishing their experiences playing there. One thing Oelze instituted was a steadfast commitment and appreciation for not only the headline acts there but also the opening ones, reminding his employees to treat those opening acts like the closers.
Many artists like Vince Gill and Lyle Lovett, who were largely unknown when they first played there, would become superstars after opening at the Birchmere. They began the flow of their stellar reputations In this place that, to this day, they love dearly and deeply respect for kicking off their successful careers.
Another respected aspect of Oelze's reputation at the Birchmere was his mandatory message on each table in the main hall, a "quiet" sign asking people to watch the acts and keep voices down. It's still on every Birchmere table today. Oelze admitted he stole the idea from the legendary Cellar Door, a Washington D.C. club, but he called the Birchmere "a listener's club" where being able to hear the musicians was, and still is, the top priority.
In 2021, Gary Oelze and music writer Stephen Moore released their best-selling book, All Roads Lead to The Birchmere, which shares the history of a music venue that is among the most famous music halls in the country. "It's been overwhelming," Oelze replied when asked about his experience making the book. "I didn't want to do the book. It scared me. I didn't know how to do a book. But Steve did, and it's been a lot of fun. It's brought back a lot of memories. But it's not about me. It's more about the club, the people, and the musicians. That's what matters."
Moore added, "The thing about Gary is, first he's humble, and then it's amazing how brilliant he is. He always leaves you feeling that he cares about you."
Gary Oelze's widow Susan Pilchard Oelze, who married the Birchmere owner in 2013, loved her husband because of his kindness and dedication and how he ran his business. "I was truly blessed to have married somebody who was so amazing, treated me so well, and took such good care of me. And I learned a lot from Gary about how you treat people, especially how I watched him run the Birchmere and how he would treat and care for his employees. It was an amazing experience being with him. I was very lucky."
By: Steve Houk
Photo Credit: Steven Halperson/Tisara Studios