Induction Year: 2011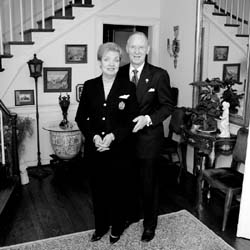 Arts advocates Gant and Fran Redmon have been partners in life, and dedicated volunteers together for more than 50 years. The two first met in the fourth grade in Illinois, and since, have collaborated in each other's educational advancements, projects, careers, raising a son, Gant III, and promoting cultural and civic affairs in Alexandria.
"We have shared values and enjoy being a team. We can't imagine not partnering with each other. It takes a lot of planning and work to have a partnership in life and in the community, but we expect to be on the go — that's when the outreach is going on," said Fran Redmon. "When you find your niche and do something about it, you've found your place … We are positive people and are open to everything."
The couple has been married for 52 years and regularly open their home, Tall Oaks — which they consider to be the center of their lives together — for charitable, cultural and political fundraisers.
In partnership, the Redmons have chaired five Presidential inaugural balls, and numerous balls, galas and fundraisers for the Kennedy Center, the National Museum for Women in the Arts, Wolf Trap Associates, the Alexandria Symphony Orchestra and the Smithsonian Institution. They are patrons, members and advocates for more than three dozen local dance, music and theatrical organizations, museums, and schools, and community service organizers as diverse as the Alexandria Chapter of the American Red Cross, the Campagna Center, the Historic Alexandria Foundation, the Hospice of Northern Virginia, the Alexandria Lawyers Auxiliary, the Alexandria Chapter of the American Cancer Society, the Alexandria Industrial Development Authority, plus neighborhood associations and fraternal groups.
Their combined resumes fill multiple pages. Gant Redmon is a managing partner with Redmon, Peyton and Braswell, LLP, and specializes in estate and trust planning and administration, and commercial real estate and business transactions. His business and organizational affiliations include several Alexandria Chamber of Commerce chairmanships, including the Alexandria 2000 and Beyond Task Force to develop a consensus future vision of Alexandria. He holds memberships on several bank boards of directors, bar association and fraternal organizations.
The Alexandria Chamber of Commerce recognized him as Alexandria's Business Leader of the Year in 1995 and he has been recognized by the Continuing Legal Education Committee of the Virginia Bar for his expertise in real estate law. Both of the Redmons were named the 2008 University of Illinois Alumni of the Year, the first time the distinction has ever been awarded to a married couple.
Fran Redmon has a bachelor of science degree in speech and dramatic education and is certified to teach both subjects. She continued her education in the arts through numerous board training seminars offered by the American Symphony Orchestra League and through the Greater Washington Cultural Alliance.
She is a trained soprano, "but these days, I just sing from the hymnal."
One of her most treasured accolades was presented to her in 2006 when the Alexandria Parks and Recreation Commission awarded her a citation "For Enhancing the Cultural Fabric of Alexandria through her Generosity and Dedicated Volunteer Service."
According to Fran Redmon, it was her youthful participation in the Miss America pageant network that opened her eyes to the possibilities for persons who marshal their talents and energies. She was first runner up in the Miss Illinois pageant and the winner of the talent competition, and notes that the Miss America pageant is still the largest scholarship program in the United States for women. When she was competing, Gant was at her side helping with lighting and other logistical concerns, and in his early career as a lawyer, she coached him on presentation skills. "Education is the answer for everyone. Some people really do learn what college can do for you."
Fran Redmon had a modeling career and consulted in the fashion industry before the Redmons increased their time given to arts and community advocacy. Always working as a team, they chose a "fixer upper" in the Belle Haven neighborhood for their first Alexandria home. In the course of entertaining for causes, "we were always moving the furniture upstairs to make room."
Thirty-seven years ago, they moved to Tall Oaks, in Alexandria's Seminary community, a large gracious home which replicates the edifice of the Chowan County Courthouse in Edenton, N.C. It and the extensive grounds can accommodate as many as 250 guests at a time. The Redmons see the house as the base of their advocacy operations by offering it rent-free to selected organizations. "A lot of what we do is our choice. That doesn't mean that it is important to anyone else, but we hope so." The Redmons believe social connections pay dividends in friendships, fundraising and advocacy. People have to be so aware of the friendships they have and how we can help each other."
Selecting arts and community advocacy was easy — it was what they knew. After decades of singing, dancing and acting in numerous Alexandria productions, Fran Redmon says that by the 1980s, it was time for her to "step on the other side of the footlights" to mentor others and teach leadership skills.
With Nancy Lavalle of the Alexandria United Way and Cheryl Anne Colton of the Alexandria Commission of the Arts, Fran created SPRINGboards, which provides professional experienced speakers for board development and training. For this work, Fran Redmon was nominated for a national medal from National Endowment of the Arts for her mentorship of community arts organizations. She has immersed herself in the intricacies of the 501c3 regulations for non-profit organizations to guide and mentor others.
"The arts are a patron-driven industry and to succeed, you always need to be asking what are you doing to make your board understand that," she said.
In times of tight municipal, state and federal budgets, board members of non-profit organizations need to be proactive. "You have to 'give and get' to raise the needed funds to keep your organization alive. Sometimes you get lucky and that's part of the exciting chase," she said.
On a parallel track, while Fran Redmon was exploring the business aspect of advocating for arts, Gant Redmon was stepping up his community activism as president of the Alexandria Rotary Club in the 1990s, and more leadership responsibilities within the Virginia, Alexandria, and Fairfax Bar Associations and multiple local organizations. He has served as the chair of the Goodwin House Foundation since 2005, all while advocating in partnership with Fran.
"The arts are part of everything — including public speaking, music and teaching. Medically, they've been figuring that out for years — arts are good for your health and your community's health," Fran Redmon quotes Austrian-Bohemian composer Gustav Mahler as her profound inspiration. "Art's purpose is deliverance. If you are having a bad day and you listen to beautiful music, that does something for you and you are delivered, and that causes art to be part of your heart."
Credit: Diane Bechtol
Photo Credit: Steven Halperson