Induction Year: 2008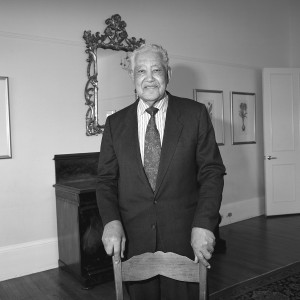 Ferdinand T. Day is the first of 12 Living Legends for 2007 whose lives will be chronicled in the Alexandria Gazette Packet, this year. They are being chosen from the list of 49 people nominated by you. Living Legends of Alexandria will be an ongoing project that documents the individuals who made tangible contributions to the quality of life in Alexandria.
Ferdinand T. Day was born in Alexandria on August 7, 1918, into what he called, in a recent interview, "a typical southern port city. I love Alexandria very dearly," he said. "Alexandria has been very good to me. I have a great many friends throughout the city, both black and white."
In a speech last fall, he expanded on that thought. "In my day, however, there were admittedly many injustices and shameful wrongs to be corrected…. Most of the problems then inherent in the Deep South were prevalent here in Alexandria."
Day was nominated as a Living Legend for his role in the integration of Alexandria schools and his work in obtaining rights and opportunities for African Americans in our city by former City Manager Vola Lawson, who recalls meeting Fred Day when she and others active in the civil rights movement were picketing in Alexandria in the 1960s.
"We picketed the ABC stores because they would not employ blacks, and Diamond Cab Company because they wouldn't hire black drivers or pick up black passengers. And we picketed City Hall because they flew the Confederate Flag," recalled Lawson. "Day was very much a part of the civil rights movement here in the sixties," she said. Day himself did not take part in the pickets, but offered moral support and advice. "He would say, 'Always comport yourself in a dignified manner, so the focus is on the issue, not on you.'"
Day attended the segregated Parker-Gray Elementary School through seventh grade. There was no public high school for African American youth in Alexandria, so he made the daily trek into Washington, D.C., where he graduated from Armstrong Technical High School in 1935. Later he earned a B.S. degree, with a major in geography and history, from Minor Teachers College in D.C. Being unable to teach in his hometown, he found employment with the Federal government, participating in the Department of State Administrative Intern Program. He also completed advanced management courses at the Foreign Service Institute. Day retired from the U.S. Department of State as a Foreign Service Reserve Officer in 1978.
Still tall and erect at 88, Day offers a ready smile and a warm handshake upon meeting. He addressed Mayor William Euille's Unity Breakfast last November. When he spoke at the Alexandria Education Partnership Awards Dinner on May 17 this year, he reminded attendees that the date was the 53rd anniversary of the 1954 U.S. Supreme Court decision on Brown vs. Board of Education. In response to that decision, the Alexandria City Council eventually expanded the City's public school board from 6 to 9 members, and appointed Day as one of the three new members. The date was July 1, 1964, ten years after the Brown decision. He was the only African American on the board.
With then Superintendent John Albohm, the new board worked to achieve the integration of Alexandria's public schools, a process neither quick nor easy.
A. Melvin Miller, chairman and acting deputy director of the Alexandria Housing and Redevelopment Authority and a former school board member and chair, worked closely with Ferdinand Day on many issues, he recalled recently. Both were part of a group of African American men working toward civil rights and the integration of schools and other public institutions in Alexandria in the late 1950s and early 1960s.
"I make a distinction between desegregation and integration," said Miller. "The steps past token desegregation toward meaningful integration actually occurred with the 1971 consolidation of the high schools into T.C. Williams High School as shown in the film, 'Remember the Titans,'" Miller said. Once integration was accomplished on the secondary level, he said, the school system moved on to pairing elementary schools from different neighborhoods. For example, Jefferson Houston, a largely black inner city school, was paired with Ramsey, a then largely white school in the West End. With the help of busing, their student populations were then blended, with half the grades going to Houston, the other half to Ramsey. These schools then fed into the middle schools, and eventually on up to T.C. Williams, achieving the goal of system-wide integration.
"Certainly Ferdinand was the strong voice and the strong mover, because he was on the school board," said Miller. "His strong leadership and ability to work with the community was what made that successful."
"Fred Day provided the moral leadership that helped Alexandria reconcile its segregated past of racial injustice by appealing to the City's conscience and hopes for a better future," Lawson said. "Martin Luther King Jr. believed that to effect the change necessary in America required people who were tough-minded but tenderhearted, and that describes my dear friend of 40 years, Fred Day," Lawson continued, calling him "a passionate advocate for educational equality and excellence."
Lewis Stearman, former editor of the old Alexandria Gazette and a longtime friend of Day's, said, "He was one of the outstanding black leaders of our community. He was a man that knew what he was doing, and set out to make giant achievements."
FIRST AS A MEMBER, then as vice chair and chair of the board of Alexandria Public Schools, and as vice-chairman of both the Northern Virginia and the Virginia State Boards of Community Colleges, Day served for nearly two decades in the cause of improving local education. When he became chair of the Alexandria School Board, he was the first African American chairman of a public school board in Virginia. In 1985, he was selected by the Secretary of Education to assist in the further implementation of the Virginia desegregation plan for higher education.
Lillian Patterson, curator of the Alexandria Black History Museum, recalls Ferdinand day as a family friend. Her late husband, E.L. Patterson was also a member of the group working to integrate Alexandria, sometimes called the Secret Seven. "Ferdinand was in the forefront of everything that had to do with civil rights and education," she said, "not just formal education, but all the things that help people advance."
Over the years, Day has received many awards for outstanding community service from groups such as the Alexandria City Council, Alexandria Olympic Boys and Girls Club, Alexandria Public Schools, Alpha Kappa Alpha Sorority, Omega Psi Phi Fraternity, Departmental Progressive Club, Elks Lodge, Friendship Veterans Fire Engine Association, Hopkins House Association, National Association for the Advancement of Colored People, National Society for Personnel Administration, Northern Virginia and Washington Urban Leagues, the Virginia Community College System and the U.S. Department of State.
Day, who is a widower, resides in Alexandria with his daughter, Gwendolyn Day-Fuller. He has two grandchildren, William Fuller and Shanna Ringer, and a great granddaughter, Imani Fuller, who reside in Massachusetts.
Credit: Christa Watters
Photo Credit: Nina Tisara