Induction Year: 2017
The Greatest Generation – Colonel Ethel S. Underwood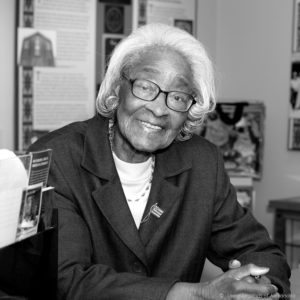 "Hang in there." That, Living Legend and World War II veteran Colonel Ethel S. Underwood said with a laugh, is the advice she would have given herself 20, 40 and even 60 years ago.
At 92 years, Colonel Underwood has followed her own advice, and her tenacity has rewarded her with a lifetime of firsts and accomplishments, including being the first African American woman to be promoted to the rank of colonel in the United States Air Force Reserve Nurse Corps.
It took a love of structure and discipline for Colonel Underwood to accomplish all that she has, and she developed that early. Born in Hampton, South Carolina, and raised in Beaufort, she was the youngest of three sisters and a brother. Her father died when she was a baby, and her mother Bessie and Grandmother Clara, "morally sound, strong women," raised her in a strict and loving home. Colonel Underwood spoke fondly of her childhood, recalling her Grandma Clara's "high regard for rightness" and her continual insistence that young Ethel sit up straight, mind her manners and complete her chores.
Colonel Underwood found that same discipline in the Women's Army Corps, where she enlisted in 1943 after an "Uncle Sam wants you" poster enticed her following her high school graduation. She trained as an emergency medical technician until her discharge in 1946, when she enrolled in New York's Lincoln School for Nurses. After graduation, she re-entered the military in 1952, this time as a commissioned officer with the United States Air Force Nurse Corps.
Trained as a flight nurse, she was assigned to RAF Wethersfield, United Kingdom and was part of flight crews that travelled between Europe and the United States. Along the way she received a Master of Public Health from Columbia University.
Colonel Underwood, or "Woodie" as she was called, served with the military for another 33 years, both in active and reserve status, retiring in 1985. "I liked the military style," she recalled. "It was for me."
One of Colonel Underwood's life highlights was attending Dr. Martin Luther King's "I Have a Dream" speech on August 28, 1963, on the steps of the Lincoln Memorial. She and a group of friends, all living in New York, took the train to Washington, DC to join the historic event. She vividly remembers his speech. "It was such an experience," she said softly. "The words got to you, and you had to be careful because you could tear up very easily." While she could not recall any overt acts of discrimination against her, she would sometimes ignore the "white only" entrance and women's restroom signs.
She and her companions "felt accomplished" and inspired by having attended King's event and took his message back to their friends in New York. Five years later, when Dr. King was assassinated in April of 1968, the colonel said "it was like a piece of me was missing." Even today she struggles with expressing her sadness.
Her final assignment took her to Alexandria in 1979, when she led a special project for the National Medical Association's children's immunization program. She bought a light-filled condominium that she still owns and settled into her new home.
Upon retirement, Colonel Underwood became director of nursing at Woodbine Convalescent and Nursing Care (now Woodbine Rehabilitation and Healthcare) and she established Alexandria's Adult Day Services Center while chairing the Alexandria Commission on Aging for 12 years.
Colonel Underwood continued to find and fill needs in Alexandria. She was part of a founding group of the Alexandria Black History Museum (formerly the Alexandria Black History Resource Center) and established their volunteer program where she occasionally volunteers today. She has also served on boards for Inova Alexandria Hospital, Hopkins House, the Alexandria Society for the Preservation of Black Heritage, and Living Legends of Alexandria. Her service extended beyond Alexandria, as she also served on the Executive Committee of the NAACP, was a delegate to the White House Conference on Aging, a founding member of the Women in Voluntary Service to America Memorial, a charter member of the National World War II Museum and a founding sponsor of the Dr. Martin Luther King, Jr. Memorial.
She has been honored for her service many times, perhaps most notably by the Virginia legislature in March of 2006 when House Joint Resolution No. 488 commended her recognition by Senior Services of Alexandria during their "Honoring the Best" Spring Gala. The resolution listed Colonel Underwood's other post-military recognitions, including her honors bestowed upon her by civic organizations such as the NAACP's Community Service Award, AARP's Volunteer of the Year award, the Alexandria Convention and Visitors Bureau's Volunteer of the Year award, the Alfred Street Baptist Church Volunteer Service award, the Northern Virginia Urban League's Community Service Award, the Florence Price Community Service Award, the Alexandria Commission on Aging's Excellence in Aging award, and the Commission for Women's Marguerite Payez Leadership Award.
While pleased to be recognized, Colonel Underwood is more concerned about getting the job done. "I think a lot of good can be accomplished if you don't worry about who gets the credit," she said. "Credit is not something I expect," she continued, adding, "but I feel good that people know me and respect me."
The high standards that the military required her to set for herself, her subordinates and her superiors influenced Colonel Underwood's post-military life, and having served as both an enlisted member and a commissioned officer gave her the ability to give and to take responsibility. "I thrived on it," she said.
To those wanting to serve, she advises, "Identify your interests and what is it that you would like to do. Identify your strengths and develop them to see where it can be used to help others." Hers, she said, having the ability to evaluate a situation, decide what action to take, and finding the right person with the right skills to fix it.
Today Underwood is still involved with Alfred Street Baptist Church and stays engaged with causes that interest her. "I've done what I've wanted to do," she said.
Credit: Jane Hess Collins