Induction Year: 2009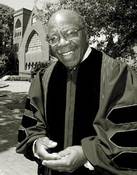 It doesn't take long to discover that Living Legend Reverend Doctor Elbert Ransom, Jr. reaches out to everyone. This man of note — musical and renowned — makes everyone part of his life — and what a life.
Ransom arrived in Montgomery — to attend Alabama State College for Negroes — three months after Dr. Martin Luther King. King's Morehouse College classmate — and Ransom's voice coach — Robert Williams introduced Ransom and King. Eventually Ransom joined King's church, Dexter Avenue Baptist, where he sang in the choir, performed chores at the parsonage, and babysat the Kings' first child. Ransom found himself at the birth of the Civil Rights Movement: the Montgomery Bus Boycott, recruiting volunteers and distributing informational literature.
During those days, civil disobedience became a major method of bringing broad attention to inequities in the South, and being arrested was a major attention-getter. Going to jail was a frightening experience. Often when black persons were arrested, they might disappear permanently. The civil rights demonstrators overcame their fears, and packed the jails for freedom. In many cases, there was not enough room in the jails.
"Bert" Ransom was born in Jackson, Miss. His father labored to build Kessler Air Force Base before moving to New Orleans to work at Higgins Shipbuilders. Eventually, the senior Ransoms put together $700 to go into the dry cleaning business where the younger Ransom worked through 12th grade. By high school graduation, he had four music scholarship offers. "I accepted Alabama's as it was the farthest from the store." The 17 year old boarded a train for college armed with his mother's southern fried chicken and pound cake. His mother knew that in the segregated south he would not be allowed in the dining car.
Ransom was often a passenger on the bus Rosa Parks rode and knew the bus driver. Ransom had to pay his fare in front but board at the back because he was not allowed to walk through the white section. The bus boycott was originally scheduled to last one day: Dec. 5, 1954. Because of the one-day success the boycott was extended until all grievances were settled. It finally ended one year later when the United States Supreme Court acted to desegregate buses.
I asked Ransom how the congregation reacted to Dr. King's non-violent movement, especially older members. "Dexter Avenue Baptist Church was a non-traditional southern Baptist church with professors, doctors, and lawyers: an educated congregation. These progressive people were prepared to pay the price for freedom. I learned that price from my cousin, Medgar Evers, an insurance salesman who was also field secretary for the Jackson, Miss. NAACP chapter. He helped black people register to vote. When he knew he was a target, he moved into my grandmother's house to prolong his life. He returned to his own home one evening and was killed."
Ransom finished his education at New Orleans' Xavier University — earning a B.S. in music education — and moved to Chicago where he taught music in the public schools for five years. Through his connection with the civil rights movement, he became an Eleanor Roosevelt Intern working for the American Friends Service Committee to desegregate housing. He sent white and black couples to request housing in traditional white areas. This coincided with King's search for a northern city to show racism also existed outside the south and resulted in the organization of King's Chicago Freedom Movement. Ransom directed the Movement's Southside Action Center and helped organize open housing demonstrations with King, triggering an injunction from Mayor Richard. J. Daley.
In speeches, Ransom is quick to remind audiences that often there were more white faces at these demonstrations than black. He was the city manager of Resurrection City — the Poor People's Campaign — when King was assassinated.
His housing background brought Ransom to D.C. government to work on urban renewal and real estate. While there, he earned a master of divinity from Howard and a doctorate of ministry at Wesley Theological Seminary.
Eventually, Ransom, wife Louise, and three children moved to Alexandria where he spent 14 years as associate pastor at Alfred Street Baptist Church. He then became special assistant to City Manager Vola Lawson. His official responsibilities included the Office of Human Rights, Affirmative Action, and the Office on Women. Ransom also served as a troubleshooter for Lawson, assuring that her concerns reached throughout the community. During this time, he met Lois Walker who nominated him for the Living Legend Award.
His biggest challenge was creating the "Call to Community" initiative, a forum for racial and cultural dialogue to encourage cohesion in the City's diverse community. Today's spin-off is the Student Forum which broadens exposure of public and private school students to different races and cultures. The key is to encourage teens to talk face-to-face about community issues. Alexandria remains a racially, culturally, financially diverse city. The Forums help students confront stereotypes.
Ransom has been involved throughout Alexandria, chairing the Community Corrections Resources Board, the Juvenile and Domestic Relations District Court, and the Community Justice Board and serving as a board member of the Alexandria NAACP. He was vice president of Fayette Housing Corporation, working on affordable housing for financially indigent residents. Other involvement includes the Foundation of the Alexandria Bar Association, helping youth understand court proceedings; the Alexandria Interfaith Foundation, fostering cooperation among the clergy; the Potomac Community Mentoring Program, working with prison inmates; TRIAD, reducing crimes against seniors; and Choices, providing mediation and helping gang members make good choices.
He has created Reach, Inc. and travels the world fostering racial and cultural dialogue. Recent travels have included England, Ethiopia, Namibia, Zimbabwe, Turkmenistan, Ukrain, Ireland and Kosovo. He wrote one book "I Shall Not Pass this Way Again" about his quest to find his place in a life of multiple choices and the role of unconditional faith in God.
A new book, "Bridging the Divide," due this spring, describes America today at one of the most diverse times and calls us to unite to build an even greater America. The book is "intended to introduce brave thoughts and action toward unifying the greatest nation on earth."
He also finds time to teach a class he created at Virginia Theological Seminary, "Christian Social Ministry." Ransom sees these activities as the results of good and solid parental training and his involvement in the civil rights movement.
Louise Ransom has been at her husband's side for 40 years. Together they have raised Angela, a psychologist in Richmond; Stephen, a painter in Fredericksburg; and Gregory, a history and social studies teacher at Burgundy Farm Country Day School in Alexandria. Six Ransom grandchildren are evenly divided among their three children.
It may be hard to understand Ransom's lack of rancor and his infectious humor. How does a man who has been jeered at and attacked in the north and the south continue to reach out to everyone? Ransom explains: "When I remember that man is created in God's image, I am reminded that God is in each of us. God is the meaningful part of everyone, even those who hate us."
Ransom has taken all the notes of his life and created not a solo aria but a chorus of hope and achievement which includes all people.
Credit: Sherry Wilson Brown
Photo Credit: Nina Tisara