Induction Year: 2014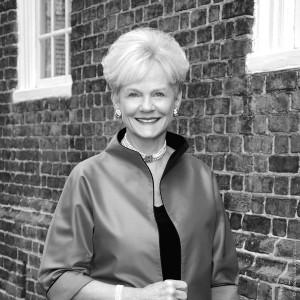 Donnan Chancellor Wintermute (known to most as Donnie) takes great pleasure in transforming lives, whether in her professional services as vice president of Coldwell Banker Residential Brokerage or in her many volunteer activities fueled by her sustained commitment to giving from the heart. Over the years, her philanthropic achievements have had a major impact on the quality of life in Alexandria for children, the elderly and the sick, as well as for the arts, education and community services.
In helping low-income children and families, Wintermute has served on the board of directors of The Campagna Center (1988–2000) which offers educational and social development programs for children, teens and adults. She chaired the Center's Circle of 1000 (2002–2005) and, in 1995, she was honored by earning The Campagna Center Award, which is the highest honor bestowed by the organization.
As founder and chair of the Campagna Center's Business Leadership Council (2000 and 2001), she put her mission into action by increasing corporate awareness and financial support for the needs of Alexandria's less fortunate.
Believing that the elderly should be revered and receive the best possible care, Wintermute has contributed to the community in many outstanding ways. She was president of the board of directors of Senior Services of Alexandria (1985–86). She currently serves on Goodwin House Foundation Board of Trustees (2011–present) and as the vice chairman of Inova Alexandria Hospital Board of Trustees (2010–present). In addition, she has made lasting gifts with great impact on INOVA Alexandria Hospital by generously donating the Rehabilitation Gymnasium in 2012. She also donated a patient room in 2005, in her mother's memory.
Wintermute is passionate about giving back to the community in many ways. She has served on the board of governors of Saint Stephen's and Saint Agnes School (1989–1992); the board of trustees of the College of William and Mary Foundation (2009–present); and the board of trustees of Hampden-Sydney College (2000-2012); from which her son graduated.
In her work with foundations, Wintermute frequently finds herself on the "asking" end, doing "lots of fundraising." While others may find this uncomfortable, Wintermute doesn't mind making the ask when her heart is behind the gesture.
Along with serving as vice president, Alexandria Symphony Orchestra (2005–present), Wintermute was the 2013 honorary chair for the Historic Alexandria Homes Tour, sponsored by Twig, the Junior Auxiliary of Inova Alexandria Hospital. This year's fundraising proceeds will support their pledge of $1 million dollars for the Twig Surgical Center, a 24 private patient room unit for post-surgical care.
Wintermute currently serves on the board of trustees of the Christ Church Foundation. Her work helps restore, support and maintain the building and grounds of the historic church in Alexandria.
Beyond her local efforts at Christ Church, Wintermute has gone on four missions to San Pedro Sula, Honduras, for 10-day trips to Our Little Roses. This long-term Christ Church mission, which has been operating for more than 20 years, supports a home for 56 young girls, ranging in age from 18 months to 18 years. All have been abandoned, abused, and lived in extreme poverty. As part of the mission team, Wintermute has brought joy and happiness to these girls. Showering them with lots of love, warm hugs, and friendly smiles, the team also brings clothing, health supplies and books.
Born and raised in Alexandria, Wintermute has lived in the Rosemont, Clover, Old Town and Vicar Lane neighborhoods. A graduate of Saint Agnes Episcopal School, Wintermute earned her BA in political science from the College of William and Mary. While at William and Mary, she was the women's tennis singles champion and was captain of the varsity tennis team for three years. Following graduate study in Urban and Regional Planning at George Washington University, she was a city planner for the City of Alexandria before entering the real estate field.
Wintermute has had a distinguished 35-year career in real estate and was the president of Wintermute, Jackson and Donatelli (WJD Associates). She sold her 100-agent firm in 1996 to Pardoe and Graham, which is now Coldwell Banker Residential Brokerage, where she is vice president. Selected from 14,000 Realtors, Wintermute was named the Realtor of the Year in 1996, which is the highest honor conferred by the Northern Virginia Association of Realtors. Additionally, Wintermute was honored in 1997 as the Alexandria Chamber of Commerce Business Leader of the Year.
Wintermute's son Peter is a Realtor who works with his mother at Wintermute and Associates at Coldwell Banker Residential Brokerage. He and his wife, Jenny, have a one-year old son, Carson, and five-year old daughter, Kinsley.
Credit: Barbara Holleb
Photo Credit: Steven Halperson