Induction Year: 2009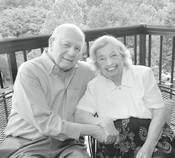 The Partnership: Mel and Donna Bergheim are a force that is greater than the sum of its parts.
Alexandria was literally in flames when Mel and Donna Bergheim stepped onto the public stage in 1970. A series of race riots were sweeping through the city that spring, and violence became so commonplace that the front page of the June 5 Alexandria Gazette reported "No Firebombing Last Night." Meanwhile, the Bergheims were part of a progressive new generation of city leaders who hoped to advance the cause of civil rights and edge out the old conservative Byrd machine leaders who had dominated city politics for generations.
In the midst of the race riots, Mel Bergheim won election to the City Council and launched a career of civic life promoting civil rights and neighborhood protection. Donna Bergheim made a name for herself promoting the arts and played a critical role in the development of MetroStage. As a team, the Bergheims have become part of the political gauntlet that potential candidates must navigate through in order to gain office in Alexandria.
"I've never been grilled like I was by the Bergheims," admitted Sheriff Dana Lawhorne, recalling his visit to their living room during his 2005 campaign. "They really made me work to get their endorsement."
Individually, Mel and Donna Bergheim have each achieved a series of accomplishments far too numerous to list here. Yet as a team their union is a force stronger than the sum of its parts. Together, they are known in Alexandria as royalty of sorts — a distinction informed by a lifetime of service to the community and commitment to their ideals. Their reputation has been carefully crafted over the decades as a force for change when needed and preservation when required.
"Mel and Donna Bergheim were at the forefront of the movement to make Alexandria what it is today," said former School Board Chairman Ferdinand Day, one of the city's premiere civil rights leaders. "They formed a team that was instrumental in breaking the grip that the Byrd machine had here in Alexandria."
They met in 1957 at a cocktail party in Northwest Washington. He was a former journalist from Massachusetts who had recently taken a position as project director for a nonprofit organization known as the Governmental Affairs Institute. She was an academic from Arizona with a doctorate in English who became one of the first three women selected to train for the Foreign Service Information Corps. They had a mutual friend in common, the editor of a newspaper in Rangoon.
"I kept waiting for him to ask me out," she said, recalling the cocktail party where they first met. "But he didn't."
A few months later, she saw him again at the Voice of America building, where she was special assistant for congressional relations. He was escorting an Indian journalist to the building, and the two struck up a friendship. She waited 45 minutes in the lobby to make sure he saw her on the way out of the building. It worked; he asked her out. They began a two-year courtship, marrying each other in Mexico City in 1959. The next year they moved to the Dowden Terrace neighborhood in Alexandria.
She joined the garden club. He became president of the civic association and eventually founded the Alexandria Federation of Civic Associations in 1964. She took charge of raising four children as he increasingly became active in the city's political circles, launching an unsuccessful campaign for City Council in 1967. When Donna became pregnant with their fourth child, the Bergheims realized they needed more space than their Downden Terrace home would allow. So they moved to Maury Lane in Seminary Hill right next door to Mayor Charles Beatley.
"Everybody thought I was pulling a Nixon by moving next door to the mayor to advance my political career," he said. "Even the mayor thought that."
By 1970, Bergheim was ready to launch a second attempt for City Council. But a May 29 shooting at the 7-Eleven in Alexandria initiated a solid week of firebombings and riots. Mel Bergheim responded to the events by updating the newspaper advertisement that appeared in the pages of the Alexandria Gazette. Days after the violence began, Bergheim had a new ad that proclaimed he was "an expert on the prevention and control of civil disorders."
He won the election and began a six-year stint on the City Council, where he quickly made a name for himself as a champion of protecting existing neighborhoods against developers and encouraging integration of official city functions such as the annual George Washington parade. He fought against air pollution; worked to provide health care for the poor; initiated soil management controls and established an adolescent health clinic that continues to this day. He worked for noise abatement and the acquisition of Dora Kelly Nature Park. When Wiley Mitchell was elected to the Virginia Senate, he was voted vice mayor.
By 1976, Bergheim was ready to run for mayor. Beatley announced his retirement from public life, and Bergheim seized the Democratic nomination. There was only one man standing in the way: Housing and Urban Development lawyer Melvin Miller, who was running an independent campaign. Because Miller was an African-American candidate, those who supported civil rights split their votes between the two, allowing former Mayor Frank Mann to return to City Hall as an independent.
"Melvin Miller's candidacy certainly split a good bit of black support," said Marian Van Landingham, who was then the founding director of the Torpedo Factory art center. "I think Mel Bergheim would have been an enlightened mayor, certainly a better mayor than Frank Mann."
The loss was a mixed blessing, allowing Mel Bergheim to spend more time with daughters who had taken to calling their father "that man." After returning to private life, the Bergheim partnership flourished into its modern incarnation at the head of the city's civic life as emeritus leaders with established credentials and long memories. He became a columnist for the Alexandria Gazette Packet and she took a position on the Virginia Commission for the Arts. When the MetroStage was looking for a new home, the Bergheims used their 40th anniversary party to solicit donations for a new home. After an old lumber warehouse was transformed into a playhouse in 2001, MetroStage named the theater after Donna Bergheim.
"We are honored to have her name above the door," said Carolyn Griffin, artistic director at MetroStage. "Both of the Bergheims have been very good friends of the arts — and of the city."
Their teamwork over the years has achieved a wide range of accomplishments, everything from establishing non-smoking areas in city restaurants to preventing the Old Town Theatre from becoming a restaurant. When asked for their secret of their long-term romance and partnership, each deflected attention toward their spouse as if to underscore the yin-yang nature of their relationship.
"I couldn't have done what I've done without Donna," he said.
"It's very simple," she said. "I'm in love with him."
©2009 Connection Newspapers
Credit: Michael Lee Pope